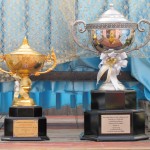 The city of Hua Hin, located in the Prachuap Khiri Khan province of Thailand, proved to be a most welcoming advocate of bicycling and accommodating host to bicyclists over the weekend of November 27th and 28th. Once again the small beachside city presented the annual Queen and King's Cup bicycle events as it has done every November for the past four years. This year's event also included an inaugural Mountain Bike Downhill Challenge.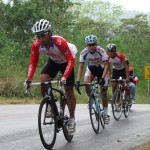 Saturday's event, the Queen's Cup Tour of Hua Hin was an out-and-back bicycle road race along route 3219 from the downtown area of Hua Hin to the Pala-U waterfall and national park area. The race allowed for several different categories of entrants ranging from men's junior and age groups distances of 100 to 115km, the men's and women's 100km, and the men's open category of 130km. 1st place winners in each category received the Queen's Cup while 2nd-5th places each received commemorative trophies.
An additional event held on Saturday was the Mountain Bike Downhill Challenge. This year marks the first time an event of this type has been organized in Hua Hin. Qualifying rounds for the downhill challenge began on Saturday morning well after the ceremonial start of the road race. Final rounds of the downhill challenge were completed shortly before two in the afternoon and the arrival of the first road race competitors to the finish line. The venue for the Downhill Challenge was the Eastern face of Khao Hen Lek Fai, which is a small hill located on the backside of Hua Hin overlooking the beautiful Prachuap coast. The organizers also used the top of this hill as the finishing point for the Queen's Cup Tour of Hua Hin road race. This dual use of venue location created a great atmosphere of cycling celebration and camaraderie.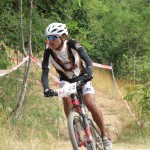 Sunday's race, The King's Cup Hua Hin Mountain Bike Classic was an off-road competition comprised of three different categories of competitors. Category A racers completed three loops of a 13km double and singletrack trail that utilized many of the hillside climbs and descents in the Bo Fai area where the event was held. Category B racers completed two loops of the same 13km trail while category C racers rode one loop of a shortened 10km version of the same trail. Competitors registered in their age group in either the male or female division of each category. All finishers of the race received a commemorative jersey and medal to mark the occasion while the 1st-4th places in the B and C categories were also awarded trophies. The winners of each division of category A received the coveted King's Cup trophy. This event is in its 5th year and will certainly be repeated in 2011.
For additional photos go to:
Read a related article – Hua Hin Cycling Classic 2013