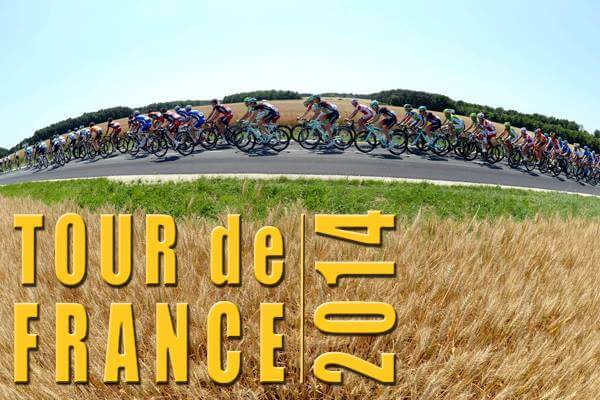 Next month is July and that means the biggest bike race in professional road racing, the Tour de France, is going to be captivating the world's largest group of spectators for a full three weeks. Dare I say that World Cup fever will be eclipsed by the 2014 Tour de France? I dare.
The entire 2014 race covers approximately 3,664 kilometers
A worldwide television audience of 3.5 billion people watch the Tour de France annually
Over 188 countries around the world broadcast the Tour de France
121 different television channels across the world show the race every year
There are 4,700 hours of TV coverage annually
The last hour of every stage is broadcast live across western Europe
2,000 journalists representing dozens of nationalities attend the Tour every year
The Tour de France attracts 12 million spectators along the route in a typical year's race
Spectators spend on average about 6 hours every day waiting alongside the route to see the tour pass
The 2014 Tour de France will run from Saturday July 5th to Sunday July 27th, and is the 101st edition of the longest running and most prestigious of the three Grand Tours (Giro d'Italia and Vuelta a España are the other two Grand Tours). In addition to riding in France, the 2014 edition of the Tour de France will include areas of The United Kingdom, Belgium, and Spain. The 2014 race consists of 21 days of racing (known as stages) and 2 rest days, equaling 23 days.
Here is a breakdown of the 2014 Tour de France stages:
9 flat stages
5 hill stages
6 mountain stages
1 individual time trial stage
2 rest days
And now that you know more about the Tour de France and are eager to add your household spectator numbers to that whopping 3.5 billion fan base you are going to ask…
"How can I watch the Tour de France while living in Thailand?"
Aside from suggesting that you ride your bike down to your favorite watering hole, restaurant, bike shop, or cyclist friendly hangout and demand they dedicate every available television to your personal use (regardless of the time of day/night), we thought we'd go a bit further and find out just how our resident expat readers get their TdF fix in Thailand. They responded via email and on our FaceBook page and here is what they had to say: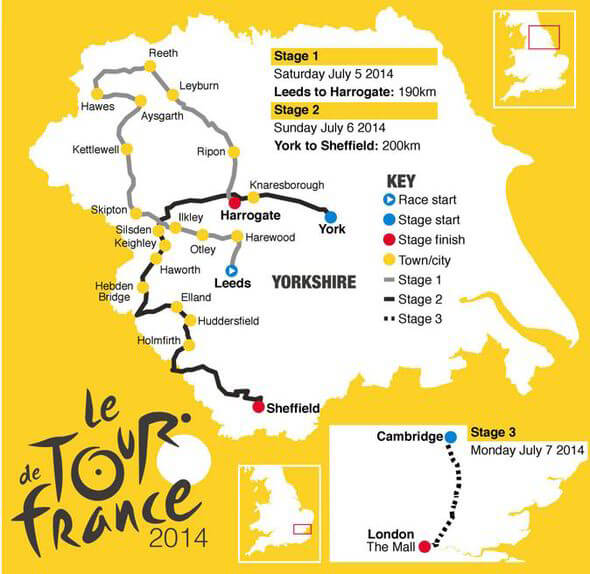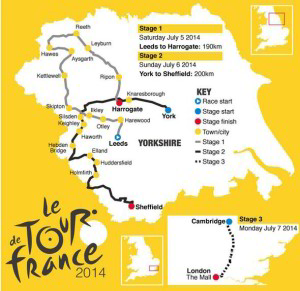 Jonny Beck (in Chonburi) advises other expat cycling fans to do an online Google search for livetv or stopstream. He watches live streaming of many sports including most cycling tours through both of these online services while in Thailand.
John Cattrall (in Chiang Mai) says he uses http://www.365sport.tv. He has successfully watched the  Giro d'Italia, Tour of California, and the Crtierium Du Dauphine using this online source while in Thailand and he mentions that there is absolutely no need to have a dish installed. Wayne Watson (in Surin) seconds John Cattrall's suggestion, saying that he is looking forward to using Wi-Fi broadband to watch the 2014 Tour de France racing on the roads of his home county of Yorkshire, England.
Greg Dick suggests using Wiziwig.tv and Mathieu Chatenet uses Steephill.tv *I have personally used these two online services but have experienced considerable lag time as well as intermittent ability to find and log on to cycling races while living in Thailand.
John Linebaugh Jr. (in Chiang Mai) uses a Thai Digital Television service company called GMM-Z to watch the Tour de France while living in Thailand, but he says that he's disappointed with the company's recent decision to discontinue broadcasting Eurosport in High Definition (HD). *GMM-Z is a paid service with different packages to choose from and equipment/monthly fees. Dish installation required.
Teera Marerngsith (in Bangkok) watches Tour de France on Eurosport 4 here in Thailand. Wiwat Chang (in Bangkok) and Tony Aspell (in Isle of Man) seconds the use of Eurosport. *The best way to get Eurosport into your home, apartment, condo in Thailand is to set up an account with UBC/True Visions Company. The Eurosport channels are part of the Platinum package with UBC/True. UBC/True Visions is a paid service with different packages to choose from and equipment/monthly fees. Dish installation required.
Adrian Stella (in Hua Hin) will be watching the 2014 Tour de France on ITV and ITV4 through the ThaiExpat.tv online service. In Europe and the U.K. the Tour de France is widely viewed on SKY, EUROSPORT, and ITV television networks. ThaiExpat.tv has a monthly fee of 600 THB and an initial set up fee of 300 THB. At 900 THB for the entire month of July, it may be the least expensive way to watch the whole 3-week race, when compared to paying for GMM-Z or UBC/True Visions.  You can view the Tour de France schedule on ITV television network here. Most users report no problems watching live coverage on ThaiExpat.tv with a 5MB and higher internet connection. Viewing of ThaiExpat.tv online content can be via web-linked television, Mac, tablet, iPhone, iPad, etc.,
2018 UPDATE –
Watch on Eurosport 1 online at http://www.onlinethailand.net/tv_online/EuroSport1.php
Watch on Eurosport 1 online at
https://www.fifa55u.com/ballsod/ch071/
Watch on Tour de France LIVE (Eurosport) online at
https://www.duckingtiger.com/live/
---
We wish everyone the best in their pursuit of viewing the Tour de France and other cycling races this year. Special thanks go out to our resident readers who took the time to share their own experiences and knowledge with the greater expat cycling community living and traveling in Thailand. Now get that Tour de France viewing party planned, invite your cycling friends over for a cool beverage and please don't make the time zone scheduling mistake my good friend made last year that resulted in a dozen cyclists running out of snacks and beverages with more than 4 hours to kill before the day's stage began. ***Thailand is ahead of UK/Europe by 6 hours (London) and 5 hours (Paris)*** Even a detailed reenactment of the previous day's stage couldn't fill that time gap. Want to share your own advice about this subject? Comment below or on our FaceBook page.