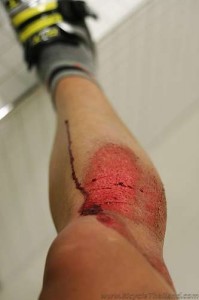 Cyclists often refer to abrasions from crashes as "road rash." While a bike crash has the potential to cause a painful and severe abrasion, most abrasions are shallow scrapes that do not extend into the dermis and don't cause a great deal of bleeding. While there is often little or no blood loss from an abrasion, there can be a great deal of pain because of the many nerve endings that are exposed.
Road rash treatment is similar to caring for burns. Road rash is the common term for rubbing off part or all of the skin. The medical term is skin abrasion. It is a good idea to know how to recognize and treat these injuries, because even though road rash is not serious, if treated promptly and properly, it is a burn-type injury that can lead to serious infections if ignored.
Factors that affect severity of Road Rash
Impact speed – Crashing at high speed causes deeper abrasion wounds.
Sliding distance – Sliding generates more road rash than a tumble or crash.
Surface texture – Rougher roads create more abrasion than smooth surfaces.
Surface condition – Surface debris like rocks, glass or sticks will cause additional damage.
Symptoms of Road Rash
Road rash is an area on the body where the skin has been scraped off. It often looks raw and might bleed a little. Road rash is usually very painful. In some cases, the depth of the road rash causes damage to nerve cells. Those victims may not have feeling — including pain — in the deepest parts of the road rash. However, the skin around the edges of the road rash will still be extremely painful.
Road Rash Treatment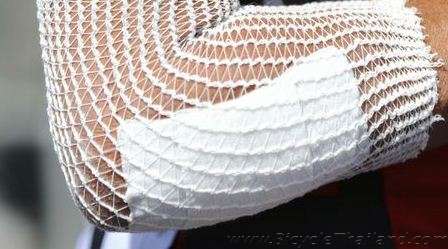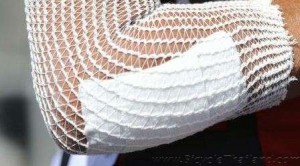 Severe road rash should be seen by medical professionals. Most road rash, however, can be treated on the spot.
Stay safe. If the victim is unconscious, do not move him or her unless the area where they fell is unsafe (i.e. in a traffic lane).
Treat life-threatening injuries first. Road rash is usually not life-threatening, but it is scary to look at. Don't let the presence of raw, bleeding wounds distract you from making sure the victim is breathing and all dangerous bleeding (bright red and spurting) is stopped first.
Stop bleeding. Usually, road rash oozes rather than gushes blood. A little pressure with a bandage should do the trick. Look for any deep cuts that may require stitches to heal properly. Cuts that continue to bleed after 15 minutes of direct pressure, or cuts that extend deep into the skin and have edges that pull apart, may require stitches. If you are unsure if you need stitches, you should see a physician immediately.
Rinse the road rash. Rinse the road rash with soapy water — maybe under a little pressure to help get all the dirt and debris out of the wound. It may help to soak the wound in soapy water before trying to remove the debris, and you may have to gently brush stubborn debris out of the road rash. In rare cases, it may be necessary to remove debris with tweezers. Remove any fragments of clothing, dirt, debris, gravel and dead tissue from the wound and surrounding areas. There are many wound irrigation solutions, but clean, cool tap or bottled water can be used for immediate treatment. A few moments under a cold faucet can also irrigate, reduce inflammation and numb the area around the wound so it can be cleaned more effectively. Use sterile gauze and carefully wipe debris away. Be careful not to cause any additional injury to the skin. Use a fresh gauze to dry the wound area. It has been found that the use of antiseptics such as hydrogen peroxide may actually cause harm to the tissue and interfere with the healing process.
Cover the wound. Put gauze on the wound and wrap it to hold it in place. Dry dressings work fine. If you'd like, you can moisten the first layer of dressing with saline solution or sterile water, but don't put antibiotic ointment on road rash. If you use a layer of moistened dressings, cover that with dry gauze before you wrap it up. Carefully cover the area with a sterile gauze dressing that is bigger than the abrasion. This temporary dressing should only remain in place until you get to your urgent care facility, the doctor's office or a hospital.
Any wound more than 3 times bigger than the palm of the victim's hand should be seen by a physician. Road rash hurts so bad, it wouldn't be a bad idea to see a doctor with a much smaller wound as well. Any road rash on the face, hands, feet or genitals should be seen by a doctor.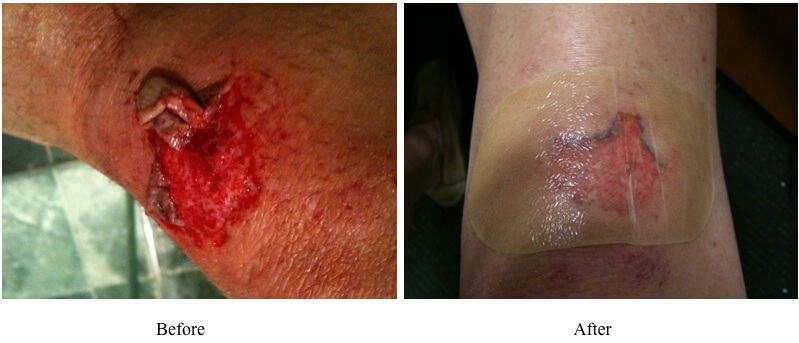 Change dressings (take off the old dressings and replace with new ones) once per day at least and watch for infection. Keep the wound moist until it has healed. A moist environment promotes healing, improves tissue formation and protects the area from infection and scarring.
Infected Road Rash – Signs of infection:
Increased pain, swelling, or red marks after the first day.
Swelling and increased redness.
The wound gets hot.
Pus or fluid draining from the wound.
Consider your immunization history. If tetanus shots are not up to date, get one right away.
If any signs of infection appear, immediately seek additional professional medical help.
Healing
After an abrasion, the layers of damaged skin will heal from the deeper layers to the surface layers and from the outer edges to the center. As healing begins, the area of the abrasion may look pink and raw, but in time the wound will form new skin that is pink and smooth.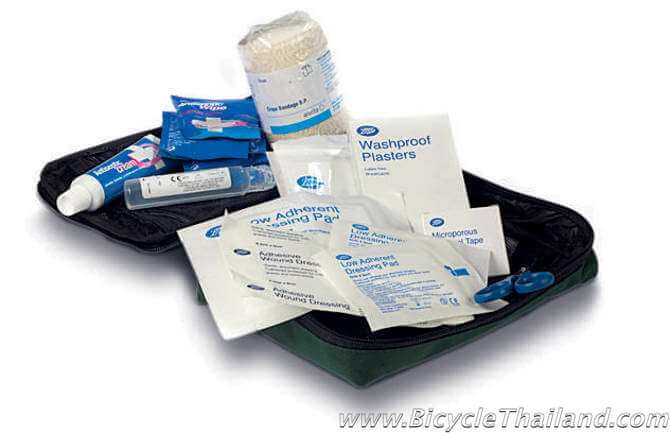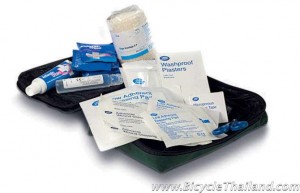 What you need to carry on your bike ride to be ready to treat Road Rash
Wound irrigation solution, clean tap water or bottled water
Sterile gauze
Topical wound ointment