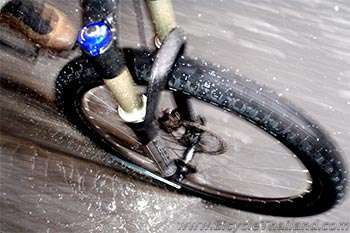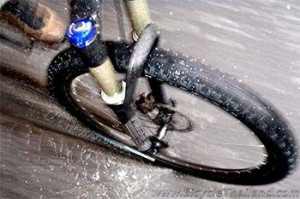 Having had a very wet early season, cyclists in Thailand have had lots of opportunity to ride and possibly race in the rain this year.  While a quick shower or a torrential downpour may seem like a negative try to keep a cheerful attitude, something easily done on a bicycle, and you'll not have to miss out on any rides during Thailand's wet season. Knowing how to safely ride and race in the rain can give an opportunity to more cycling adventures in the land of smiles.
Here are a few tips for riding in wet conditions:
        The road is the most slippery just after it starts to rain. This is when oil comes out of the road's surface. Bicycle tire adhesion will increase as the water has sufficient time to wash this oil off of the road. This is a great time to take that much needed rest or water break.
        If you're racing or riding in the rain you can rub your tires down with vinegar or rubbing alcohol just prior to your start. This will prevent any oil from remaining on your tire tread.
        You should always feather your brakes on and off quickly just before you need to brake. This practice brushes the film of water off the rim and makes your brakes work almost as well as they would in dry conditions.
        Avoid sudden and abrupt movements on the bike. Accelerate, slow, and corner smoothly. If you're riding in a group or racing in a pack try to anticipate problems and avoid them gracefully, rather than trying to correct at the last minute.
        In a race on a tight course, like a criterium, make it a practice to win the first two laps in the rain, or if it starts to rain during your race, get to the front and go all out, hard and fast. If you're in the front you can pick the best lines rather than being forced into undesirable positions by other riders.
        All cornering on a bicycle is a combination of the proper amount of lean and just the right amount of handlebar turning. When traction goes down, lean less and turn the bars more. Hold your bike up in the corners and keep pedaling through turns. If you slip on a coasting bike, you will go down for sure, but a driven rear wheel will keep trying to bite and you can skip and slide sideways and not fall.
        Watch for painted lines and metal manhole covers on the road. They are VERY slick when wet. Avoid riding over these, especially when making a turn.
        Stay cheerful. Enjoy the cooling effect of the rain while riding or take a break and get under shelter until the rain stops. Don't let weather conditions ruin your ride or commute, simply rise to the challenge, ride safe and enjoy yourself.