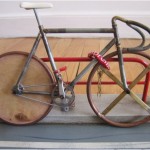 How to prevent your bicycle from being stolen may not be the first thought that crosses your mind when you are on that quick run to the corner store, but it should be. As the numbers of reported stolen bikes steadily increases across large cities and urban areas of Thailand every bicycle owner should make themselves more aware of what bike thieves are looking for and how to thwart their evil plans. Keeping your bike safe and secure starts with your efforts to reduce its chances of becoming a target of theft. Once you've taken these necessary steps you need only to learn a few additional tricks to ensure your bike stays in your possession for years to come.
Reduce the chances of your bike becoming a target
Know how thieves think
Thieves need privacy, an easy target that won't take them a long time to get and won't attract attention. The worst possible place to lock a bike is with other bikes in those big public racks because people tend to not pay much if any attention to someone fiddling with locks at a bicycle rack location. That's because we assume they're just having trouble with their own lock! You are better off locking your bike by itself elsewhere in plain sight for everybody to see. But be careful, check that the object you're locking your bike to is solid and secure. Use natural obstacles to make getting to your bike difficult. In Thailand I love to use the phone booths, weight machines, and calling card kiosks that are always just outside seven-eleven stores.
Don't assume outside your home is safe
Inside or out of sight is the idea here. If you have a bike of any value, you should never leave it outside your home for extended periods of time. In urban areas it's really asking for trouble to leave your bike outside. Backyards, second-story balconies, and even fenced in areas are not sufficient enough security against a determined bike thief. If you can't keep your bike indoors and it has to stay in a shed or storage locker at night, make sure that the storage space is properly locked and the bike itself has a lock on it. Storing a bike in the same spot day after day, week after week lets the thief know right where to find it, so mix it up a bit and keep the thief guessing.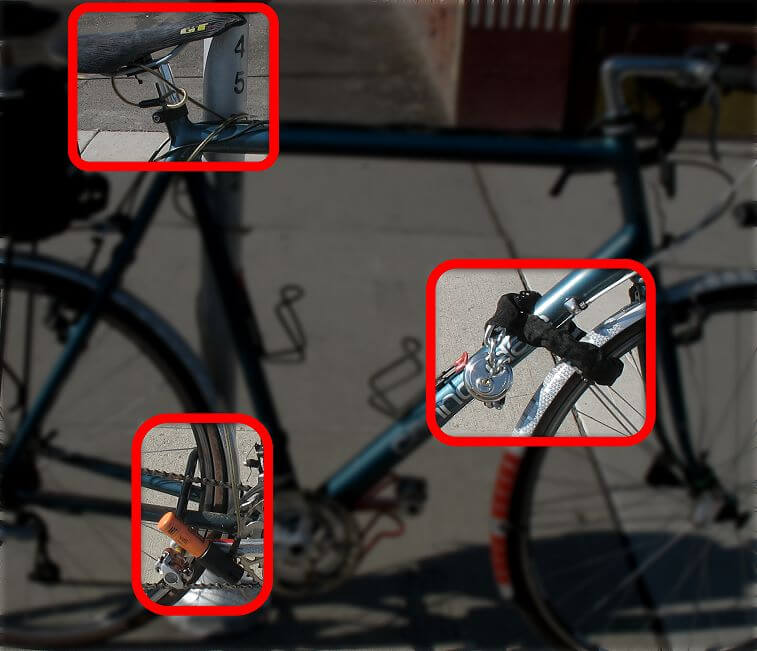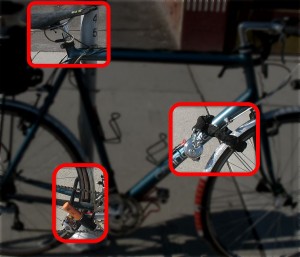 Buy a lock
When it comes to bicycle locks you get what you pay for. Consider the value of your bicycle and purchase a good quality U-Lock in a price range that is no less than 3% of the value of your bike. A 30,000THB bike gets a 1,000THB lock.
Know how to use a lock
Having a good lock is not the only answer to bike theft prevention. Using it properly needs to be addressed as well. The space inside a U type lock needs to be packed with all the bike you can. Pass your lock through the bicycle frame rather than wheels, spokes, racks, or cables. Point the keyhole of your lock downwards, it is a lot harder to strike it with a hammer this way. Remember that whatever part of your bicycle that you place the lock around will be the part that most likely remains.
Make your bike impossible to ride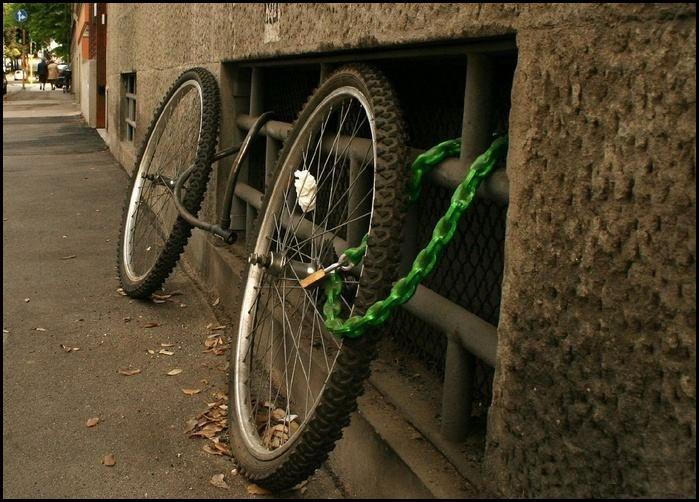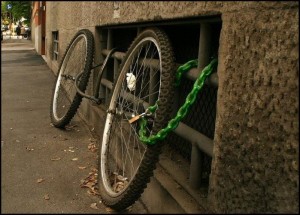 Another thing you can do is to purposefully sabotage your bike, making it the worst getaway vehicle for any thief. Remove your chain from the front chainring. Upshift your gears so that if a thief tries to ride off they'll be pedaling fast and going nowhere. Remove the front, rear, or both quick release skewers from your wheels. I have a friend who uses a SRAM powerlink on his chain and he removes his chain every time he parks his bike for long periods. Remove the seat and seatpost. Remove the front wheel completely.
Record your bike details
Worst case scenario is that after having done all that you can to prevent the theft of your bike some scumbag gets away with it. What do you do? Well, you should have had the forethought to record and keep the details of your bicycle somewhere. Even though bike theft is not on top of the list of crimes at Police Departments you should still take the time to register it and keep the registration paper in a safe place. Knowing your bike's serial number, make/model, size, color, specifications, monetary value will make it easier to claim if it is ever found. Also, by providing this kind of information (preferably with a recent photo of your bike) to local area bicycle shops and cycling clubs the chances of your bike being seen and reported by someone greatly enhances.
Mark your territory
You should store a small item or waterproof information card somewhere inside your bicycle (handlebars, seatpost, bottom bracket, frame) that can be used to prove that you are the true owner of the bicycle if there is any contention. You can prove your ownership of the bicycle without any question because you would be the only person to know the presence of the item or card.