Materials Needed:
30 feet 1″ schedule 40 PVC pipe
18 connecting T's
6  90-degree connectors (elbows)
PVC pipe cement
Cut PVC pipe to the following lengths:
6 – 18 ½"
6 – 16 ½" *
6 – 8 ½"
6 – 9 ½"
8 – 1 ¾"
*This length is adjustable and can be altered to suit your particular needs and/or vehicle size (If you intend to use this rack inside the bed of your pickup truck). You can assemble all of the PVC parts without glue and to ascertain your needs. Once you make the necessary adjustments you can then assemble all of the PVC parts with glue as described in the procedure below.
Here's what all the pieces look like cut to length.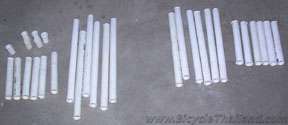 Assemble the PVC frame as pictured below. This is a view looking straight towards the wheel-slots. The horizontal pipe in the middle (seen behind the main assembly) receives the support struts.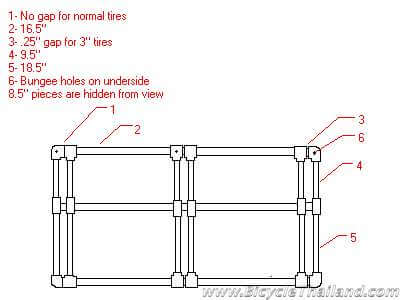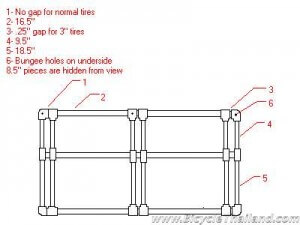 Assemble the entire structure without gluing. This lets you adjust fit and set a correct angle for the elbows and Ts. Here we're assembling the main support frame. The two close pipes at the left of the photo form a slot, into which a bike wheel will slide. When complete, this part will be turned over so the Ts face down into the support struts.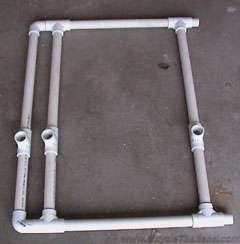 Here the support struts are seen coming up into the support bar. Lying against the ground are the wheel-slots that will receive the bike tire. In use, the structure will be turned over. The part that's sticking up here will be on the bottom of the truck bed.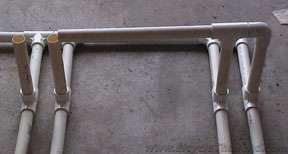 Glue joints one at a time, then let dry. In the photo below, the support strut is ready to receive a T-connector.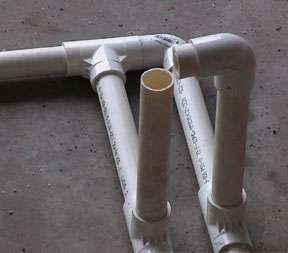 In the next photo the rack is complete, and has been turned over into its position of use.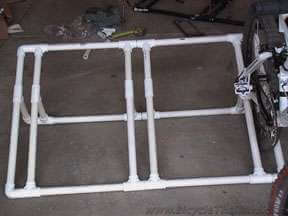 Drill a hole in the underside of the top connectors for bungee hooks (3 total). The bungee will hold the bike into the frame.  Size the hole to fit hook style (plastic hooks work best.) An alternative is to wrap the bungee around the upper pipe and hook it back on itself.
Here are a few photos of completed racks in use.
Notes:
Glue connectors touching each other for standard mountain bike tires.  Leave about ¼" space for 3" tires.
Use bungee cords to tie rack down to truck bed.
Hook bungee to seatpost or pedal to hold bike in place.
This design should clear an 8" rear brake rotor.
This design can be altered to make a 4-bike rack. Here's your parts list:
40 feet 1″ PVC pipe
26 T-connectors
6   90-degree elbows
PVC cement
The cut pieces will be:
8 – 18.5 inch
9 – 9 3/8 inch (in place of 16.5)*
8 – 8.5 inch
9 – 9.5 inch
12 – 1 3/4 inch
*Follow the design above, but substitute the 9 3/8 pieces for the 16.5-inch lengths.