Grasshopper Adventures Bicycle Touring Company "Bangkok Night Bike" Review
Located close to Bangkok's infamous Kao San road, Grasshopper Adventures are in a perfect position to serve the many thousands of tourists that visit Bangkok year after year. Saying that, there are many other bicycle tour companies in Bangkok so you may be wondering what separates Grasshopper Adventures from the competition? Apart from their many one day and week long tours they also offer a night ride of Bangkok. This Bangkok Night Bike Tour is available at an affordable price for even the most budget minded backpacker.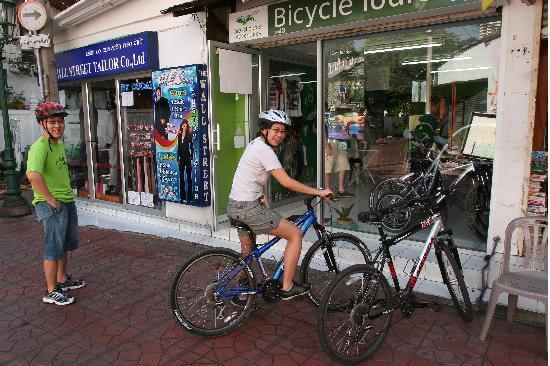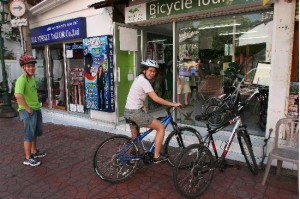 Starting from their office around sunset this tour promises to show you some of the many sites of Bangkok via the city's quiet and crowd free streets. One thing is for sure, Bangkok is very rarely quiet. Our guide for the evening was a young lady who had been with Grasshopper Adventures for only two months. After fitting us with our bikes and helmets she handed out water bottles and showed us how to switch the bike lights on.
From their Bangkok shop we followed the guide along the pavement. A couple of times a few riders at the back became separated from the group but were recollected at stopping points and intersections. A second tour guide at the tail end of the group may have proved helpful. After a short ride we stopped at a jetty on the river. From here we caught a small ferry over to the Thonburi side of town.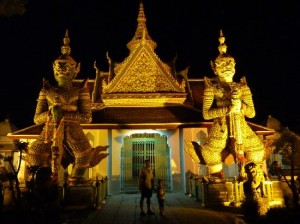 After approximately 30 minutes of gentle riding through some of the smallest alleyways that Bangkok has to offer we arrived at the temple of dawn. The tour guide gave us a very brief history lesson and told us we had twenty minutes to have a wander around and take photos. Personally I would have wanted more time spent listening to the history of the place but it seems her knowledge was quite limited.
Once the photos were taken we jumped back on our bikes and headed through more tiny walkways and back over the river until we reached the flower market. We parked the bikes and headed out on foot. As the flower market area is very busy at night it's advisable to stick close to the group.
At the market we were offered a cold drink and an opportunity to sample some local street food from the many vendors that line the streets, truly a great way to taste Thailand's culinary delights.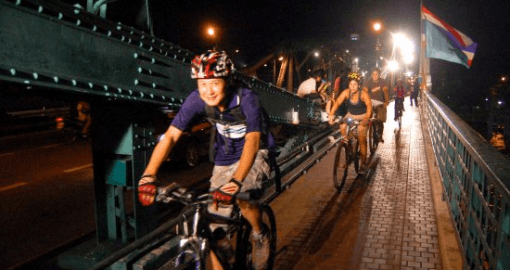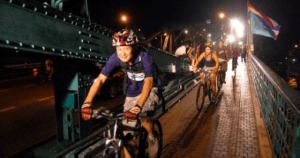 After a while enjoying the flower market we mounted up and headed for Wat Pho, one of Bangkok's most Popular temples. As it was very late the temple was deserted apart from the odd dog and a security guard, again we were given a brief history lesson and sent on our way to take pictures. I must admit for me this was the highlight of the tour, it was nice having the temple all to ourselves.
This pretty much brought us to the end of the sightseeing. All that was left was a gentle ride back to the starting point. This part of the ride was along slightly busier roads but I don't think that can be helped.
To sum up, the night ride was worth doing and definitely worth the money but I do feel it's dragged out a bit. Maybe adding another point of interest will make it a little more rewarding.
Grasshopper Adventures have got most aspects of the tour just right, good quality bikes and equipment, fair pricing, and a chance to see Bangkok at its prettiest. They just need to tweak the tour a little and perhaps give the tour guide a more informed history lesson.