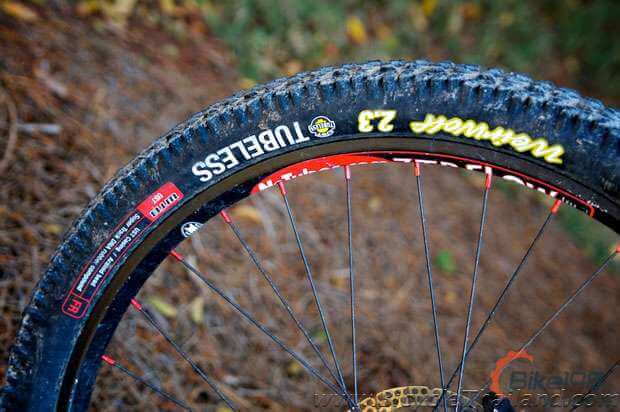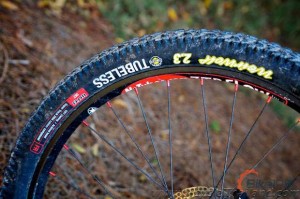 Many mountain bikers are using tubeless tire systems nowadays. These systems have their benefits and drawbacks. So, is it a good idea to change to tubeless? It's not possible to give one answer because the decision to change depends on several factors, least of which could be the high cost of a complete UST system. If you are unhappy with the number of pinch flats that you are getting and would like an option that will allow you to run lower tire pressure to avoid this problem, then tubeless could be the ideal way to go. Rememebr to keep in mind that although tubeless tires will not cause pinch flats, they are still susceptible to puncture flats.
One of the major benefits of using tubeless tires is that they will run on much less air pressure without pinching when compared to regular tube tires. With low pressure tires, it will be possible for the tire to make contact with the ground to give better control and traction, especially on side hills and wet or loose trail conditions.
Installing tubeless bicycle tires
Tubeless tires tend to be more challenging to install compared to traditional tube ones, because higher air pressure is required to seal the tire on the rim. As a result, you still need to carry a pump and tube on the trail for emergency repairs.
When installing the tubeless tires you have to clean the surface of the tire rim, ensuring that all contaminants are removed. Manufacturers do not advise the use of tire levers for installation or removal of tubeless tires. As an alternative, you are required to rub soapy water on the bead in order to manipulate the tire on the rim. After that, you should overinflate the tire using a compressor to ensure that a good seal is made. When the tire has properly sealed, the air can be released back to the required pressure.
What is the Universal Standard for Tubeless?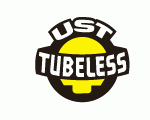 Universal Standard for Tubeless or UST makes reference to certain standards that companies adhere to when manufacturing tubeless tires, wheels and rims. For instance, UST tires will have dense sidewalls and a more robust bead as opposed to tube tires. Considering that tubeless tires weigh more, going the tubeless route will add more weight to a wheel's rotating mass. The UST rims are usually different from regular rims as they do not have spoke nipple holes that would allow air to leak out. In addition, UST rims come equipped with a sealed valve stem.
Changing to Tubeless
When you are looking for an option that is more economical than swapping everything over to a UST system, you can change your current tube system to a tubeless one with the help of a standard tire, rim strip and latex sealant.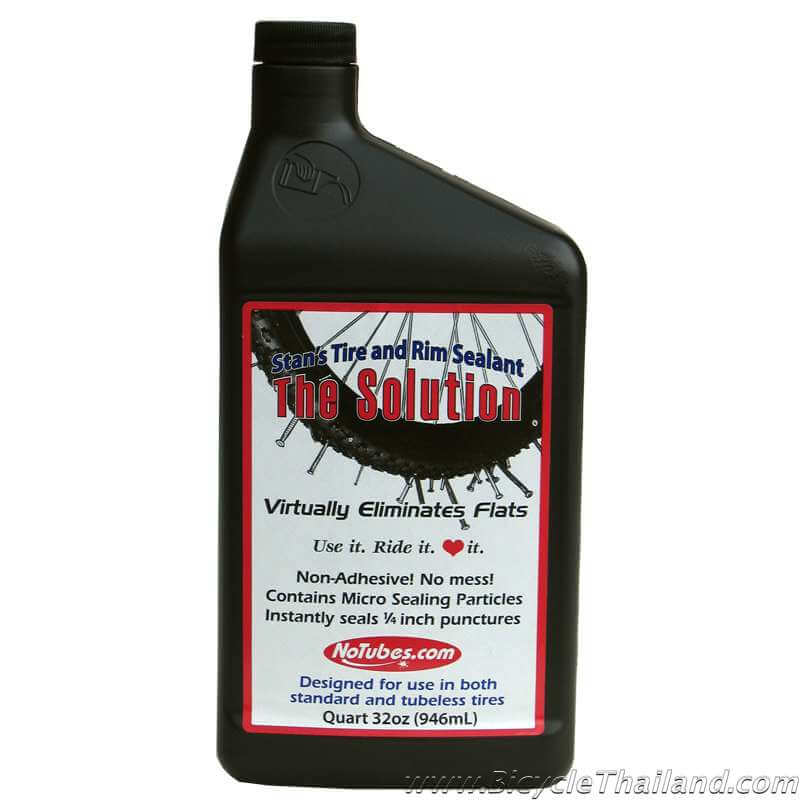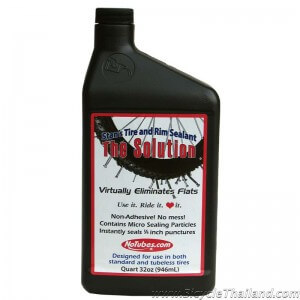 Stan's is by far the most recommended tubeless conversion kit currently available. All kits will include a rim strip that will seal the spoke bed and carries a valve that will protrude from the valve hole.
Standard tires are often lighter than the UST types, but they could become damaged easier since they lack the sturdy sidewalls of a UST tire.
If you decide to change your existing tube tire setup to a tubeless system, ensure that you are using a tire with a sidewall that is thick enough to prevent tears and cuts and also provides sufficient support for lower tire pressures.
In future articles BicycleThailand.com will be addressing tire choice for the different riding conditions in thailand. Watch for it in the coming weeks.