The excellent training grounds, for both mountain biking and road cycling, in Northern Thailand are becoming increasingly well known to holidaymaking cyclists. Much of the praise that the area receives is focused on the quality of roads, great climbing opportunities, and the agreeable wintertime weather conditions. Is it any wonder that Northern Thailand has attracted accomplished riders, both amateur and professional, from around the globe?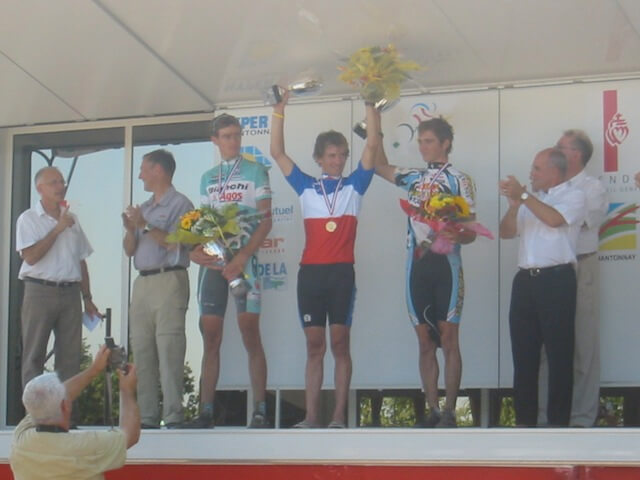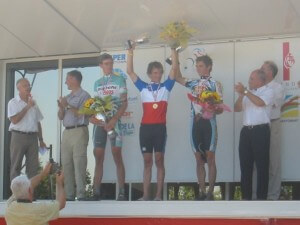 One such professional rider who made the decision to visit, train, and eventually come to live in Thailand is former French National Mountain Bike Champion Peter Pouly. Peter has drawn upon his years of cycling experience and athlete celebrity to foster a burgeoning Thai road cycling team for Infinite-Singha, open a cycling community shop (Cyclist Point), and create a training camp in Chiang Rai, Thailand. All of this he has done since making the decision to move to Thailand in 2009, three years after his first visit to the country and at a time in his life when riding and racing may have been the farthest things from his mind.
Background
Growing up in France with the dream of being a motocross rider, the young Peter Pouly became an accomplished BMX rider. Winning several races and placing well at the BMX World Championship semi-finals and French BMX Championship finals by age 15, the young Peter Pouly went on to test his athleticism at France's newly emerging craze, mountain biking. After winning several local mountain bike races he participated in the first ever French MTB Cup and won team support from his notable performance. Two years of racing mountain bikes in France eventually led to his selection by the French National MTB team. He would ride for the French National MTB team for a total of 11 years, under the sponsorship of bike brands Trek, Sunn, and MBK. During his professional mountain biking career he collected several accolades, most notable of which are: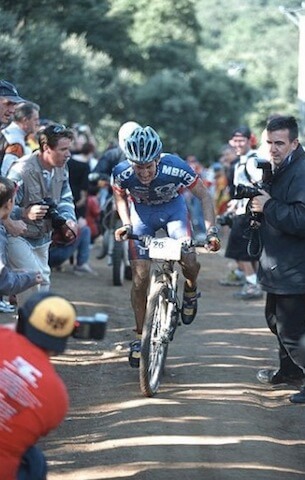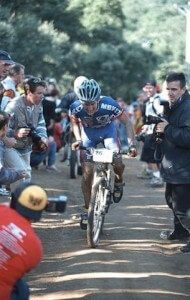 World Cup MTB Championships – 1995 (4th), 1999 (8th)
5-time French National MTB Champion – 1995, 1998, 1999, 2004, 2005
4-time Pre-selection to race in Olympic games for France
Roc d'Azur – 2001 (3rd), 2002 (1st), 2005 (2nd)
2005 – Last professional race
He rode his last race, the 2005 Roc d'Azur where he took 2nd place, as a professional mountain biker at the age of 28. The Roc d'Azur is held annually in France, is very difficult and prestigious, and is known as the world's largest mountain bike race.
Peter's decision to accept a public relations and brand communication job with MBK bike brand allowed him to lay aside the bike in order to focus on work and family outside of the strenuous demands of being a full-time sportsman. It was his job with MBK that would eventually take him to Thailand, in 2006.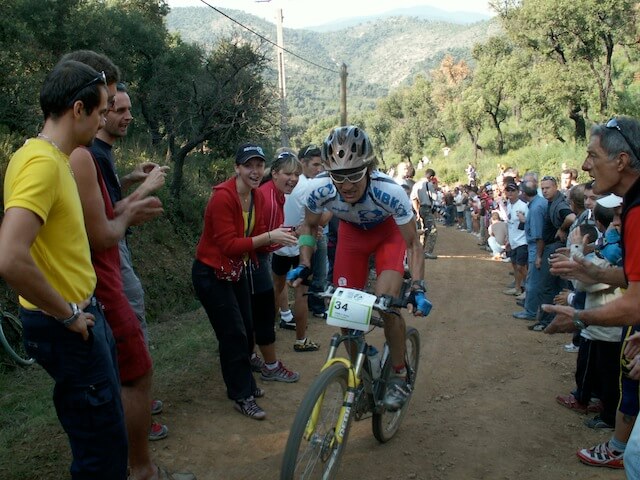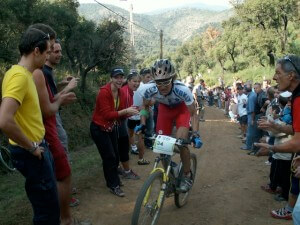 2006 – First visit to Thailand

On his first ever trip to Thailand Peter visited Chiang Mai on assignment from MBK to promote the bike brand in partnership with a mountain biking and trail running event. Peter immediately fell in love with the country and following his return to France asked his boss for two additional weeks of vacation time in order to spend holidays exploring other areas of Thailand.
During his time in France, between his increasingly frequent holiday trips to Thailand, Peter also had a 4-year contract working for Amaury Sport Organisation (ASO), the organizer of the Tour de France, Paris-Roubaix, Vuelta a Espana, and many other renowned road and mountain bike events in Europe.
2009 – Moved to Thailand
In 2009 Peter made the final decision to quit his work with MBK and ASO in France and move to Thailand. After visiting Chiang Mai and Bangkok Peter eventually settled, for a short period, in Pattaya city where much to his surprise he was approached by fellow countrymen who recognized him and invited him to join an area cycling group on their next ride. Without expecting to find any such organized cycling groups in Thailand, and spending many of his days enjoying the 'retired' life on the beach, the former French National Champion was forced to admit that he hadn't been on a bike in years and did not in fact have a bicycle with him in Thailand.
Not to be denied the chance to ride with a superstar of French cycling, the Pattaya city group introduced Peter to local bicycle fanatic Mr. Meesak. Being an avid cyclist and Thai businessman who personally finances the Life and Living Bikenet team in Thailand, Mr. Meesak gladly loaned Peter a bicycle from his extensive stock so that he could participate in the group's daily training rides. This gesture of generosity saw to it that Peter was able to enjoy the cycling camaraderie of newly found friends in Thailand. Back in the saddle after a four-year hiatus, Peter found himself riding for the simple pleasure of riding. No time clock, no opponents, and no obligation other than to have a good time on the bike.
As some members of the close-knit cycling group began to enter local Thai races they sought advice and training tips from Peter. When they had developed further as a team, Mr. Meesak invited Peter and a few other members of the Life and Living Bikenet team to participate in the Tour of Eastern Lanna 2010 – it was to be Peter Pouly's first bike race since retiring from racing in 2005. Lucky that Peter accepted Mr. Meesak's kind invitation, because it was at the Tour of Eastern Lanna 2010 that Peter would meet his future wife, who he would later settle down with in Chiang Rai.
2010 – Settled in Chiang Rai
Surrounded by family, cycling colleagues, and the beautiful ascents of Northern Thailand Peter's passion for cycling had been revived. The pressure to race no longer overshadowed or dictated his daily rides around Chiang Rai province, even though he continued to compete in local races and dispense advice and tips to his cycling friends and Bikenet members. It was from this position of contentment, on the bike and in his personal life that he agreed to compete in the 2011 Haute Route event after receiving a phone call invitation from a good friend in Switzerland.
2011 – Won 2011 Haute Route
Peter admits that it was his winning of the 2011 Haute Route cyclosportive event that truly rekindled the desire in him to race again. The level of preparation which Peter committed himself to leading up to the event was, in a way, his own admission that he had fears of not being able to complete the event, having been away for such a long period from the extreme demands of the world-class climbs involved in the Haute Route. His 2011 victory was nothing less than a complete physical and emotional outpouring from a man rediscovering his passion for cycling. Winning the Haute Route event garnered Peter plenty of exposure, both internationally and in Thailand. Upon his return to Chiang Rai, the requests from Thai cyclists seeking personal training from him began to arrive.
2012 – Peter Pouly Training Camp established
In 2012, Peter established his own cycling training camp and tours company in Chiang Rai, Thailand. In response to the increase in demand for personal training he has added numerous training options (2014 schedule).
Peter describes a typical training camp participant as a cyclist who is:
40-55+ years of age
Already comfortable riding a bike
Seeking to discover their own capacity for cycling
Eager to learn how to manage eating, heart rate, and power
Wanting to learn how to go as far and as fast as their physique allows

2013 – Infinite-Singha Cycling Team
Since beginning his training camp series Peter has been placed in a leadership role on the newly created Infinite-Singha cycling team. Since the team's formation several of its members have placed well at Thailand's domestic races.
What is ahead for Peter Pouly?
We applaud him on his accomplishments and wish him all of the best in his future endeavors, which include:
2016 UCI Mountain Bike Marathon World Championships (in Laissac, France-near Peter's hometown)
Increase the size and scope of Infinite-Singha Cycling Team in Asia
Develop Infinite bicycle brand internationally
Continue to operate and expand Peter Pouly Training Camp and Cyclist Point in Chiang Rai