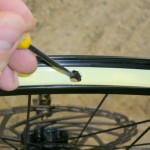 Multiple tube failures at the valve-tube junction could be caused by a sharp edge at the rim valve hole or plastic rim strip. Before you install another new tube check the following:
Remove rim strip/tape (Is it plastic? sometimes older plastic rim
strips form a sharp edge capable of cutting into tubes).
Use fine grade sandpaper to smooth out the rim valve hole.
Install new plastic rim strip or cloth rim tape (don't forget to use
the proper width for your particular rims).
When installing a new tube put a bit of air in the tube to give it some
form prior to fitting it into the tire.
In extreme cases (deep walled rims) place a small square piece of electrical or duct tape directly over the valve-tube junction. Pierce the middle of the tape with a small sharp object for the valve core to pass through. Install your tube and tire and repeat the application of a small square patch of tape on the outside of the rim, once again piercing the tape for the valve core. Install the retaining nut with your thumb and pinky finger to prevent over-tightening it (another reason for separation of tubes at the valve-tube junction). The additional weight and bulk of the tape is minimal and will not create any noticeable "bump" in your ride.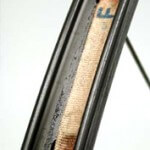 A hole or cut at the valve base of a bicycle tube is never repairable. The majority of valve-tube junction holes or cuts that I have run into over the years come from one of the following:
Sharp metal edges at rim valve hole.
Over-tightening of the fastener nut on a presta type valve.
Hydraulic brake oil or degreaser solvent getting into the rim valve hole and degrading the tube rubber causing it to split. This is a good reason to keep your rim valve holes in the UP position while degreasing your bicycle's drivetrain or bleeding your hydraulic brakes.
And last but not least… damaged or old rim strip/tape not properly protecting the valve-tube junction point. Or in the case of plastic rim strips, which tend to get stiffer over time, the rim strip edges actually cut into the tube itself causing failure.