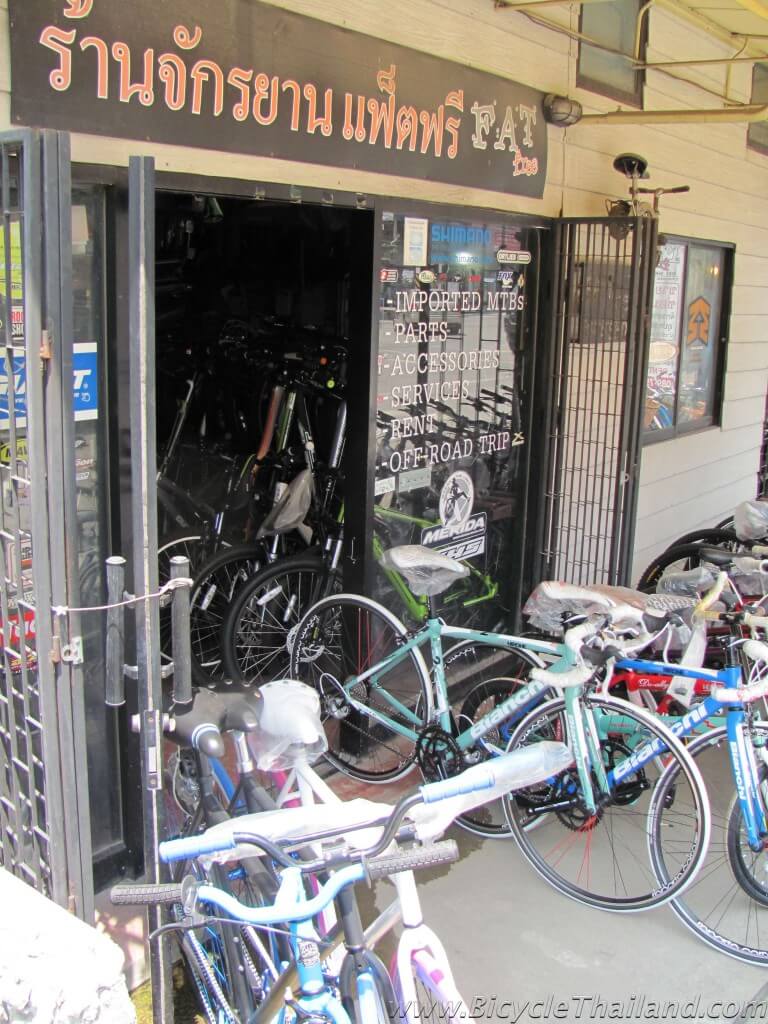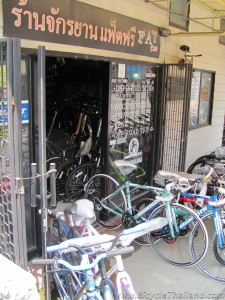 Fat Free Bike Shop in Chiang Rai is this month's featured bicycle shop at BicycleThailand.com. This shop is located on one of the major roads in the rather small and quaint city of Chiang Rai. Even if the surrounding area did not boast such great cycling opportunities I'd still recommend this province to travelers who enjoy the more laid-back style that Northern Thailand is known for. While in Chiang Rai make sure you take advantage of seeing the entire city by bicycle. There are so many great roadside drink shops and the traffic is relatively mild when compared with the hustle and bustle of neighboring Chiang Mai city. Chiang Rai has a healthy number of local mountain bikers and road cycling is becoming ever more popular. While I was visiting I did happen to see a fairly large group of singlespeed riders rolling through evening traffic atop their brightly colored bikes festooned with flashing knog light sets. Evidently the singlespeed craze that is sweeping Thailand has reached even here.
Fat Free Bike Shop has a rather small storefront but its location on a corner street and the array of bicycles out front make it easy to spot when walking, cycling, or even driving by. The shop has a good mix of bicycles; mountain, road, touring, and city cruiser style bikes are all on display. Two walls inside the shop are covered in accessories, clothing, helmets, shoes, and all the bits and pieces that just scream to be added to your bicycle before its next ride.
While at Fat Free Bike Shop I had the pleasure of meeting Khun Chumpoo. Khun Chumpoo, whose English is perfect, is a wonderful source of cycling information for the area. She gifted me with a great map book detailing several touring/road rides in Chiang Rai and a few of its surrounding provinces. Fat Free Bike Shop is not only a full service bike shop but they also arrange and perform bicycle tours, by appointment only, of the area. Contact Khun Chumpoo at Fat Free Bike Shop directly to inquire about doing a tour with them.
Fat Free Bike Shop (Chiang Rai Branch)
448/2 Rattanakate Road
T. Wiang A. Mueang Chiang Rai
Chiang Rai 57000
ภาษาไทย [+]
ร้านจักรยานแฟ็ตฟรี (สาขา เชียงราย)
448/2 ถนนรัตนาเขต
ตำบลเวียง อำเภอเมืองเชียงราย
จังหวัดเชียงราย 57000 Tel. 086-430-5523, 053-752-532, 089-755-4676
GPS – N 19.913586, E 99.832133
The central location, friendly customer service, and wealth of area cycling information at Fat Free Bike Shop make it a must visit shop for any cyclist living or visiting Chiang Rai. Also, if you're a touring cyclist passing through Chiang Rai and are looking for accommodation I would recommend stopping at the shop and speaking with Khun Chumpoo as she knows several of the cyclist-friendly guesthouses in town. Happy Riding!