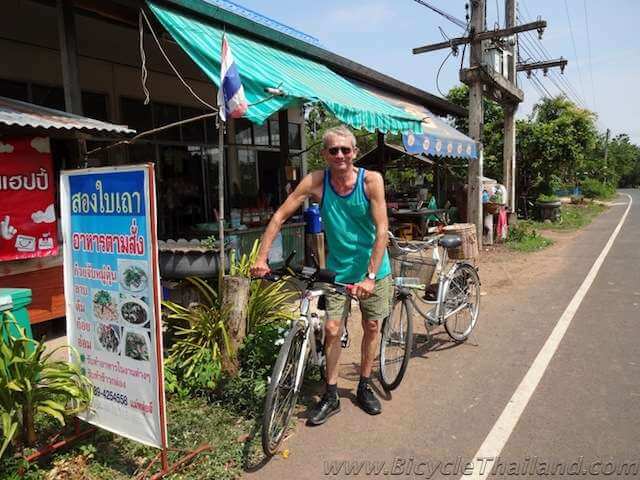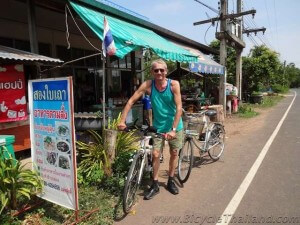 KANTHARALAK: Population – 36,621; Leisure Cyclists – 6, on a good day!
Hi . . . I'm David, an English ex-pat, fortunate enough to have visited Thailand eighteen months ago and to have lived the dream of marrying a beautiful Thai woman and settling permanently in The Land of Smiles. A widower of two years, I came to my new hometown of Kantharalak, north-east Thailand, some 63 km south of Sisaket, in need of a full service and, should Lady Luck be on my side, a nurse who was both resourceful and, since I had enjoyed an active business and family life, more than half-decent at multi-tasking; a demanding skill-set, I think you'll agree. My needs were more than met, for my Thai wife, Naphassawan – Wan for short – has fulfilled that brief a hundred times over.
But, like most Thais whose 6 a.m. sunrise and energy-sapping afternoon heat dictate an early start to the day, my wonder woman more than lived up to her name in this department, too; throwing back the sheets at an ungodly 5 a.m. and directing me – two-up on her scooter – to the exercise park, a 700 metre tarmac oval around a pretty lake, alongside an impressive array of muscle-toning machinery, before carrying out the so-called 'morning' market shopping, down-town, and returning home for breakfast and preparations for the 8 a.m. start to the school-day; school being just a five minute drive away. Needless to say, the morning shopping session required backing up by an evening session, to get those things for dinner that she couldn't or, more likely, forgot to get in the morning visit. Let's face it, how can anyone – Wonder Woman included – hope to remember the shopping list, when there is no list and when she stops to chat with twenty or more traders and fellow shoppers and to introduce them to her 'husband from England'. Sure enough, at around 6 p.m. – and after yet another visit to the Exercise Park, now upgraded by an enlightening display of aerobics by twenty or more assorted females – I was introduced to the delights of the Evening Market and was given responsibility for bananas – a necessary addition, with honey, to our cornflakes, every morning – and cakes – Wan's idea of helping me gain a kilo or two, since the previous two years had reduced my frame to that of an L S Lowry matchstalk man . . . not a pretty sight, especially in running shorts.
Enlightening or otherwise, the upshot of this new routine was a perceived need, on my part, for a better way to spend that first couple of hours from 6 til' 8. After my former wife's death, I had turned to cross-country running – the only sport I was any good at in my school days – to help in my rehabilitation, but I found it just that little bit too jarring on the fifty year older framework. The suitable running tracks and lanes around Kantharalak were on such a level plane that the thumpety-bumping might not be too severe, so I mustn't rule that activity out of the decision-making too hastily. Run, ride, swim or heave-in-a-gym, I needed something that would tick as many of the following boxes as possible:-
Must be strengthening yet gentle on the system
Must help in my getting to know my new surroundings
Must have an element of excitement for the adrenalin-junkie in me that still remains
Must put me close to Mother Nature, so I can breathe in the sights, smells and sounds of the alluring mix of jungle, alongside rice and rubber growing, at a speed perfectly pitched between walking and motor-scootering, i.e. 4 to 5 times faster than walking to cover more ground but not so fast that you miss out on the hidden gems
Must be convenient
Must be inexpensive
Must be easily measurable, performance-wise, to satisfy the competitive spirit that also refuses to die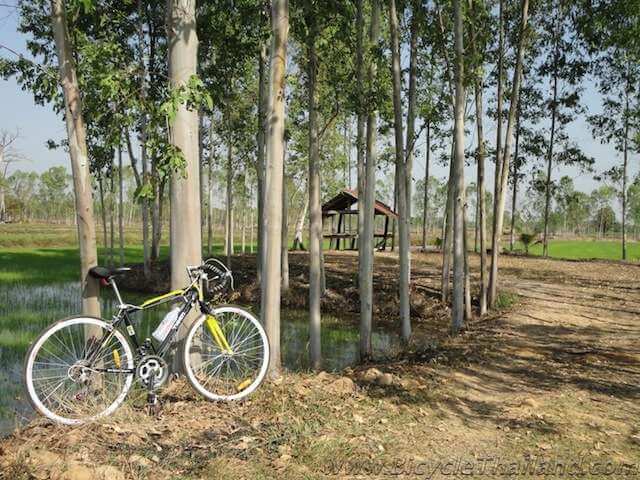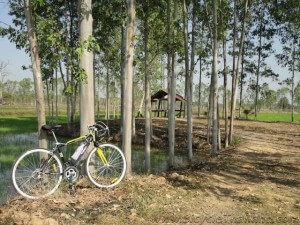 Obviously, I wouldn't be writing this article if the choice was anything other than cycling but, to be fair, cycling really did win, hands, or rather pedals, down. Running or swimming at 6 a.m. seemed to ring too many serious sports training bells, when hundredths of seconds are the only thing in life and, in any case, the latter would involve a 40 km round trip, whilst pumping iron in a gym, in a neat and orderly row, along with a score of other souls, just doesn't cut the mustard for me. Although Kantharalak boasts three bicycle shops, selling mostly MTB stuff for kids, one of them, run by a competition cyclist – a good sign, surely – was displaying a Tiger – Mission Control sports cycle by Marawuti, a Thai brand of bike (manufactured and available from P2V Group in Thailand), better known for its MTB type models. At 2,350 Baht, how could I not buy it, even if only to ride to the swimming pool, running track or iron-pumpery?
It was no contest, really and, as I adjusted the seat post to its precarious-looking highest clamping position, I looked forward with relish to a return to my teenage cycling days. Despite the ridiculously undersize frame, I soon found that this modest 16-speedster gave me an excellent ride and I quickly progressed through the 10, 20 and 30 km targets to my present daily ride of 36 km; south on the 221 for a dead-straight but usually quite eventful 5 km, before turning right onto the 2126, which I had previously scootered along and got to like immensely, due to its scenery, friendly villages and excellent cafes offering delicious second breakfasts.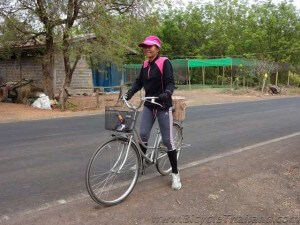 My green or blue vests must have become a familiar part of the early morning scene and, before long, it seemed like the entire populations of Ban Rung, Ban Ta Tuat and Ban Don Ao were shouting 'hello' or 'good morning' . . . always in loud and clear English; the charming Thai way of acknowledging my foreign-ness and, in return, always answered by my best attempt at sawatdee crab. At weekends – and at a slightly more leisurely pace and start-time! – my wife joins in the fun and she, too, says that she has never felt better or fitter. She now rides the Charge Grater city bike that I sourced from an online UK supplier; a welcome change after the hefty Chinese shopping bike that she used until her cycling legs returned.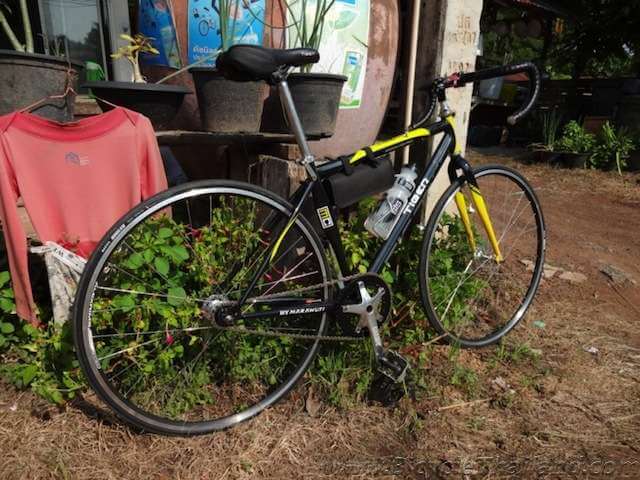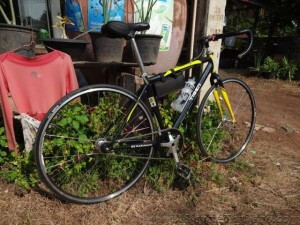 In May, after a thoughtful look at a fixed-gear trainer bike, online, I drew up a shopping list of the bits required to make my Tiger even fiercer and was able to buy these at Yudee Cycles at Ubon Ratchathani. Off came the rear changer, the chain-set and cranks (more suitable as a ship's anchor, if you ask me), the stem, bars and brake assemblies, the office-chair of a saddle and the fake Shimano wheels (fake, I suspect, since the front hub was becoming loose on its axle due to failure of a machine-spun joint) and on went the Alex rims, complete with Origin 8 hubs, lightweight Create chainwheel and cranks (beautiful enough to win a metal sculpture competition), Uno 7 carbon fibre stem and bars and Velo sports saddle, giving a total rebuild cost, including spare tyres and inner-tubes, of around 16,000 Baht. A far cry from the original Tiger cost, I know, but 'Wow . . . what a machine!' Despite its fairly heavy frame, which on the mostly level roads around here is rarely noticeable, the bike goes like the proverbial clappers and is an absolute joy to ride along my gem of a cycle-track.
"The same 36 km, every day . . . doesn't that get a bit tedious?" you might well ask. If you live within cycling or, let's say, an hour or so's driving distance from K'lak, come and try it for yourself and maybe we'll be the start of the Kantharalak Wheelers . . . or something like that!
You can call me on 045 663 092 (mobile 088 375 6950) or email me on davidpilkington365@gmail.com