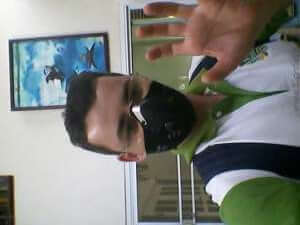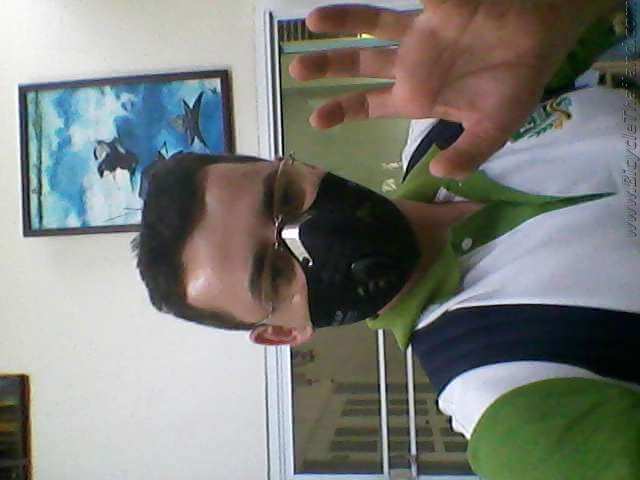 My name is Stoian Kalniev (Tony). For the past 5 years, I have been traveling only by bike. But four years ago, I made my bikes into electric drive. Basically they are hybrids. I go everywhere with them. From my house on Nakornin road Rama 5, I go to work at my job in Denla kindergarten, I go to sathorn for passport related issues, I travel to Cheang Wattana Immigration bureau for visa related issues and even do my 90 days stamp all the way in Bang Yai. Each of these trips are 20-25kms one way. With these electric bikes I can set the speed at cruise control 50km/h and it takes me just half an hour to reach my destination without cares or fears.
I even go to the bus station, buy a bus ticket to Hua Hin, put the bike on the bus and arrive there 3 hours later. Then I just get on the bike and go to the beach or mountains, no need to rent motorbikes, think of fuel, or anything. With a full charge range of 55kms, it is more than sufficient for my daily needs. However, the electric drivetrain has another trick up its sleeve. When I went to Bang Yai one day for my 90 days stamp, I forgot to charge the battery. On the way back I still had to go 15kms and the bike died on me. But no worries, it is a bicycle after all so I just pedaled home.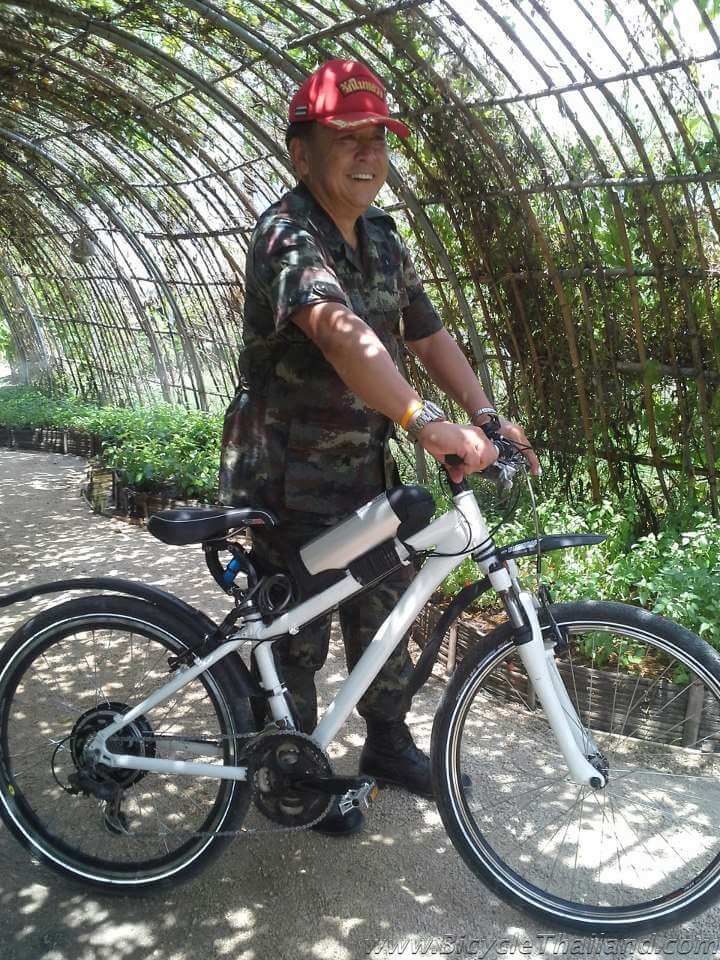 The curious thing is when I was pedaling for about 9kms, the battery indicator showed there was more charge. Pressing the throttle, it moved again. Pedaling charges the battery, as the motor becomes a generator.
One time, I went to Kanchanaburi for a Royal Army event. Meeting my friend there Khun Yuttakarn, who owns a solar business, I asked him if we can charge my battery on the bike with solar. Yes we can, we just needed to create 48V system to charge it. Lucky he already had one ready. We then moved to the Army base camp. They were discussing how they are greening their HQ, recycling and even producing energy from bio waste. Then the Army general and a captain tried my electric bike. From their faces I think they enjoyed it.
I even wanted to go to Surat Thani in southern Thailand with the airplane and put my ebike as the check in luggage. But the new rules state batteries are not allowed. I was unable to find any answers from Air Asia or Thai Airways so unfortunately could not do that trip, but I will try in the future again when I have more time to prepare.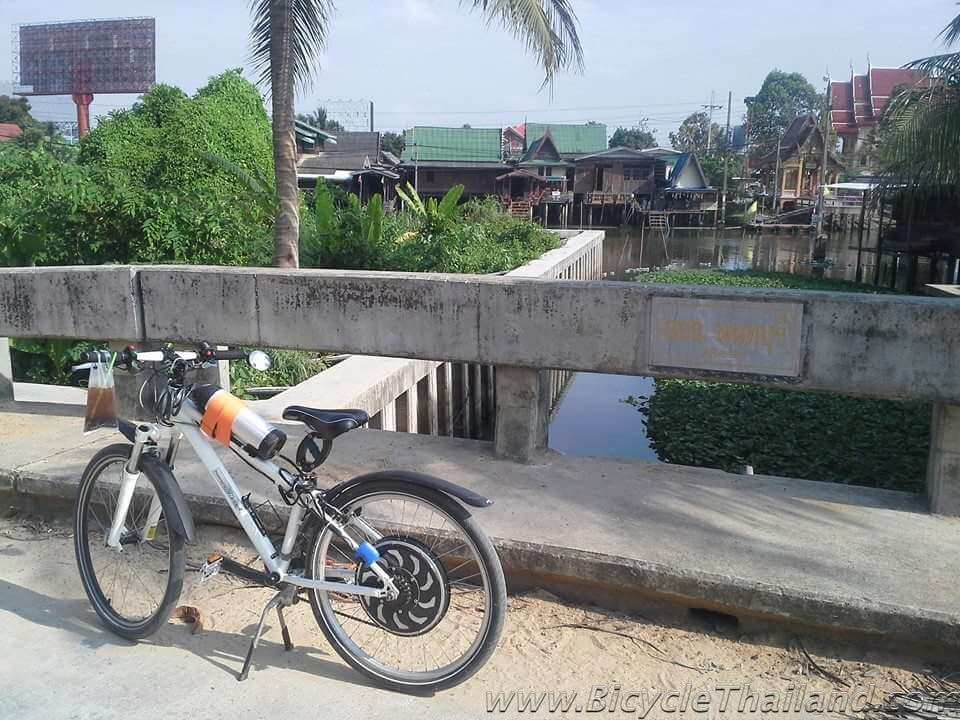 However, I have recently applied for my Masters Degree in International Business Management. This is because I would like to more efficiently operate my new ebike business, which offers 6 different models of ebikes and is located after The Walk on Ratchapruek. The University of Thai Chamber of Commerce is 24kms away. This distance I will have to do very often. But traffic is really bad. It takes 50 minutes to get there at 4pm. Notice my anti-pollution mask, because being stuck behind a diesel bus is absolutely disgusting and even waiting at a red light behind 5 motorbikes makes me cough. I have to often take the walking bridge to cross the street safely. It is very easy to do this as the bike weighs about 16kg, which isn't quite that difficult to lift.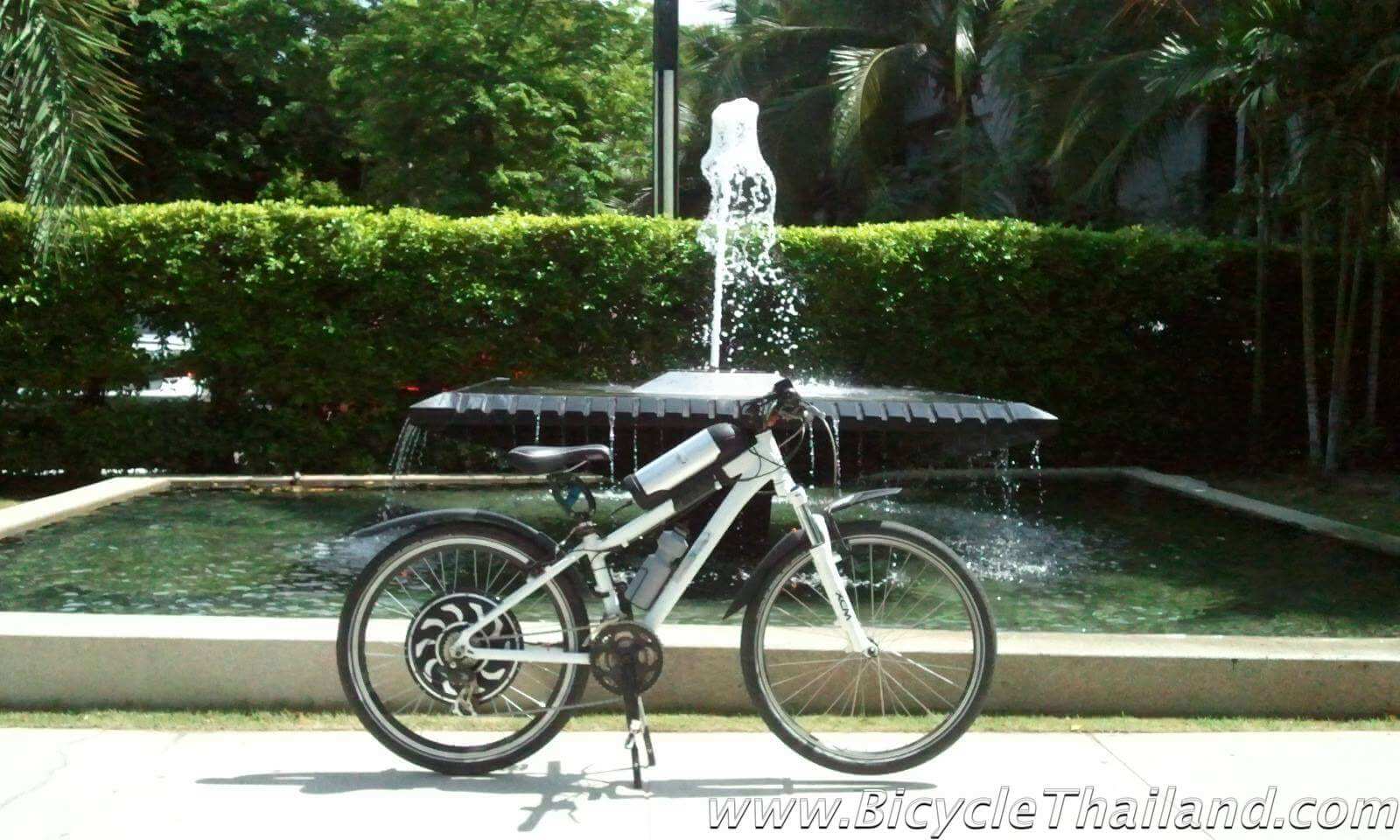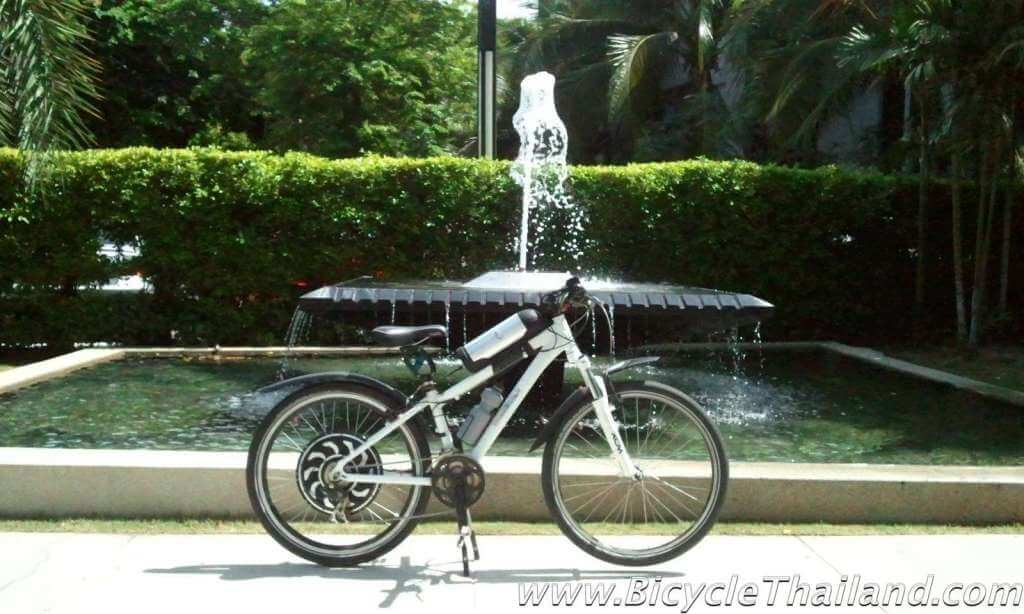 So since I began my electric bike designs and business, I have personally clocked in more than 10,000kms over the years. And I will continue to do so and promote them as much as I can. They can really be great alternatives to cars, buses, taxis and even motorcycles. I say motorcycles because I am often faster than them. Maintenance is low, and cost to run an ebike is next to nothing as 55kms on one charge costs just 2.5-3 baht (depending on location). No need for licenses, road taxes, insurance stuff, fuel, lubricants, and so on. Just the occasional punctured tire replacement and that happens a lot here due to many nails being thrown on the road. So everyone, please make sure to have a spare tire and tools in your backpack whenever you go out with your bike.
Well I hope you enjoyed this story and I hope everyone stops sitting in traffic for hours on end every day and decides to start commuting by bike. Lets clean up Bangkok city, both from air and noise pollution.
EV Speed bike shop is located in Nonthaburi province.
View and download EV SPEED electric bicycle brochure showing all models currently available.