During the past few years the Australians and British have led a revolution in world cycling by taking young athletes and training them as track riders before moving them on to become successful road cyclists. Good examples are riders such as Bradley Wiggins and Mark Cavendish in the UK and the Australians Robbie McEwen, Stuart O'Grady and so on.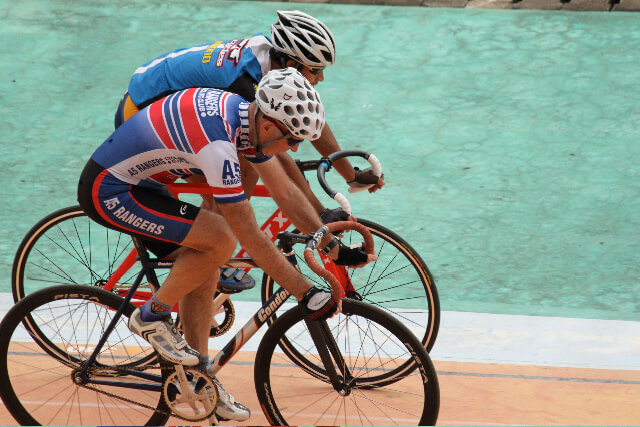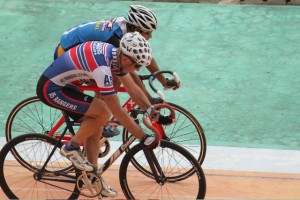 For my part I've always loved the track. When I was younger I had no opportunity to ride a proper banked track though there was some grass track racing in the area of UK where I lived. What we could do though was to ride short time trials on fixed gear, which is something I did for many years.
Fixed wheel bikes are wonderfully simple, there are no gears to adjust – it's just a question of getting on and pedaling, and pedaling and pedaling which we, as cyclists, love to do. Meld the simplicity of the track bike with the safety of a velodrome and in my opinion you have an unbeatable combination. I have spent a lifetime cycling. I've ridden cyclo cross, track, time trials, road races and have toured throughout Europe, in India and in Thailand too. I've done some great riding in the USA. But it's since I retired to Thailand and Chiang Mai in particular that I've been able to ride everyday without work getting in the way.
One of my motivations in moving to Thailand was that there is this great outdoor velodrome just on the edge of the city within a complex built for the ASEAN Games in 1995. In the UK I had been working with young kids (under the age of 12 which included my son Tian) in Stratford upon Avon, UK as part of British Cycling's Go-Ride scheme. I thought it would be a great opportunity to transfer some of these ideas to Chiang Mai and create a group of young Thai riders who would go on to greater things if they wished.
In the UK there are a large number of such schemes and they have spawned some of the great riders that you now see in the professional peloton in Europe. In addition people like Jess Varnish, who is now challenging Victoria Pendleton for the title of Britain's sprint queen, developed her skills within a well-organised track racing and training scheme at the Halesowen Velodrome which was close to my home. We introduced many of our young cyclists to the velodrome and they developed speed, skills and strength which were easily transferred to road riding. I want to replicate this in Thailand. For young riders, the intitial riding (and racing) can be done on any bike and indeed the Haleswoen Track League boasted a 'freewheelers' session for these children.
Once in Chiang Mai, I was disappointed to see that the velodrome was unused and the gates firmly locked. It took 9 months of negotiations and a letter in the Bangkok Postto get the track used again on a regular basis. I paid to have the surface repaired and started to try and attract riders.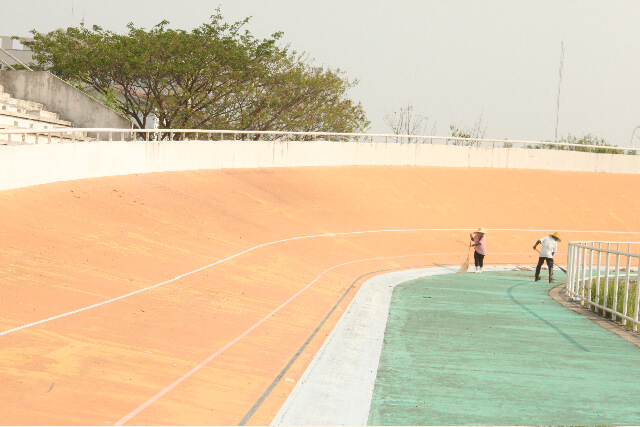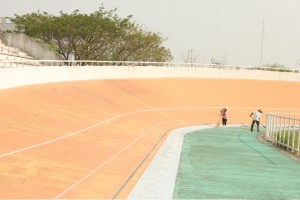 Very few people understood how to use the velodrome – not least of all the managers at the sports complex in Chiang Mai. This is why last year I decided to publish and fund a 20-page booklet in Thai and English which explained how to use the velodrome and offered some basic safety rules that were not only agreed with the Northern Thai Sports Authority but also followed the standard set by velodromes all over the world. It is also a marketing tool, distributed freely through the cycle shops in Chiang Mai, to try and attract more riders.
The booklet is available in pdf document format from BicycleThailand.com (download it by clicking here or contact them at Info@BicycleThailand.com) and also as a hard copy direct from me. The rules and explanations described are applicable to all the four velodromes in Thailand.
In Chiang Mai we are very slowly attracting some young Thai people and also creating the opportunity for expat and visiting cyclists to experience riding on a velodrome. I have some track bikes available and currently have one small Dolan suitable for 8-10 year olds, a Fuji for the next age group up and then a limited number of larger bikes.
The ultimate goal is to attract sufficient riders, Thais and expats, who can compete in a regular track league and then transfer those skills to the national series run each year by the Thai Cycling Association. To continue the dream, these riders can then compete on the road and move on to the larger teams that are slowly appearing throughout Asia.  There are a number of very talented young riders in Thailand and those of us who love this sport would very much like to see opportunities created for these riders with well organized events. Regular club time trials, track training and racing as well as the usual mix of criteriums and road races are a must if Thailand wants to compete in this sport at the international level. It all starts at the grass roots and I hope that what we are doing at the Chiang Mai velodrome will help contribute towards the overall growth of our sport in Thailand.
Thailand Track Facts
Chiang Mai hosts one of the four outdoor velodromes in Thailand.  Also located at Nakhon Ratchasima, Bangkok and Suphan Buri each of these velodromes were built to a similar 333m design for past editions of the ASEAN Games.
Bangkok Velodrome is located at Huamark to the east of Bangkok. Read an article about it here.
Built in 1965, concrete, outdoor
Max Banking: 45 deg (min 5 deg)
Chiang Mai Velodrome is within the 700th Anniversary Sports Complex on the Mae Rim road.
Built in 1995, concrete, outdoor
Shows signs of weathering and wear
Suphan Buri Velodrome
Built in 2008, concrete, outdoor
Nakhon Ratchasima Velodrome
Built in 2007, concrete, outdoor
Velodrome surface is in good condition