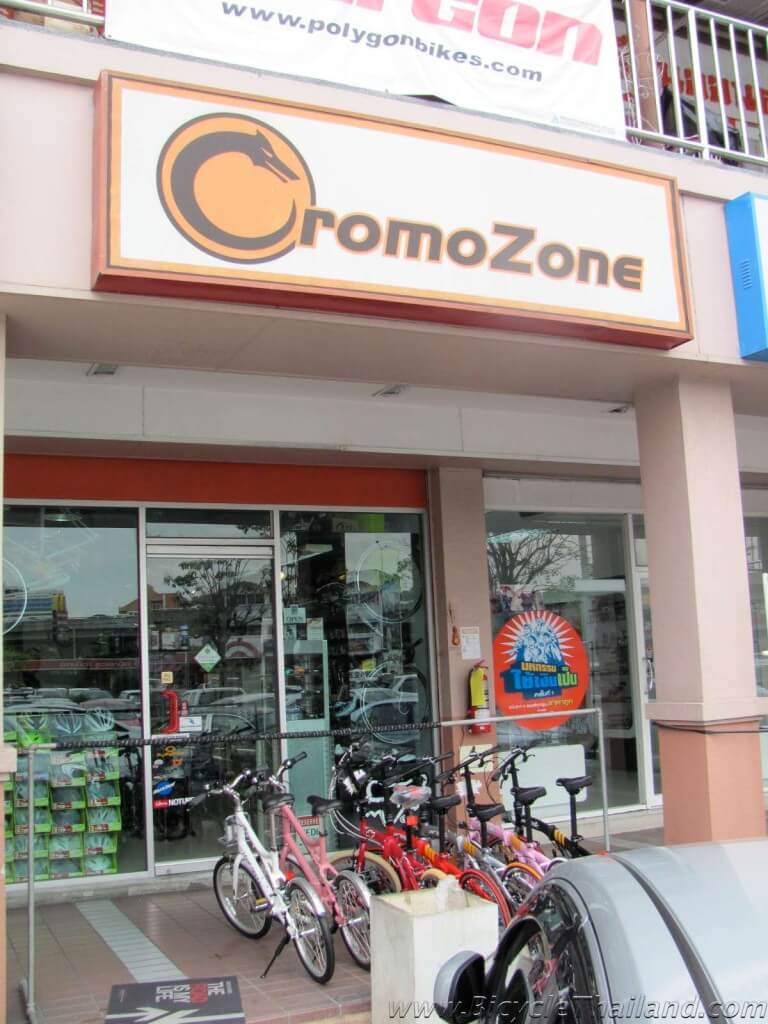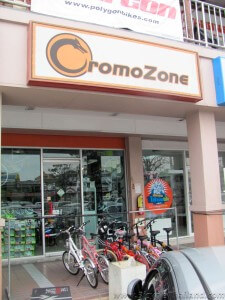 The other week, I ended up spending more time in Thailand's capital than my soul can handle. Not to say that Bangkok is a bad city, it can actually be quite fun sometimes, but I have noticed that staying in the city any longer than two or three days starts to weigh heavily on my senses and I start pining for wide open spaces and fresh air. To alleviate some of the sensory overload of Bangkok I often times seek refuge inside bicycle shops, drowning myself in their two wheeled promises of cycling adventure. One of the shops I took the opportunity to visit was Cromo Zone in the Bueng Kum district of Bangkok.
Cromo Zone is located in the Aeon/Max Valu shopping center on Navamin Road, just before soi 74. It's a great shop to know about if you ride in the eastern parts of Bangkok or are headed out of town for a cycling trip towards Min buri. The shop is two levels. The main floor is dedicated to displaying parts, frames and accessories while the top floor is reserved for bicycle storage and parts overflow.
The shop's name is Cromo Zone because the owner prides himself on stocking bicycles from manufacturers who specialize in producing Cromoly frames. For those of you not familiar with Cromoly, it is a steel alloy containing chromium and molybdenum, hence the name. There are two very common steels used to manufacture steel bicycles. One is called Hi Tensile and the other is Chrome Moly (Cromoly, CroMo, or simply just CrMo). CrMo and Hiten steels weigh virtually the same but CrMo is stronger, which means that you can use less material while maintaining the same strength. Less material=less weight. Different ratio grades of Cromoly are designated by numbers like 853, 725, 531, and 501. The higher the number, the higher the quality.
Some of the classy Cromoly bikes available at Cromo Zone are from Voodoo, Salsa, Surly, and Ritchey.
Cromo Zone owner, Khun Boy, explained that he has lived in the area of the shop all of his life, growing up and riding in the Bueng Kum district and finally opening his store more than four years ago. Khun Boy speaks very little English, but his appreciation and enthusiasm for bicycles shows through in his well-presented and uniquely stocked shop. Top end accessories and parts from Fox, 3T, CamelBak, Fizik, DT Swiss, Polar, and Avid are on display in abundance on the first floor of this little shop. A short walk upstairs reveals several bicycles, from Salsa and Voodoo MTB models to Surly CrossCheck and Long Haul Truckers.
An item at Cromo Zone that caught my 'touring' eye was a rear pannier rack from a Thai manufacturer by the name of PIIPUS. Overall, this rack appeared to be the equal of a much more expensive touring rack from TUBUS company. And, the solid construction and professional finish of the PIIPUS rack can be had for less than half the cost of TUBUS.
I honestly had to cut my visit at Cromo Zone short because I knew if I hadn't I would have been walking out the door with a beautiful green Surly CrossCheck under my arm, and 40,000THB poorer. Stop in and check out Cromo Zone next time you're in the area, or make a special trip just to see this Cromoly dedicated shop. Say hi to Khun Boy and his assistant named Fight, and let them know that I'll be back for that CrossCheck just as soon as I clear some room in the spare bedroom.
Cromo Zone
700/39 Aeon Plaza Navamin Road
Khwaeng Khlong Kum, Khet Bueng Kum
Bangkok 10240
ภาษาไทย [+]
Cromo Zone
700/39 อิออนพลาซ่า ถนนนวมินทร์
แขวงคลองกุ่ม เขตบึงกุ่ม
กรุงเทพฯ 10240 Tel. 029-447-285, 083-178-6888
GPS – N 13 49.091, E 100 39.278