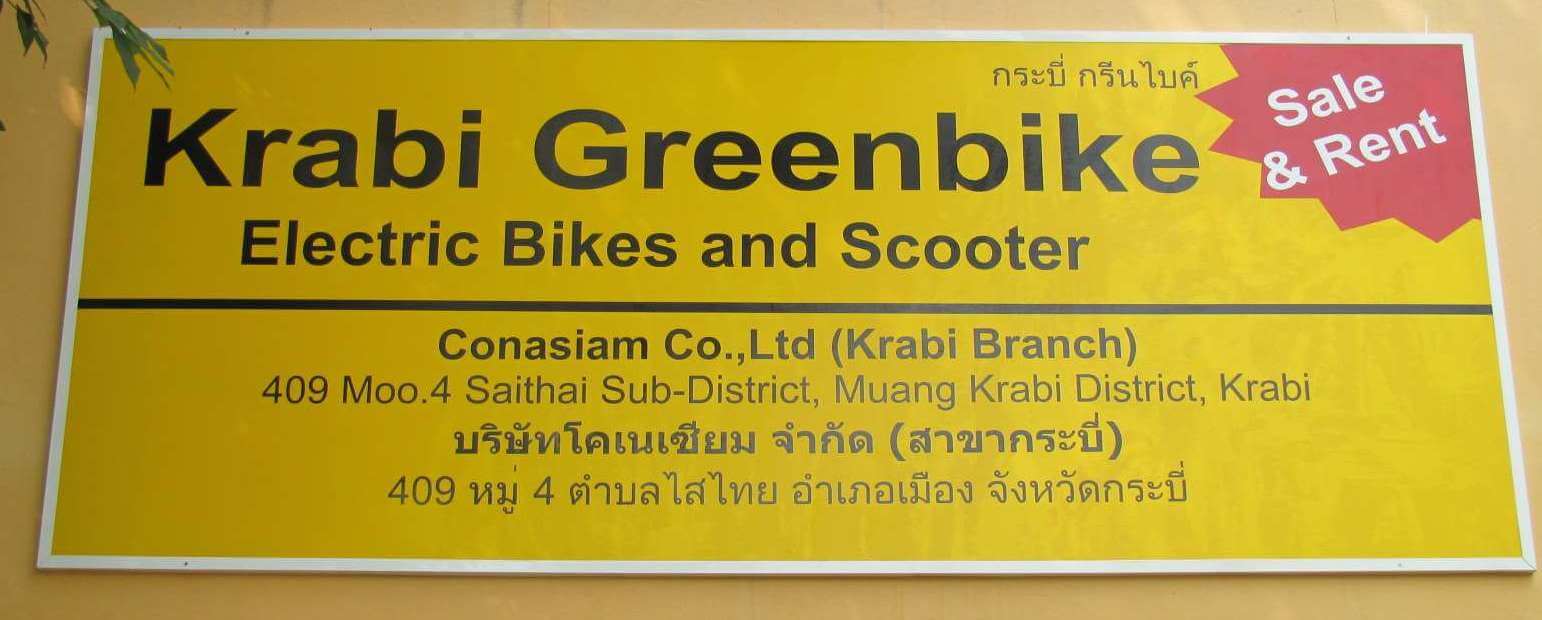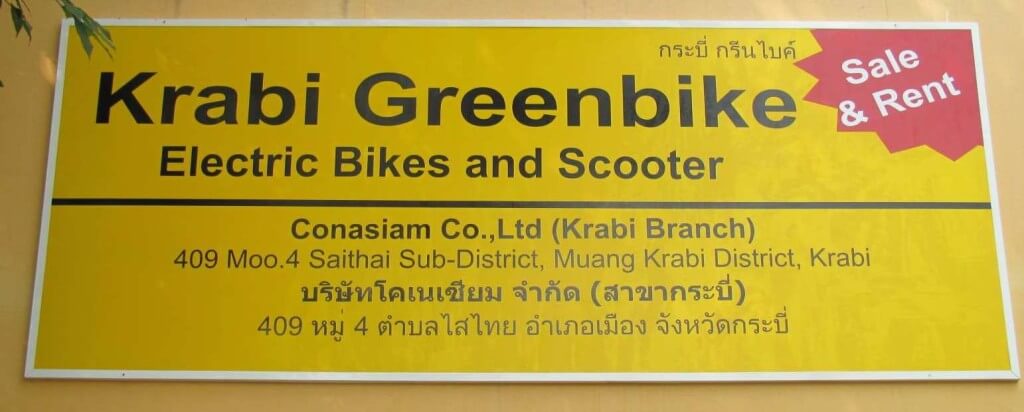 Looking for the freedom and independence that a bicycle provides, but not eager to do all of the pedaling yourself? Want to extend your range of mobility without having to worry about licensing and registration, parking and fuel costs associated with cars and motorbikes?
Electric bicycles offer an affordable, eco-friendly alternative to gas operated vehicles. With their extended range (up to 40kms on a full battery charge), inexpensive care and maintenance costs (as little as 5 THB per charge), and ease of use, electric bicycles are the answer for recreational and everyday users wanting to take advantage of the benefits of electric motor pedal assistance.
The unique setup of electric motor pedal assistance ensures that any electric bicycle can be ridden as a normal bicycle, with 100% input from the rider at the pedals, or as a bicycle propelled entirely from a 24, 36, or 48 Volt (250/350/500 Watts) battery fed electric motor (Range of speed=20-35kms/hour). The choice is yours; pedal the bike on short trips and flat roads and let the electric motor easily conquer the hills for you, or use the motor during your entire journey. An electric bicycle allows you to travel to nearby shopping, accomplish your daily tasks, and enjoy long distance excursions with the ease afforded by electric motor pedal assistance.
Conasiam Co., Ltd., with branches in Phuket and Krabi, is the importer of high quality lithium and lead/acid battery electric bicycles. Both locations maintain several types of electric bicycles including aluminum and steel-framed two-wheeled, three-wheeled, and folding models. All models are available for purchase and short or long term rental.
Electric Bicycle Rental

300/day
1,400/week
4,500/month
Conasiam, as the importer, keeps both of its locations fully stocked with replacement bicycle and battery parts and provides one year free servicing with any bicycle purchased (excluding tires and inner tubes).
In Krabi – Call 061-494-7644 (Thai), 091-647-6216 (English), email info@krabigreenbike.com for inquiries, or stop in today for a test ride.
Krabi Green Bike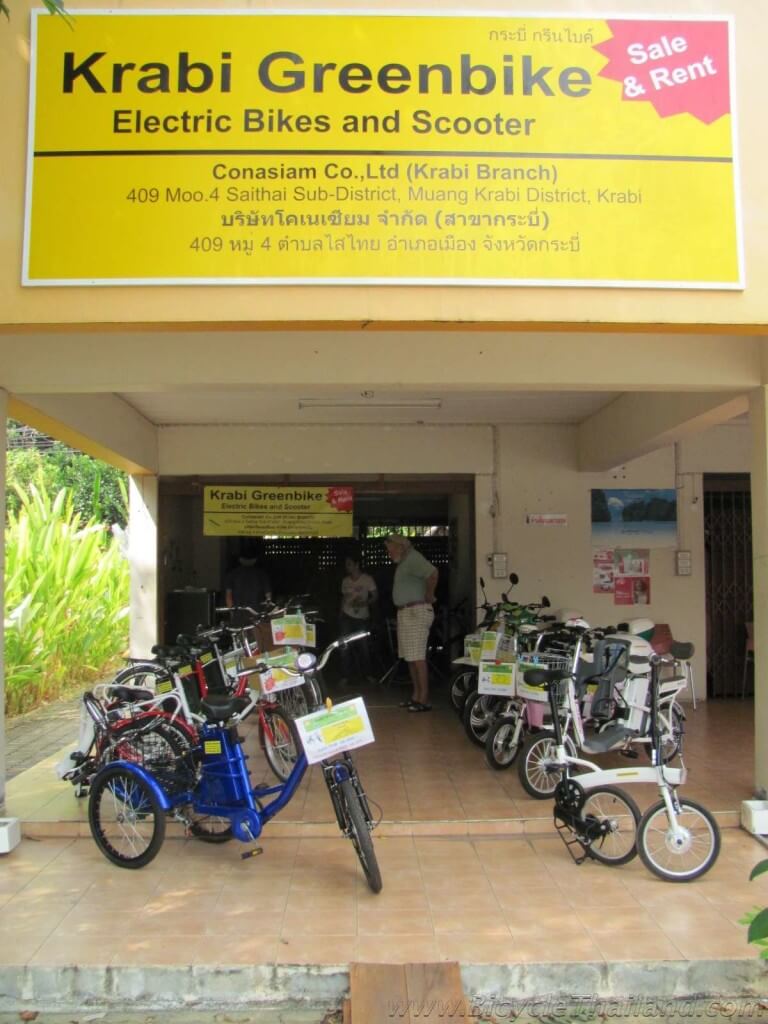 409 Moo 4 (located inside PTT gas station parking lot)
T. Sai Thai A. Mueang Krabi
Krabi 81000
ภาษาไทย [+]
กระบี่ กรีน ไบค์
409 หมู่ 4 (ร้านตั้งอยู่ภายใน PTT)
ตำบไสไทย อำเภอเมืองกระบี่
จังหวัดกระบี่ 81000 Tel. 061-494-7644(Thai), 091-647-6216(Eng)
[Thailand Distributor: Electric bicycles & scooters]
GPS – N 8 04.756, E 98 51.383 [This location has been closed – Visit their Phuket location]
In Phuket – Call 088-450-5915 (Thai), 091-647-6216 (English), email jome@phuketgreenbike.com for inquiries, or stop in today for a test ride.
Phuket Green Bike
53/12 Moo 7, Naiharn Beach Road (map)
T. Rawai A. Mueang Phuket
Phuket 83100
ภาษาไทย [+]
ภูเก็ต กรีน ไบค์
53/12 หมู่ 7 ถนนในหารบีช
ตำบลราไวย์ อำเภอเมืองภูเก็ต
จังหวัดภูเก็ต 83100 Tel. 088-450-5915(Thai), 091-647-6216(Eng)
[Thailand Distributor: Electric bicycles & scooters]