Today is my husband's first death anniversary. Francisco Guillermo Villa Honorato, the cyclist from Chile who wanted to set a new Guinness Record by cycling 5 continents in 5 years for 250,000km, was knocked down by a pick-up in Korat, Thailand, on 21 Feb 2015.
Francisco doesn't have faith in any religion but he believes in God (he knelt down and thanked Him/Her when it finally rained after a long hot spell during his cycling in Brazil). He believes in thinking positively and going after his heart's desire! He loves to smile, sing, dance and joke! Mi Amor (My Love) celebrated life, overflew it with adventures and spread buena ondas (good vibes/ energies)! He loves me and his sons deeply.
Frankly speaking, I don't feel sad. When I think about it, he has lived life fully and died the way he preferred – a quick and un-burdensome death. When we were living in Santiago – the capital of Chile – in 2014, we saw how his father suffered a slow, painful and undignified death from lung cancer. Francisco told me he wanted none of this.
The Thai medical report stated that he'd a skull fracture with severe blood loss from a 4-cm wound, his spine was fractured, his neck bruised; and his left foot was deformed too. The injury index for his skull and spine were the maximum 6 – not survivable.
Some people in the Thai bike forum questioned why Francisco did not wear a helmet. Yes, he should have, as all cyclists should. But if he did and survived the accident, he might not have liked how the accident has reduced him. Which is a worse fate, I don't know.
In fact, about 2 or 3 nights before the accident, while we were still staying in Khon Kaen's Dharma Uttayarn, the forest temple my husband loved, he woke up from a nightmare. He told me, "I'd the same sensation again! I was struggling in the pool trying to extricate myself from a demo that went seriously wrong!'
Francisco used to be a lifeguard instructor in Chile before he closed his academy to bike around the world. I told him to calm down and continued to sleep. In hindsight, this nightmare was a premonition; an omen from Death. Did my Love sense that his time was coming? Is Life pre-destined?
When it was time to collect his ashes the next morning at the same forest temple, where the grand funeral was held, I was surprised to see parts of his unburnt bones among the ashes. Something told me to keep these bones bits separately. Through Kanchana' s help (the chair-lady of Khon Kaen Bike Club), I bought 3 boxes of transparent 27-grid tool kit to keep his remains.
Today, I took out one box and showed Lukas his daddy's remains. Lukas knew where I keep the boxes; he'd sometimes pull the drawer and say, 'Papa bone-bone.' After I told him, 'Mama loves you. And Papa loves you too.' He would turn towards his daddy on an A3-sized photo from his funeral which I displayed in the living room. I took the photo down and brought it closed to our son. 'Kiss Papa,' I whispered, and we both kissed him. We're still together, just that my responsibilities are on earth taking care of Lukas while Francisco is now much closer to God, watching over his sons from below.
Below is the speech I wrote for my husband's vigil at the Bangkok Art & Culture Centre on 27 Feb 2015:
First, I want to thank everyone present who made the effort to come here for my husband's vigil. If Fate brought you here, you're most welcome too. My husband's nickname is Pancho Villa who was a famous Mexican revolutionary who died in 1923.
This Pancho from Chile started his bid for the Guinness Record in Nov 2010 when he left home to cycle around the world. They say he has 'patas perro' which means the leg of the dogs. It's a Chilean slang for wandering around, the so-called wanderlust, this love for travelling. It took him about 2 years to cycle the American continent from Chile to Canada.
I met him in Cancún, Mexico, in March 2012 and we decided to cycle together in Europe. We flew to Zurich, Switzerland in Sep 2012, and cycled towards the Atlantic Ocean passing France, Spain, Portugal, then back to Spain again to take a boat to Morocco. It was his dream to reach the Sahara and he filled a big mineral water bottle with sand from the Sahara Desert.
He once said, 'I'm not a cyclist.' He means he sees bicycle as a means to realise his dream. After he closed his lifeguard academy, he has little money; but he has a bike – a humble Belda bike, with no camara, no laptop and no smart phone. He took the bike and left for the world. And he told me that was the best decision he had ever taken because the bike brought him freedom, adventure, friends from all around the world and it found him love and a family too.
My husband is not one who stays long in the comfort zone. You won't find him doing the same thing for more than 3 or 5 years. During his younger days in Chile, he was a policeman, a bodyguard, fireman, paramedic, first-aid instructor, dog trainer etc. He organised a team to help out in the rescue work following the earthquake in both Chile and Haiti. Being the son of the Andes, he loves the mountain and was into rock-climbing before he started his cycling adventure. Francisco or Pancho loves water too. He was a swimming and lifeguard instructor and loves the thrill of surfing. In fact, he was looking forward to swimming in both the Andaman Sea and the Gulf of Thailand.
Such is the man for whom you're standing here to commemorate – an adventurer, a risk-taker, the 'just-go' type, a fast-thinking, problem-solving mechanic, a kind soul who took a little snake away from the highway so it doesn't get flattened and gave water and cookies to a vagabond he saw while cycling on the highway A12 in Thailand.
On the intimate side, Pancho is a loving husband who took care of his wife. I remember once we stayed in a local's farmhouse in Hepu, China. It was late at night but I still wanted to wash clothes after taking a shower. I knew Francisco would be worried so I tried to hurry up. Suddenly, I heard someone knocking and I saw my husband with drowsy eyes. He said he could not sleep until I returned safely.
And if you saw videos I took of Pancho playing with Lukas our 16-month son, and hear their laughter and feel their chemistry, I tell you, I have never seen a better father. He helps me so much in caring for Lukas, he once said, 'I wish I'd milk to feed him.'
Pancho lived such a life that one can write a whole book about him. But this book ended abruptly, the legend was cut short, and one bright star fell. Other than giving you an idea of the man who died in this tragic accident, I'd also like to use this opportunity to tell the world – Please respect cyclists, please respect Life.
Quoting a T-shirt slogan I edited:
One CRASH
One Dream Ended
One Family Broken
So, drive safely, stop killing cyclists.
---
A few weeks ago, I wrote a letter to the driver responsible for killing my husband. I'm grateful to Khun Peerapong, a Thai cyclist, who helped me find his address and posted it to him.
Dear Mr Tiwarat,
Someone told me he'd print photos of my late husband's bike-travelling around the world and send it to you once a week for a year. I said no point in worsening your guilt, assuming there is.
Someone wrote to me:
'I was at the funeral in Khon Kaen and saw the driver who killed Fransisco chatting happily away with the police as though nothing had happened. I'm sure he has no remorse whatsoever and will drive the same way in the future.'
I was told by the insurance company I could only get 630,000 baht while the recent victims of accident in Chiang Mai got 1.2 million baht because you bought a cheap insurance. I was advised to sue you for the rest.
What's the point of suing a poor man? I've no intention to land you in debt or pull a tooth for a tooth.
No amount of punishment or revenge can return a Great Life that was cruelly snatched from us by your reckless driving.
I dread the day when Lukas understands what Death means and learns how his dad died. I dread the sadness that would fill his little heart, and how he'd cry for his dad. Lukas will never be able to play with his dad, be hugged and kissed by him again. Francisco forever missed out the joy and excitement of watching his son grow up. I lost a husband who loves and cares for me so much, and somebody to grow old with. This is the depth of the pain that can never go away.
Please drive carefully and promise me to never cause another accident and tragedy to a family.
I pray Thailand will have fewer and fewer impatient or drunk drivers, and that the convicted will receive fair and strict punishment that all road-users will fear and respect.
May the souls of all who were hit and died by the road close their eyes and find peace.
Jennel
Wife of Francisco Villa
Chilean cyclist who died in Korat on 21 Feb 2015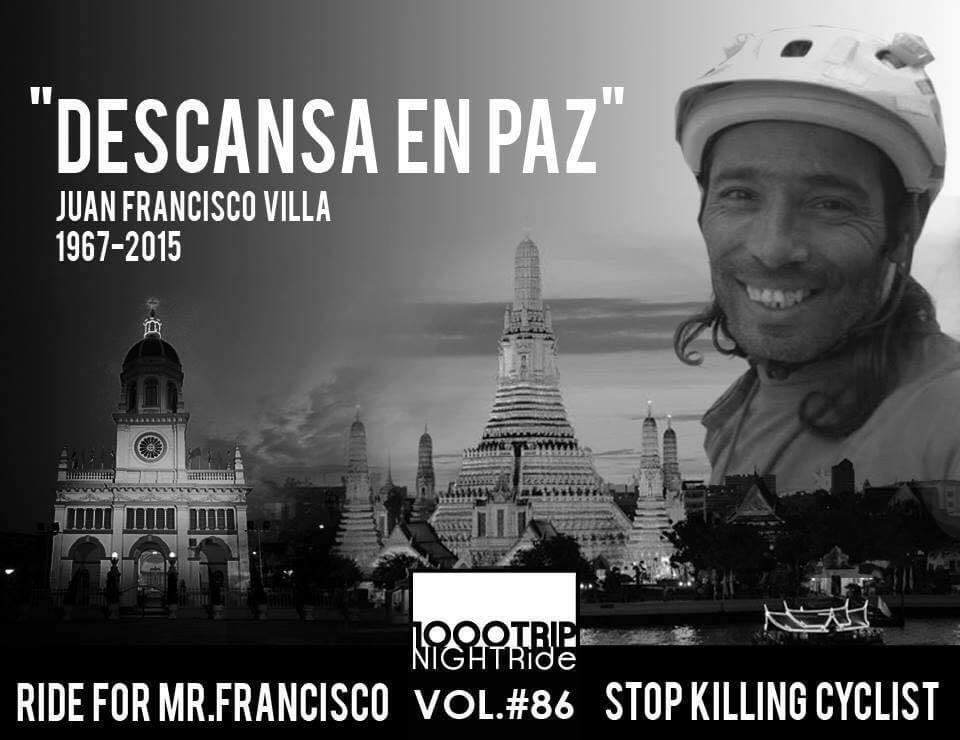 ---
Editor's note: Jennel was assisted greatly by Khon Kaen residents and members of the city's cycling club. In addition, following an appeal for help on the BicycleThailand.com forum, Khun Jomkwan Janpha of the Office of Insurance Commission of Thailand stepped forward to assist Jennel to pursue an amicable agreement with the driver's insurance company, KPI.