Chiang Rai Bicycle Tour Company "Half-day ride to the White Temple" Tour Review
"Choose a job you love, and you will never have to work a day in your life." – Confucius
Bee and his family have certainly taken the sage at his word – Chiang Rai Bicycle Tour Company, started in the fall of 2008; is an exceptionally smooth operation and from the first minute you meet them, you know they love what they do.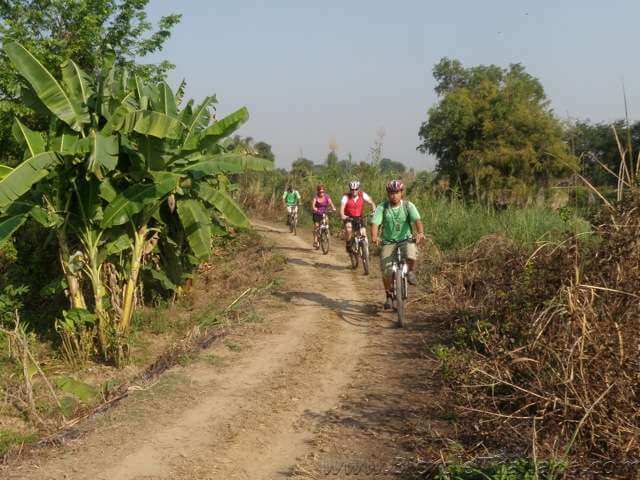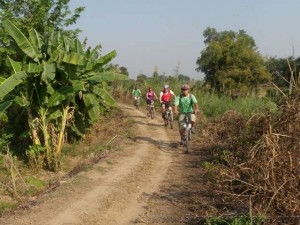 Bee, founder and owner, picked us up in a covered song-tao – a pickup truck but set up to carry people – for the short ride to the starting point of his most popular ride, the half-day bike ride to the White Temple. The full-day ride, which is this ride plus going on to the Khun Kon waterfall comes in a close second. Along on this tour was a couple on holiday from Neuwied, Germany.
At the starting point we met Bee's brother Amon and their sister Ying. Ying is the driver and also takes care of the food and refreshments along the way. After fitting each of us, Bee gave us a quick rundown on road customs in Thailand, hand signals and how to keep the ride safe. Bee's other brother Anek and a close family friend, Noom lead the second tour team or, if needed they all work together for large groups.
Chiang Rai Bicycle Tour uses Trek bicycles exclusively. They have 40 adult bikes and several kid sizes. It surprised me to learn that the bikes were not brand new this year. The bikes were that clean and well maintained. I am particular about how my bike works and these guys get full accolades from me, my bike was tuned perfectly. We were about to learn that their tours run as smoothly as their bikes do.
From our starting point on the eastern edge of Chiang Rai we headed south following quiet sois and footpaths toward the Lao River. Bee and his brothers have done an amazing job finding small tracks and trails that show their guests a side of the Chiang Rai countryside that most tourists will never ever see. The pace was comfortable with plenty stops along the way; rice being planted, temples, local markets and quiet neighborhoods. Our first stop was a farmer cleaning rice field snails. He was picking the little critter out of the shell for sale to restaurants. Amon said they are great in curries and soup dishes. Second stop was to see a cricket farm. In America this farm would be selling to bait shops for fishermen. In Thailand, these crickets are delicacies to be fried and then sold as late night snacks by street vendors all over the country.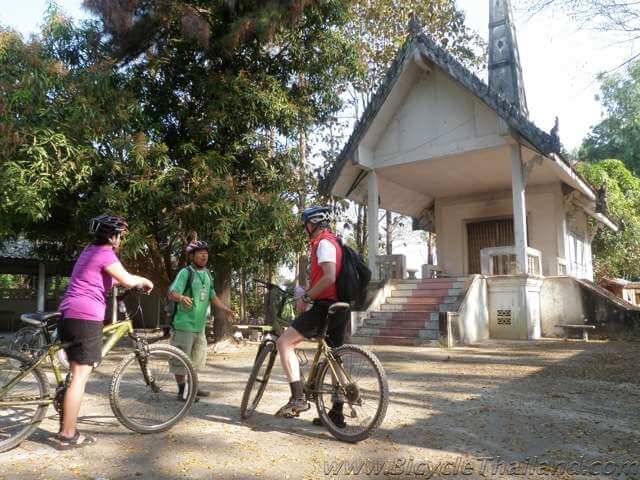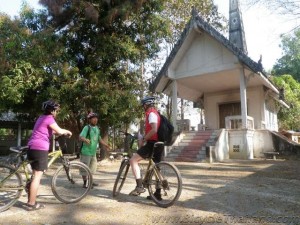 We stopped too at a Buddhist crematorium. Bee and Amon, spent 8 and 10 years respectively as Buddhist monks; with a touch of morbid humor they told us about Buddhist funeral and cremation customs, explaining how customs around the country differ from one region to another. You'll have to go on the ride to hear them tell.
Our ride continued southwest along the banks of the Lao River. Smooth easy single-track trails mixed with dirt roads and sois with not a car or motorbike to bother us. Bee told us about bananas and dragon fruit, rice fields and how Thailand is blessed with a diversity of food crops that is nothing short of remarkable in the world.
Turning southeast from the river we headed toward the mountains. We came to the only real hills on the ride. The few climbs were short and easy, nothing technical. Bee told me that they regularly take kids as young as six on this ride and they do fine. They even have baby seats available if you want to bring a toddler along.
This part of the ride took us past rice fields that are only planted during the rainy season since it is too costly to bring irrigation up to this valley. We saw water buffalo grazing. They all ran away from the approaching human monsters on bicycles. Amon taught us how to shoot grass blades through the air like little darts. A skill he and his brothers honed as country boys on the family farm in Chiang Mai province.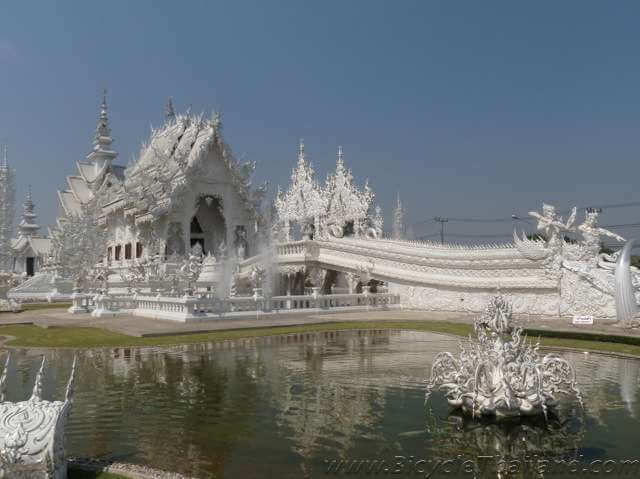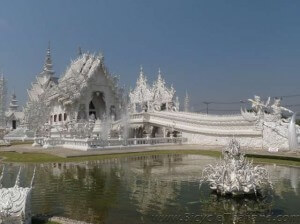 Getting closer to our destination we turned onto paved roads for the last kilometers to The White Temple. Still we had no shortage of striking scenery or fascinating sights to see. I caught a glimpse of the temple in the distance, it looked like a straight shot down the paved road we were on but Bee ducked us into a little side soi that followed the river once again on a few hidden trails leading right up to our goal, a very nice ending to a great ride.
After refueling on lunch of local noodles and fruit we set off to explore Wat Rong Khun, known as The White Temple. Our tour didn't end with Bee pointing to the temple and sending us on our way. He took us around each part of the grounds, told us about the symbolism of the artwork and sculpture as well as showed us around the workshop where the mirrored decoration of this unusual temple is created. Well worth the trip. Most of the people visiting the White Temple arrive in air-conditioned luxury buses – I think I like Bee, Amon and Ying's way of getting there much better.
Chiang Rai Bicycle Tour is fully licensed by all the proper authorities in Thailand, guides are authorized and licensed Thailand Tour Guides and they carry accident insurance on every rider. If you are in Chiang Rai and looking for a great way to see Thailand from a slightly different angle, give Bee and his family a call – you will not regret it.
View a slideshow of my bicycle tour to the White Temple – http://youtu.be/8suqfNNTSRM
Chiang Rai Bicycle Tour
222/6 Moo 3 Tasai Muang
Chiang Rai 5700 Thailand
Tel./Fax      : +66 53 774506
Available 24 hours : Mobile +66 85 6624347
Website : www.chiangraibicycletour.com
e-mail : chiangraibicycletour@yahoo.com