Article and photos by Suracheth Prommarak
"Chiang Mai: Bicycle City" This is the slogan of the Chiang Mai Sunday Bicycle Club, gracing the cover of their monthly news bulletin. Chiang Mai Sunday Bicycle Club is the best-known bicycle club in Chiang Mai, having met officially since 1996. It was founded by police Lieutenant Colonel Anu Neurnhad, who works in the traffic department and was inspired by a cycling campaign in Jakarta, Indonesia.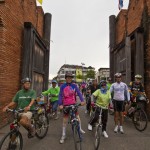 Neurnhad first began to promote bicycling in Chiang Mai in 1994 in an effort to fix traffic problems and air pollution. Through private donation he was able to gain funding to print signs reading "Short distance, use bicycle" and post them in strategic locations around Chiang Mai.
Around the same period bicycle enthusiasts in the city started to informally meet for bicycle rides on Sundays, and Neurnhad looked for ways to encourage greater participation in the rides. He arranged for policemen and volunteers to secure the path that they followed every Sunday. He noticed that when people felt safe they were more likely to come to ride a bicycle. He got involved the government's efforts to renovate Chiang Mai's city plan for bikers and promoted the installation of bicycle lanes. The first such lane was painted on Huay Kaew Road on 4 October 1996 and since then bicycle lanes have been expanded to many major areas around town.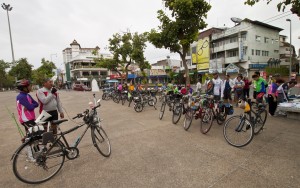 The result is that Chiang Mai is the first municipality in Thailand to have a bicycle lane route linking the city. This event also marked the official formation of the Chiang Mai Sunday Bicycle Club, a tradition that has continued to this day.
Chiang Mai Sunday Bicycle Club now meets every Sunday morning at 7 am at Thapae Gate on the eastern side of the old city. The club welcomes all cyclists who love biking in Thailand, with no restriction for age or nationality. At meetings members may set up booths to sell bicycle tools and parts, and visitors are free to browse. Additionally, each month the club publishes a news bulletin to inform members about the planned routes and cycling-related activities. They also share information about road accidents and bicycle lanes. Newsletters are available for free at their Sunday meetings.
For more information about the club and its activities please visit www.cmcycling.org