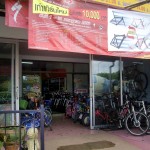 This month's featured bike shop in Thailand is Cherry Bike. Cherry Bike is located in the San Sai district of Chiang Mai, on the Chiang Mai to Doi Saket road (Hwy 118), between the Superhighway (11) and 1st Ring road (3029). The shop is situated on the left-hand side of the road if you are driving East towards Doi Saket.
Chiang Mai enjoys great cycling weather and is full of great cycling destinations, from national parks and hot springs to mountain trails and scenic heights. Chiang Mai is also home to an increasing number of bike stores and a flourishing bicycle culture. Cherry Bike, its owners, and its support of clubs and rides in Chiang Mai and surrounding provinces are a strong part of that culture.
Cherry Bike
378 Moo 3 Highway 118
T. San Sai Noi A. San Sai
50210
ภาษาไทย [+]
ร้านจักรยานเชอร์รี่
378 หมู่ 3 ทางด่วน 118
ตำบลสันทรายน้อย อำเภอสันทราย
จังหวัดเชียงใหม่ 50210 Tel: 053-380-229
GPS – N 18 48.508, E 99 01.482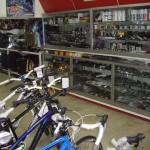 Specialized, Giant, Mongoose, Haro, and GT make up the bulk of bicycle brands that can be found at this store. A strong showing of BMX bikes and gear complements the wide selection of road and mountain bikes on display. A full service department in the back of the shop handles repairs to all makes and models of bicycles while the walls of the showroom are full of top-end components and accessories. Whether you choose to explore Chiang Mai's fast-rolling flats or mountain switchbacks on pavement or dirt, rest assured Cherry Bike will be able to handle your pre and post ride needs. Happy riding!