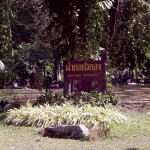 For many months I had heard rumors of an awesome-sounding waterfall near Chiang Mai that people described as 'sticky': you could actually walk up the waterfall because the rocks had traction! Unfortunately, the spreaders of these rumors couldn't tell me where it was, and my Thai friends didn't recognize it from the description.  However, one day as I was perusing my friend's status updates on facebook I saw pictures of some of them walking up a waterfall! From that I got the Thai name of the place and started googling to find out where it was. Thanks to spelling conventions, it was still difficult to find the place, and the descriptions of distances online turned out to be fictitious. Nevertheless, I set out on my bicycle one beautiful cool morning to go find it for myself. The results are what you have in front of you.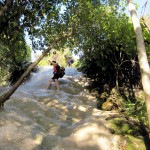 Bua Tong Forest National Park is known for one of the coolest waterfalls I've ever experienced. Most waterfalls you look at from a distance and 'ooh' and 'aah' at the beautiful falling water, but you can't get too close because you might slip on a rock and fall onto the deadly rocks below. Not true of Bua Tong Waterfall. This waterfall invites you in to play and offers you a safe place to put your feet where you can enjoy the water and get your feet pumiced at the same time!
The ride out to the waterfall is basically entirely on Hwy 1001. For the first 20 km or so the traffic is quite heavy. There are two major markets on 1001 as you head out of the city. You should expect traffic to stop suddenly, for vehicles to be going into reverse on the highway, and for cars to cut in front of you to park in what they have determined is a prime parking space.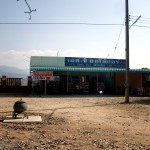 Once past MaeJo University you can enjoy some lovely Thai landscapes. There are also plenty of side shops to stop at if you need to. The route is flat until about 20km from the park. At this point, you should stop at the convenience store pictured here for your water and energy refill before heading into the rolling hills and a 2km climb. There are no more water or food stops until you reach the park.
This lovely and interactive waterfall is well worth the ride! Enjoy!
Map My Ride Link – http://www.mapmyride.com/routes/view/26480258