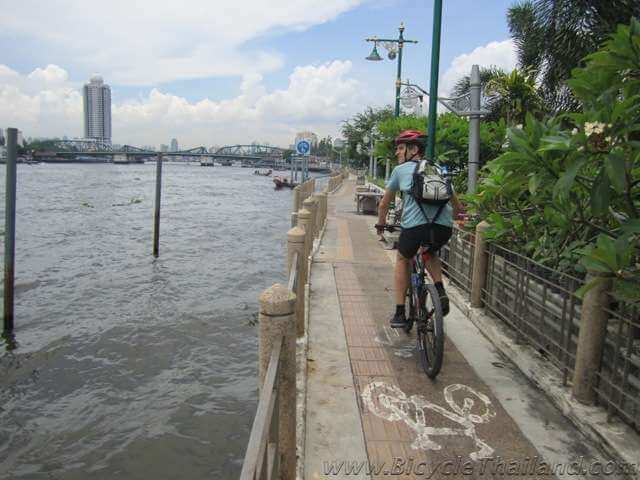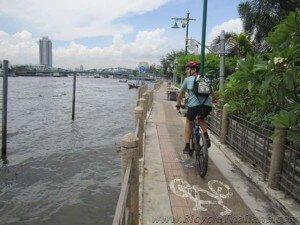 Whilst I was a little sceptical due to Bangkok's heat and traffic, going on a bike tour proved a great way to experience some of the city's sights, sounds and tourist attractions.  In fact, I learnt that these challenges should actually be reasons for choosing pedal power as opposed to going at it on foot or by vehicle, as you can feel the breeze as you ride and avoid frustrating traffic jams.
After considering a variety of different tour options I settled on Bike Tour Bangkok's 'The touch of Thai smile' day tour. The website explains that the tour provides a good feel for the culturally diverse Bang Rak area, whilst also visiting famous sites including Wat Arun (the Temple of Dawn), Wat Pho (the Reclining Budda) and China Town – just to name a few. The real thing lived up to these promises.
On the morning of the tour I set out early to meet my guide.  The starting-point was easy to find based on the directions provided on the company's website, and the fact that it was close to the Taksin sky train station. Upon arrival I was greeted by my guide (Nat) who supplied me with a bike, helmet, map of our route and water.  A souvenir bottle opener he gave me in addition to the necessities was a nice touch too. However, while the bike provided was a Trek 4300 mountain bike in good working order, its 16-inch frame (the largest they had available) was too small for a big guy like me (in saying all of this though, I was able to tolerate it with the seat at maximum height given the leisurely nature of the ride). After receiving a briefing of the route, safety precautions and hand signals to be used, we set off.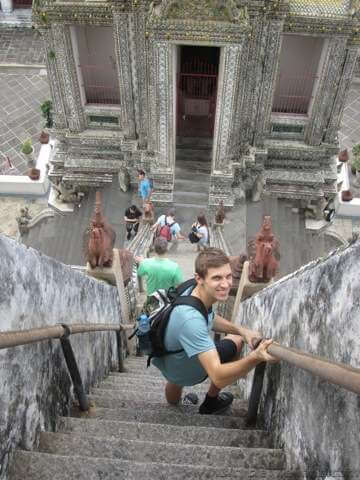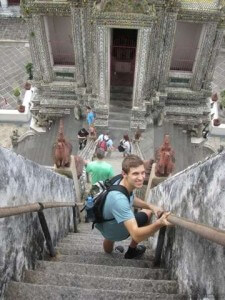 The ride was diverse and moderately paced, stopping roughly every 10 minutes as each tour highlight was reached. At each stop there was plenty of opportunity to receive the guide's explanation of the surrounds, take photographs and venture inside the various buildings, temples, markets, etc.  The approximately 15 km route, which strayed not too far from either side of the Chao Phraya River, was consistent with the planned itinerary.
There was plenty to see along the way in terms of architecture and street-level activity as we rode through different communities. Parts of the route were away from the major tourist attractions too, which was refreshing. While we did spend a short amount of time on unavoidable busy roads (I wouldn't recommend this ride for children), for most of the ride we were weaving our way along small sois (lanes) and canal paths. Being on the bike we saw a lot more than you could cover on foot, and we also passed cars and tuk-tuks when there were areas of heavy traffic.
It really was my tour guide, Nat, which made this tour a great experience.  A local Thai, Nat was very knowledgeable, spoke very good English, and went out of his way to ensure I was enjoying the tour – for example always ensuring I had a cold drink, mentioning when there was an opportunity to go to a restroom, and taking photos with me in the picture.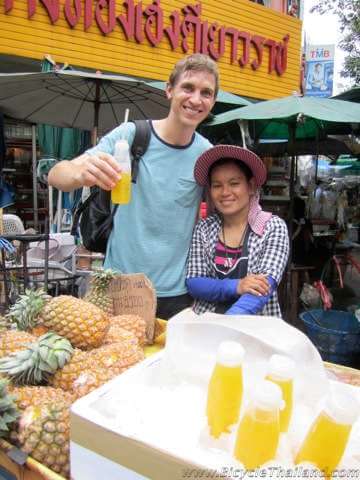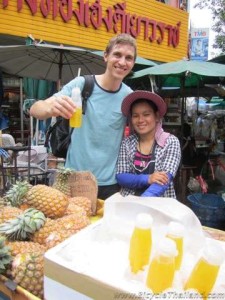 When riding past Bangkok's biggest flower market I called out that I should probably buy some flowers for my girlfriend who was busy at work while I was out on a bike tour. He then stopped in a safe spot and helped me to find exactly what I was after, and also bargained with the street vendor for me.
Nat also had a good rapport with the other locals with whom we interacted, such as historical site staff, and in the Kudichine Community where we stopped to taste a dessert they were making. This made me feel, by association with him, very welcome and not treated like just another tourist. I was probably also fortunate in some ways that I was the only person on the tour that day.
In summary, this tour would be suitable for anyone with a low to moderate level of fitness that is interested in seeing some of Bangkok's many attractions. The itinerary was interesting and my guide was great. While the quality of my bike was good, I wouldn't have wanted to ride much further on it because it really wasn't big enough for me. At a price of 1350 THB for approximately four hours, including ferry transfers and drinks, the price is in the ballpark of other cycle tours around Bangkok.
Tour Name: The Touch of Thai smile
Tour Guide: Nat
Tour Distance: approximately 15km
Tour Duration: approximately 4 – 4.5 hours
Tour Date: May 9, 2013
Bike Tour Bangkok
Address: 
Sathorn Pier (Under Sathon Bridge)
Soi Charoennakon 15, Charoennakon Road
Klongtonsai, Klongsan, Bangkok 10600
Tel: +66 (0)81 567 9277
Fax: +66 (0)2 860 3600
Web: http://www.biketourbangkok.com/
Email: sales@BikeTourBangkok.com