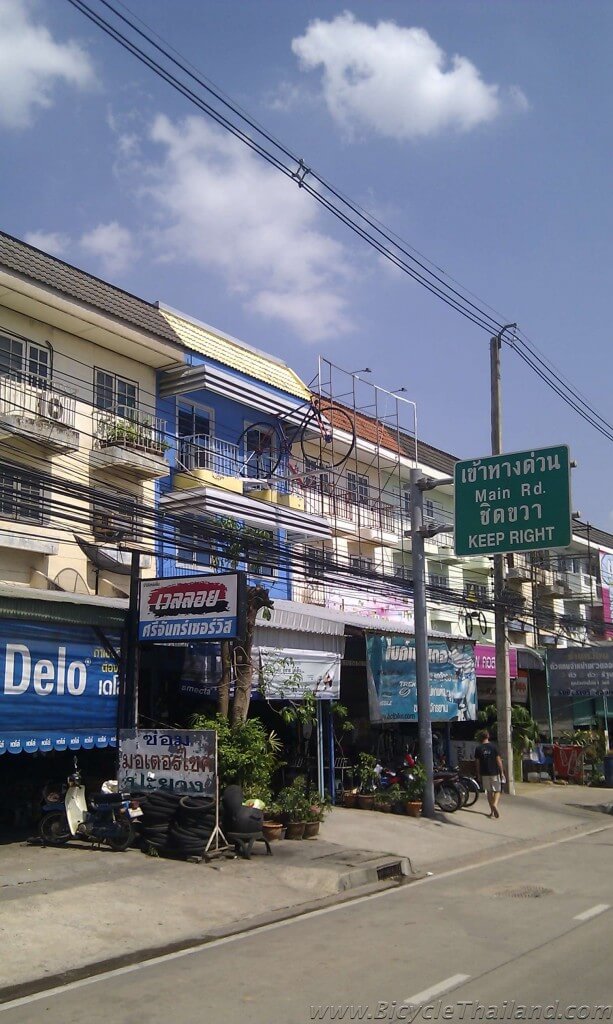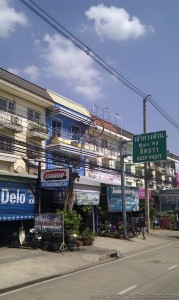 Over the past weekend I had the chance to travel to Khon Kaen and while I was there, as I do on all of my trips in Thailand, I paid a visit to every bike shop in town. I found a few gems and of course I marked all of the shops on my GPS to help our readers easily locate them. For those of you who haven't been to Khon Kaen I will say that the city and its roads favor the roadie crowd as there is a significant lack of mountains in the area. But what I saw on display at the local shops was definitely not limited to road bikes. Mountain, fixed gear, BMX, and cruisers, as well as foldables and racers are all here in the provincial capital. It was easy to see why the relatively large size of Khon Kaen draws bicycle shoppers from many parts of Isan (Northeastern Thailand). Bike Center in Khon Kaen is this month's featured bike shop for just that reason. Owned by a pleasant and helpful man named Khun Te, Bike Center is easy to find and stocks many brands. The shop is located on Mitaphap Road across from Sinakarin Hospital. Mitaphap road is one of the major roads that bisect the city and the Sinakarin Hospital is a great landmark to help you get your bearings. If all of that wasn't enough Khun Te has installed a massive bicycle atop his shop, jutting out from the third story of the shop's row building (see photo on left). Bike Center carries many different brands of bicycles and while I was there I saw no less than a dozen mid to high end brands on display including: Merida, Marin, Trek, Gary Fisher, Missile, Schwinn, Dahon, GT, Cannondale, Token, Orbea, ITM, and more. A well-stocked Park Tool stand and two walls filled with accessories and parts puts this shop on my list of 'must know shops' while biking in Isan. The friendly attitude of the owner is an added bonus as Khun Te speaks a bit of English and gladly offered advice on how to find the other bike shops in town.
The front of the shop is the service area and Khun Te mentioned that many of his customers get roll-up and roll-off service here, some of them just stopping in for a quick air check on their tires. I can imagine a shop like Bike Center in Khon Kaen would be a great find for any touring cyclist in need of parts or servicing while traveling through Isan. By the way, if you're planning a cycling trip to Isan don't let the rainy season dissuade you from visiting. The month's of June, July, and August may see a lot of rain but the vibrant green rice fields are definitely worth the trip. Months with milder weather have far less scenery as the rice fields have been harvested and subsequently turn brown.
Bike Center
118/11 Mitaphap Road (Near Sinakarin Hospital)
A. Mueang Khon Kaen
40000
ภาษาไทย [+]
Bike Center
118/11 ถนนมิตรภาพ (ใกล้ ๆ โรงพยาบาลศรีนครินทร์)
อำเภอเมืองขอนแก่น
จังหวัดขอนแก่น 40000 Tel. 043-347-700, 089-422-2123
GPS – N 16 27.972, E 102 49.950
Quick repair service, strong product line, a friendly owner, and a great location that serves the greater Isan area makes Bike Center in Khon Kaen this month's featured bike shop. Next time you are in Khon Kaen stop in at Bike Center on Mitaphap road and see what Khun Te has on offer.