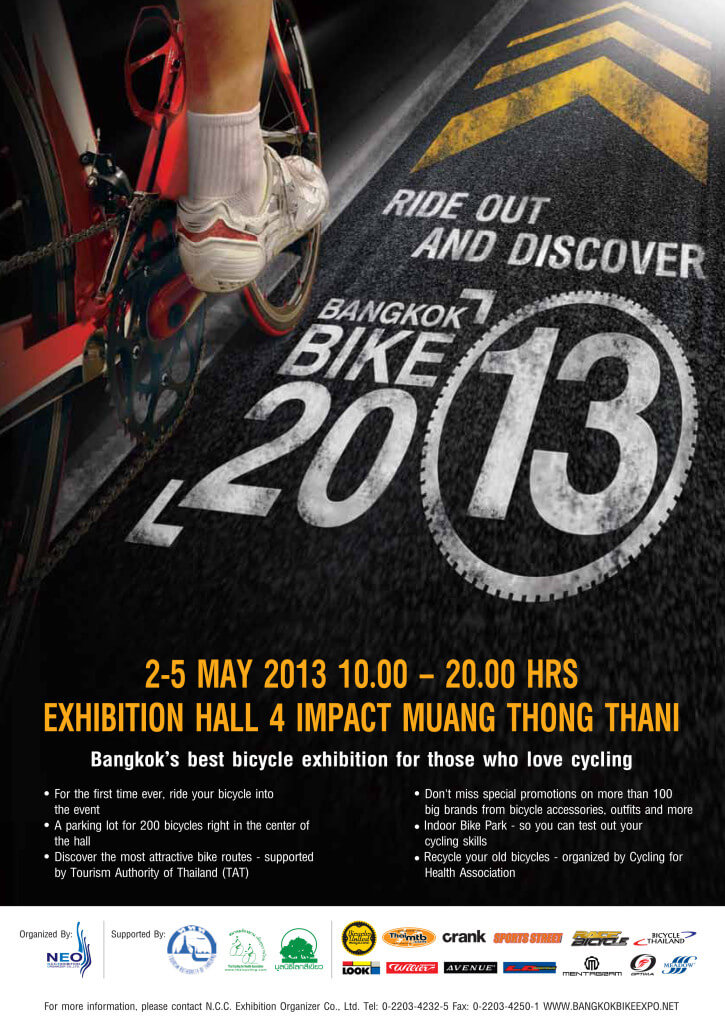 The 2013 Bangkok Bike Expo is coming and BicycleThailand.com is pleased to announce it's participation as a news media sponsor of this event. The expo, being held at IMPACT ARENA in Muang Thong Thani (Nonthaburi province) during the dates of May 2-5, is a collective effort by Thailand's Tourism Authority (TAT) and various private sector partners to promote cycling throughout the country.
In addition to promoting cycling, the expo is being organized in direct response to recognized growth by retailers and the TAT in the areas of bicycle sales and cycling related tourism. According to sources at the TAT, Thailand's bicycle travel sector has earned as much as 900 million baht over the last year while bicycle sales have seen a 20% increase over the same period.
Bangkok Bike Expo 2013, which is being organized by N.C.C. Exhibition Organizer Co., Ltd., is going to include various aspects of bicycling; from booths where retailers and distributors will display cycling related products, to large spaces where visitors will be treated to see first hand some of Thailand's proposed cycling advocacy projects.
Expo visitors will be able to view and purchase bicycles and accessories direct from retailers at the event. In addition, visitors will have the chance to collect information from tour providers and learn about some of Thailand's popular biking routes.
Bangkok's best bicycle expo for those who love cycling
This is a great opportunity for all of Bangkok's bicycle lovers to see a wide range of products from several different sources, all under one roof. The Bangkok Bike Expo 2013 will also be the launch venue for Thailand's vision for promoting and sustaining bike tourism in the country.
Expo highlights:
For the first time ever, ride your bicycle into the event! Parking lot for 200+ bicycles in the center of the hall
Discover Thailand bike routes – supported by Tourism Authority of Thailand (TAT)
Special promotions on more than 100 big brand bicycles, accessories and clothing
Indoor Bike Park – Test our your cycling skills
Recycle your old bicycles and parts – Donation center organized by Thai Cycling for Health Association (TCHA)
Ride Out and Discover
Expo Dates:  2-5 May 2013
Daily Expo Hours:  10:00am – 8:00pm (10.00 – 20.00)
Expo Location: Hall 4, Impact Arena, Muang Thong Thani, Nonthaburi Thailand
Website – http://bangkokbikeexpo.net/
FaceBook Page – http://www.facebook.com/BangkokBikeExpo