View photos from the BicycleThailand.com 3rd Birthday Party on our FaceBook page
Cyclists, writers, readers, and supporters are invited to join other members of Thailand's cycling community on Friday evening, July 5, anytime between 6:00 and 11:00 p.m., to celebrate the 3rd year birthday of BicycleThailand.com –  Thailand's Largest English Language Bicycle Resource แหล่งข้อมูลเกี่ยวกับจักรยานภาคภาษาอังกฤษที่ใหญ่ที่สุดในประเทศไทย
This July marks the third year from when BicycleThailand.com's creators launched the website in an effort to inform and entertain English speaking members of Thailand's cycling community, residing both inside and outside of the country, who enjoy the unique experience of cycling in the Land of Smiles.
You are invited to
~ chat, socialize and meet new cycling friends
~ meet fellow Bicycle Thailand readers and article writers
~ tell us what you think about the website and how we can improve
~ find out how to get more involved in the cycling community
~ start a Friday night bike ride that ends at Cafe Bicycle
~ come directly from work and share a beer, a chat and a good time
~ or join us a little later and enjoy a slice of birthday cake
View photos from the BicycleThailand.com 3rd Birthday Party on our FaceBook page
The birthday party will be held at Cafe Bicycle. Cafe Bicycle is located at Mahatun Plaza just next to BTS Ploen Chit. BTS riders may use exit #2 and #4 to reach Cafe Bicycle. Arriving to the party by bicycle is highly encouraged. Select meals from Cafe Bicycle's fresh, fun, and fair menu will be available. Come and get involved. Meet like minded cyclists and enthusiasts. Learn something new about the cycling community that you are a part of, directly from the people who make it happen.
Cafe Bicycle (PERMANENTLY CLOSED)
888/5-6 Ploenchit Road
Mahatun Plaza Building (BTS Ploenchit – Exit 2 & 4)
Khwaeng Lumphini, Khet Pathum Wan
Bangkok 10330
วันที่ 5 กรกฏาคม เวลา 6 โมงเย็น ถึง ห้าทุ่ม – ร้านคาเฟ่ ไบซิเคิล ที่สถานีรถไฟฟ้าเพลินจิต ยินดีต้อนรับมิตรรักแฟนเพลง ท่านผู้อ่าน ผู้เขียน ผู้ให้กำลังใจ และชาวจักรยานทั้งหลาย ขอเชิญมาร่วมเป็นส่วนหนึ่งของชุมชนชาวจักรยาน เพื่อฉลองวันเกิดครบรอบปีที่ 3 ของเรา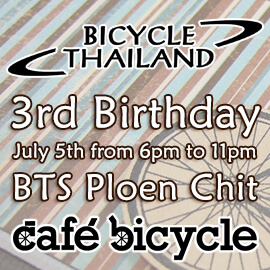 Want More Details?
Keep watching this page for updates.
Get involved – Share this information with your friends, cycling group, and local bike shop.
Let us know that you support the cycling community by clicking 'join' on our FaceBook event page.
Thanks in advance for your support!
The BicycleThailand.com team