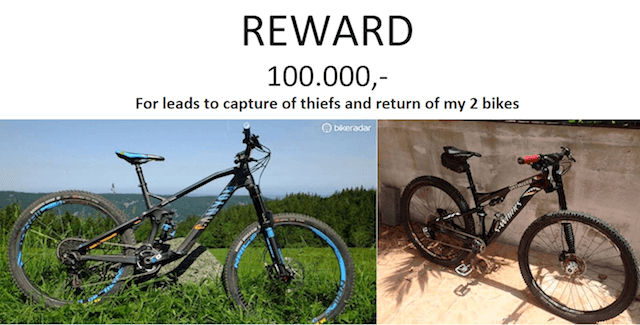 Bicycle theft on the rise in Chonburi. General warning to bike owners, organized gang targets high-dollar bicycle owners in Chonburi area.
BicycleThailand.com reader gives general warning to bicycle owners living in Chonburi area and offers reward for help in recovering two mountain bikes.
Chonburi area has experienced a spike in bicycle thefts recently. The thieves are specifically targeting high-dollar bicycles, both road and mountain bike. Rayong area had similar bicycle thefts not too long ago, so perhaps it could be the same group of thieves. Chonburi police have reports of more than a dozen high-dollar bicycles stolen last week alone. The bicycle thieves are using online social media websites like FaceBook and Instagram to find photographs and locations of high-dollar bicycles.
Finding photos shared on bicycle owners' personal profiles it becomes easy for thieves to narrow down the location of a bicycle, especially if the owner also uses GPS mapping services like Strava, Endomondo, and Map My Ride. Bicycle owners should not accept friend requests from people they do not know, and should refrain from using their home location as the start/stop point of any GPS mapping services.
Feeling that your bicycle is safe from theft when it is just outside of your house is very common. Many bicycle owners assume that if their bicycle is in the driveway or backyard of their home they need not even keep a lock on it. Unfortunately, before they know their bicycle has been targeted it is stolen, and it can happen just as easily during the day as the night.
Carrying off a bicycle or hoisting it over a wall or fence is made even easier now that many of the high-dollar models are made from lightweight materials. And, because bicycles do not have proof of ownership booklets, like cars/motorcycles, and very few bicycles are registered or insured in any way, thieves can usually resell them quickly without many questions from a prospective buyer.
Things you can do to prevent bicycle theft:
Keep your bicycles

inside

your house
Do not share route info that starts/ends at your home
Do not accept social media friend requests blindly
Do not share photos of your bike taken in front of your home
When buying a used bicycle, ask the seller if they have any old photos of themselves with the bike
On Thursday night, November 19th, two high-end mountain bikes worth net 450,000 THB were stolen from a driveway in a private residence in Bangsaen, Chonburi. The residence is in a gated/guarded community where all of the neighbors look after each other.
Owner is offering a reward of 100,000 THB
The two bicycles that were stolen:
Canyon Strive CF 8.0 Race Team Color Edition. There are about 5 of these bikes in all of Thailand.
Specialized Epic 29er, Lefty Front Fork, Custom Shark paint (see photos). This bike is really one of a kind.
The two bicycles are pictured below. Click on any image to see larger, more detailed version. If you have any information or have seen either of these bikes please contact the owner (Jesper Jensen) at 082-207-7701