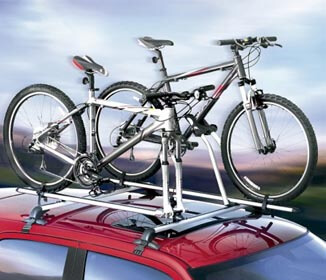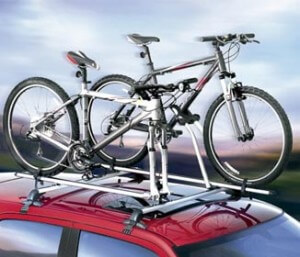 Whether you are romping down a mountain on a rough-terrain bicycle, surfing the rip-curls along the coastline, or carving through blankets of powder, bets are you'll find plenty of company to join you in your all-terrain madness. Hauling all the bikes, skis, snowboards, and surfboards is tricky if you don't have a truck or trailer. Thankfully there have been many developments in mount racks, giving the enthusiast the ability to choose the right rack for their application. There are two main types of rack mounts: Roof Racks and Hitch Mount Racks.
Roof racks are popular for hauling sports equipment. They are made for loading snowboards, skis, bikes, kayaks, cargo, and more. They are mounted above the vehicle, so the driver's vision is not impaired by the equipment. However, it is important to remember that the vehicle is now taller and has less overhead clearance. This is especially true when carrying bikes as they can reduce overhead clearance by three or more feet when mounted to the roof. It can also be difficult to load equipment on the roof of a vehicle, depending on the height of the vehicle. Finally, roof racks create more resistance in the wind and can actually hurt a vehicle's fuel efficiency. Depending on the vehicle, the reduced fuel economy can be upwards of a 10% loss in MPG.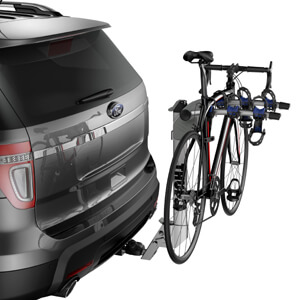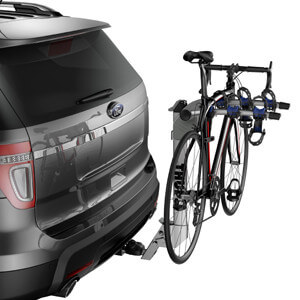 Hitch racks are mounted to the vehicle by way of a trailer hitch. Hitch racks are good for hauling skis, snowboards, bikes, and cargo. They do require a trailer hitch for mounting, which is an important cost consideration when searching for the best rack system. Since the equipment is mounted behind the vehicle, this can make loading and unloading the equipment fairly easy for anyone, but accessing the trunk and negotiating parking lots can also be very difficult. Another concern with this type of rack system is the lack of visibility through the rear window, as mounting equipment behind the vehicle greatly hinders the rear view. Hitch mounted racks reportedly do not have a noticeable effect on fuel economy as they do not significantly alter the aerodynamics of the vehicle.
For the adventurous person who is constantly trying new activities year-round, a roof mounted rack system is going to offer more versatility and will ultimately be a better investment. For the person who is passionate about only one sport for most of the year, a hitch mounted system may offer more utility and be easier to live with. There are obvious pros and cons to each rack system and only you can know what is best for your application.
Here are some great starting points to help you in your choice: