This is the first bicycle lane project under a highway in Bangkok, going from Ngam wong Wan road (#302) to Samakkhi road. For this project, the expressway authority of Thailand has divided the implementation plans into 2 stages. Starting from stage 1 Ngam Wong Wan road to Samakkhi road 2.7 km, from Ngam Wong Wan road to soi Buea Khuen temple and soi Buea Khuen temple to Samakkhi road.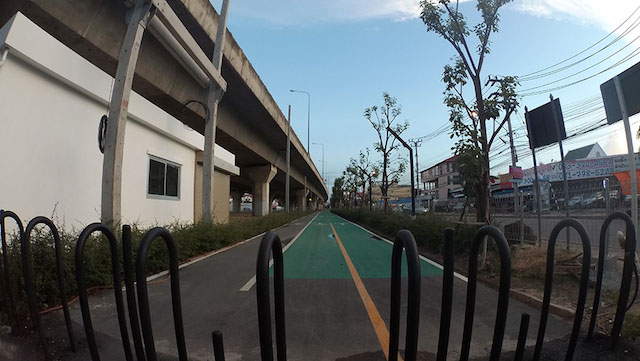 Stage 2 from Samakkhi road to Chaeng Wattana road (#304) 2.05 km, but for stage 2 the expressway authority of Thailand is still awaiting for additional agreements with private companies who have volunteered to manage this project.
Start/End point at Samakkhi Road – GPS – N 13.881467, E 100.537410
Start/End point at Ngam Wong Wan Road – GPS – N 13.858774, E 100.533367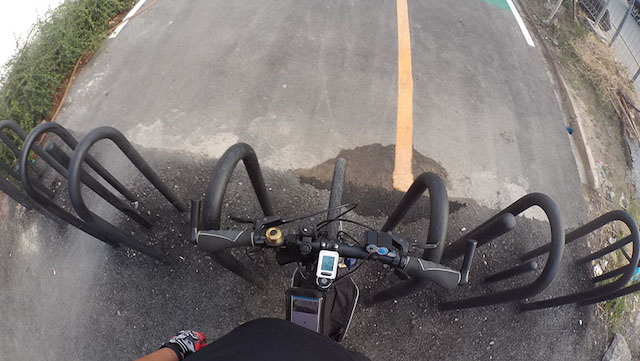 Stage 1 distance of 2.7km reviewed by rider:
The reviewer that observed stage 1 bike lane found that some parts of the bike lane can become flooded during times of heavy rain. Most people who make use of this bike lane are elderly and children. The reviewer also found that the 2.7km bike lane was not 100% ready and finishing touches still need to be completed (as of July 2015).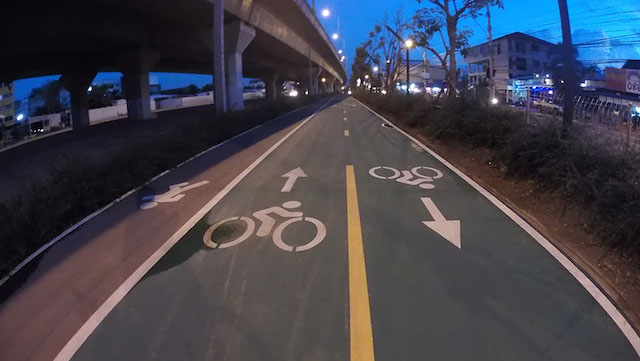 Overall, this bike lane looks good from the reviewer's opinion. There are 2 lanes for opposite directions and 1 separate lane for walking or running. Some pedestrians use the bicycle lane instead of the footpath.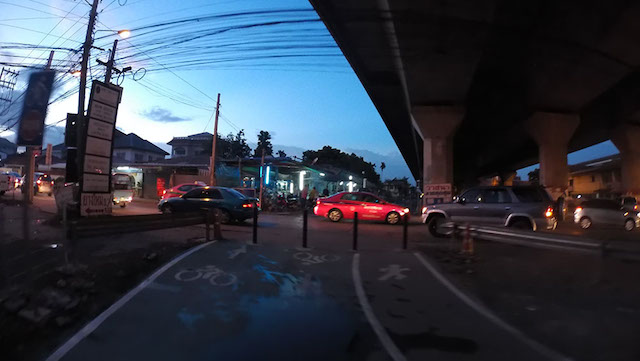 The 2.7 km bike lane is not 100% connected and there are a few points that cyclists have to cross a road to get to other side of the bike lane. There are no overhead lights along this bike lane and therefore it can be dangerous for users at night. The longest connected distance is 1.2 km from Samakkhi Road to Buea Kuen temple. However, the reviewer will observe again when this project is completed.
In conclusion, the community definitely benefits from this project for exercising. Although, for people who like to ride fast, they might not like it because the distance is short and there are many elderly and children to watch out for while riding.
Original article posted on July 3, 2015 at Rider In Thai blog