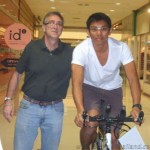 Being properly fitted to a bicycle improves a rider's efficiency, power, and comfort. These are three very important factors indeed, whether you're reaching to achieve higher levels of performance or you're just out to gain more enjoyment from your daily bicycle ride. With the bicycle industry's standards of sizing being anything but standard these days, bringing in the assistance of someone who is knowledgeable about past and present methods of fitting a bicycle is a great choice for those riders who want to remove the guesswork associated with bike fitting.
Understanding that the purchase of a new bicycle has some riders spending up to and sometimes more than 100,000 THB is further reason to use the services of a professional bike fitter. In the end, the added confidence gained from being properly fitted to that new dream bike you've been wanting can make your purchase, and your ride, that much more enjoyable.
Professional bike fitting services are now available in Bangkok. Andrew Gerking, a Serotta Bicycles Certified Fit Specialist, is offering bike fitting services on an appointment only basis. Drawing from years of experience working with competitive and recreational cyclists, Andrew begins a fitting session by personally getting to know the rider. Having a clear understanding of a rider's goals, injury history, riding style, and experience level helps Andrew make minute adjustments throughout the bike fitting session, eliminating physical discomfort and improving pedaling efficiency.
During a one-on-one fit session a rider's position is adjusted, body angle measurements are taken, and assessments are made using rider feedback and recognized ergonomic principles. Bicycle parts such as the stem, handlebar, seatpost and pedals are adjusted or changed in order to accommodate a rider's unique profile. The one to one-and-a-half hour fitting session ensures comfort, stability, and ease of motion. Wrapping up a fitting session, Andrew marks and takes key measurements from the newly adjusted bike. These numbers are kept on record as well as forwarded to the rider for their own reference. Every personal fitting session done by Andrew includes a 6-month follow up period for further adjustments to the same bicycle and rider.
Andrew is currently taking appointments in Bangkok.
Fitting sessions are conducted at Bike Zone. To make an inquiry or to schedule a fitting session with Andrew contact Bike Zone at info@bikezone.co.th (Tel. 02-652-1559).