Article by Andrew Bhasavanich
Riding a road bike is a tremendous joy but a joy best experienced on long open stretches of pure tarmac. It's something that needs to be without interruption so that one can just get out there and ride. At first glance, one might assume that a road cycling scene may not even exist in Bangkok given the state of the traffic that plagues the bustling Thai capital. You certainly won't see any wannabe Lance Armstrongs filtering through the congested roads downtown. So what to do when you're a Bangkok resident who also happens to like a bit of proper road cycling?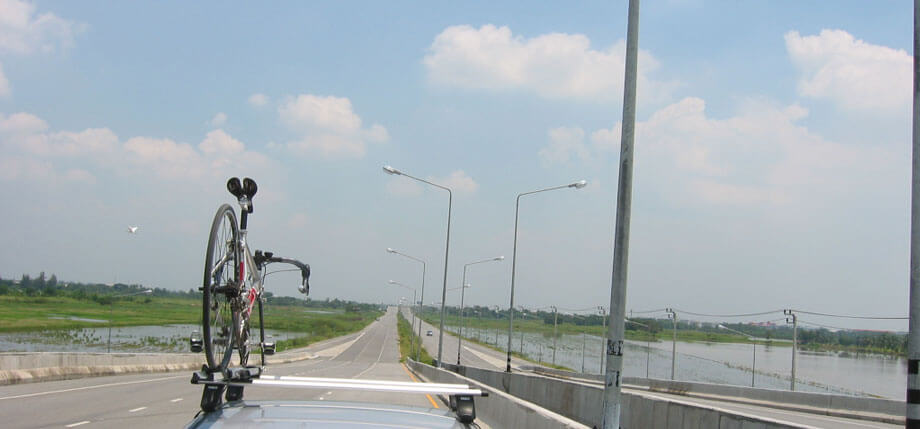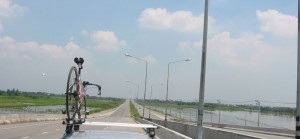 Look no further than a nice beautiful stretch of road near the motorway at Rama 9. The route isn't far out of the city and doesn't require much effort or time to get to. In fact it is the frontage road directly adjacent to the Bangkok-Chonburi Motorway, where traffic is virtually non-existent with shoulders wide enough to accommodate a whole peloton. On the weekends it is populated from the early morning to late afternoon by scattered groups of road cyclists with a couple of mountain bikers thrown in the mix.
The locals here usually ride 4-5 laps of a 20 kilometer loop up and down the frontage road, with a bridge or flyover every now and then to add a little variety. There are also several little drink shops along the course where you can quench your thirst or grab a quick snack to refuel. Most of the riders are part of the Rama 9 cycling club and are seasoned veterans of the local scene who ride almost every week here, some even daily.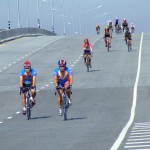 The owner of Bike Station, Mr. Pissanu Kittipakorn, feels that this particular area is the best around when it comes to road cycling on this side of the Chao Phraya. The 7 year cycling veteran is part of the Sawasdee Hotel Cycling Team, which is an offshoot of the much larger Rama 9 Cycling club. The Rama 9 Cycling club has been around for the better part of 11 years and has at least 70 members at this time. Membership registration is usually open at several planned racing events annually and costs around 300 THB with team jerseys and kit available.
A large majority of the members hold 9-5 jobs during the week and meet for rides during the weekends or holidays. Some of the other members are amateur and professional riders who cycle at the competition level. On the sprint, you'll see these riders going over 50 km/h while most finish their laps at an intermediate pace of about 35-40kn/h. Whatever your abilities, you can just enjoy a gentle and relaxing weekend ride free of the usual traffic and pollution.
Mr. Kittipakorn's shop, Bike Station, is in fact a road bike specialist and is located just five minutes away from the beginning of the route. For more information, directions, or just a bit of cycling camaraderie, you can contact them at 02-722-9999. The shop's location is listed under the Bangkok section of the Bike Shops page at BicycleThailand.com
Directions for a great ride: Take Chonburi Motorway 7 to Rom Kla exit (just to the left of exit for Suvarnabhumi airport). Turn left onto the service road (back in the direction you were just traveling) and then turn right (approx. 2.5 km back) onto a side road. There's a huge RK Park billboard on the corner. There is a great place pick up your morning coffee about 200m on the left. <MAP