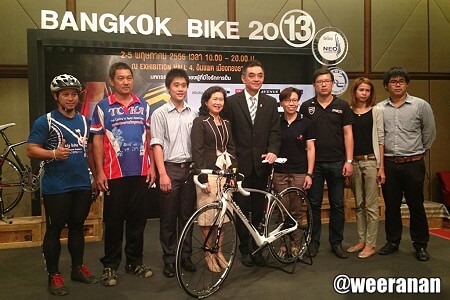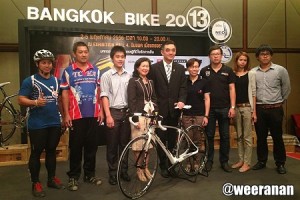 "Bangkok Bike 2013″, from 2-5 may,  is a major event for bike and traveling lovers where over 200 booths will display and highlight many products and services. This is the only event that had its own dedicated Bike Lane which will be set up for cyclists to visit and buy goods around the Exhibition Hall at Impact Muang Thong Thani. The main sponsors are Tourism Authority of Thailand (TAT) and Thai Cycling for Health Association. The event aims to promote the campaign for Thais and foreign tourists to travel by bike around Thailand. The TAT will arrange activities to entertain cyclists under the Theme "Let's Go Green" or "Biking tour sustains Thailand". The theme is to recommend interesting routes in five regions by illustrating the beautiful scenic routes and sightseeing places as a virtual site.
The organizers of Bangkok Bike 2013, "Bicycle Exhibition for cycling lovers" have arranged for manufacturers, importers and leading agents to join and sell models of bikes by over 10 brands like LA Bicycle, manufacturer and distributor of LA Bicycle, Infinite, Raja Cycle, Manufacturer of Optima and Meadow and the major bike agent, Amorn Bicycle. Moreover, the imported brands like Specialize from Sport Bicycle, Brompton from One Fine Day Company and Tinywheel Company, Nirve from NYLA (Thailand), including Bianchi will also participate in the agent booths.
Apart from these, there are exhibition zones to display and sell products and services related to bicycles such as clothes, accessories, cycling gear including spare parts and gadgets which bike lovers can't miss:
– The Bike Zone: To display and sell various models of brands bikes from Thailand and overseas. Special promotions, discounts, free gifts and premium.
– Biker Style Zone: Full collection of fashioned clothes, cycling gear and accessories are displayed for you to shop around.
– Biker Gadget Zone: Another zone which the real cyclists should not miss is the collection of gadgets to increase the capacity, safety and fun in bike touring.
In addition, the Exclusive Indoor Parking space is provided in the heart of the exhibition hall for over 200 bikes. The Indoor Bike Park is regarded as the first and the most exiting riding track in Bangkok. For more information, please visit 
www.facebook.com/BangkokBikeExpo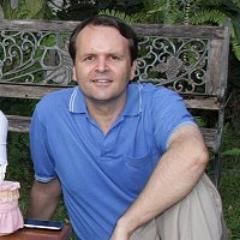 Richard Barrow
Full time independent travel blogger based in Thailand. Tweeting and blogging anything to do with Travel, Food and Festivals, and translating Breaking News from the Thai media. Plus avid weekend cyclist, riding everyday!?
richardbarrow.com
|
twitter
|
facebook