Article and photos by Wiwat Chang
Upset by a roadside incident, Panupong Lapsathien decided to do something about it and became Thailand's first emergency response bicyclist.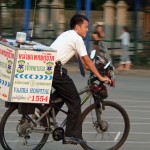 What inspired you to become a volunteer medic?
In high school, while riding home I witnessed a man got hit by a car near Sanam Luang Park. Many people, myself included, didn't know how to help him but waited for an ambulance that I called for by pay phone. By the time the medics came the man died in the arms of his wife and little son. Afterwards I decided to enroll and train as a volunteer medic at the Vajira Hospital.
Why did you use your own bike?
My dad bought me this mountain bike earlier and as it was nifty to get around heavy traffic in Bangkok, I reckoned it was the best vehicle for the job and it was all I had. I used the pocket money my parents gave me each month to buy containers and medical supplies. At one point the supplies weighed some 80kg and cost nearly 50,000 baht.
Didn't the hospital provide the medical supplies?
No, every volunteer had to find their own, perhaps because they feared the volunteers would resell those supplies.
How was your typical night at volunteering work?
Each evening after school I would ride around Rajdamnoen Avenue, Khao San road and Sanam Luang Park. Every night there are motorbike crashes, fallen pedestrians, some homeless or drunk people fighting each other and getting injured. I responded to radio calls on such incidences and tried to fix them up or prepare them for vehicle transport to the hospital. Usually I would not get back home until early morning.
Please tell us about the incident that stopped you from working on your bike.
One night I rushed to a call at one corner of Sanam Luang, slipped on a motor oil spill, crashed and the medical supply box snapped from the bicycle rack and crushed my left ankle.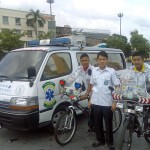 After the crash, did you give up on medic work?
My doctor gave me an ultimatum: stop riding a loaded bike or lose the ability to walk with both legs. I was devastated and had to choose the obvious.
Then you had a break in luck on a TV game show…
Yes, they invited me to participate in the "Overnight Genius" and I won a million baht.
How did you spend that money?
I wanted to buy an ambulance but could not afford a brand new one at a cost of no less than two million baht. So, I bought an old van and sourced every single medical supply and equipment direct from the main distributors to get the best prices. To stay within budget I designed the interior and partially built it myself with help from friends and colleagues.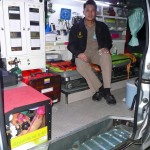 Panupong – now 26 – has been presented with over ten awards for his social contribution from various organizations and now works full-time as an administrative officer in the office of HRH Princess Maha Chakri Sirindhorn. Off-duty, he still regularly patrols in his ambulance and is currently saving up to buy a foldable bike to help ease his lingering ankle pain from having to walk several kilometers a day in his job.