On the afternoon of August 4th, at Bangkok's Grand Palace, professional British cyclist Alan Bate completed an arduous cycling journey of more than 29,000km. Alan's goal is to become the Guinness world record holder for the FASTEST CIRCUMNAVIGATION BY BICYCLE title. He has dedicated his ride, which began at midnight on March 31st, to His Majesty King Bhumibol Adulyadej of Thailand.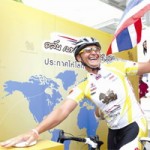 The route, which traversed more than twenty countries and took Alan 113 days to complete, will still need to be ratified by Guinness before any title is bestowed. Regardless, his attempt is being heralded as the new distance/time to beat and has many speculating on just how long the record will stand. Previous records indicate just how impressive Bate's attempt is:
(2005) Steve Strange – 276 days
(2008) Mark Beaumont – 195 days
(2009) James Bowthorpe – 176 days
(2009) Julian Sayarer – 165 days (awaiting ratification by Guinness)
(2010) Vin Cox – 176 days (awaiting ratification by Guinness)
A circumnavigation by bicycle attempt requires that the rider pedal through 18,000miles/28,970km, with a total journey distance, including transits by boat or plane, in excess of 24,900miles/40,075km – an equator's length. The ride must begin and end at the same point. If you feel like challenging the current record, check out www.guinnessworldrecords.com for more of the official rules pertaining to an attempt.
Alan's triumphant ride and selfless dedication have already won him numerous accolades from the Thai people. We all look forward to the day when Alan's attempt is ratified and he is recognized as a Guinness world record holder. BicycleThailand.com wishes Alan all of the best in his future cycling endeavors and thanks him for his inspirational story.