Amazing Bike Tours Phuket Country Side ½ Day Tour Review
Having prayed to the rain gods for a rain free day so it arrived! I had been inside for the last 4-5 days because of the wet weather and was itching to get out and about. Timing was perfect and so was the weather.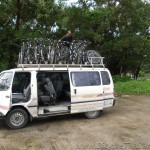 I was picked up at my hotel by a minivan with a heap of bikes on top by James, the owner of Amazing Bike Tours, and his team just before 9.00am. We then went to the next hotel where we collected other riders and headed for the start point for the day's tour, which was about 30 minutes away from Patong. There was six of us Aussies on the tour, three adults plus three kids. James rode as the tour leader while one of his staff was at the tail end of the riders and another was in the van carrying all the necessary support for a fun day out and about!
We arrived and parked near the sea on the east coast of the island. While the bikes were being unloaded James gave us a briefing on where our riding would take us and also a safety talk about riding on the roads and some useful information on bicycle setup. Especially important was that brakes are back to front in Thailand! Having kitted up with water bottles and stack hats (helmets) we headed off on our trusty Trek 4200 series mountain bikes.
Having left the car park we headed northwest towards a rubber tree plantation. The journey first took us through a Thai village over the road and into the plantation. It was still very wet after many days of rain and we quietly made our way through the many puddles and miniature lakes. As we cycled along with James in the lead and his assistant covering the rear I had chance to chat to the others who were on holidays from Melbourne, Victoria. They all had bikes back home and enjoyed riding when they got the chance. The three kids aged 8, 10, and 14 were having a great time as they navigated the various trail obstacles and puddle, some unknowingly deep as we found out during our journey!
We stopped off at a rubber tree and James gave us some understanding of how rubber is produced and also the uses of rubber trees after they've finished their production cycle. Riding out through the plantation we headed for the Gibbon Rehabilitation Centre that is funded by donations and housed within the Khao Pra Theaw Non-Hunting Area at Bang Pae Waterfall.  Having arrived in the car park we stopped for some refreshments of local sweet snacks and cold drinks and then headed to the Gibbon centre. After a shower of rain and a talk by one of the volunteers we headed to the waterfall, which was in full flow after the huge amount of rain that was recently dumped on Phuket. We then left the car park area by bike and headed up over the hill for a fast descent towards our final destination of Ao Po Marina. With the sun now shining and an off-road tour through a pineapple plantation we finally arrived at Ao Po Marina. At the marina we rode down to the end of the jetty and a fantastic view of Phanga Nga Bay and it's steep limestone outcrops.
While James and his team packed up we set back and ate Phuket pineapple and more Thai snacks!
Who's this tour for? Anybody who wants to get out and about and see the beautiful Thai countryside.
Fitness Level Required? Average and up!