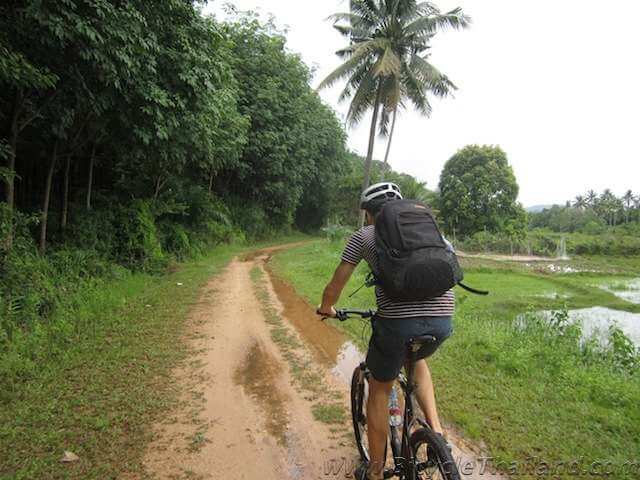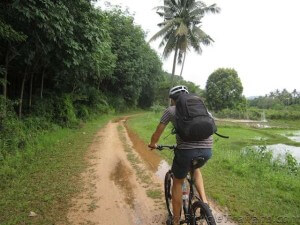 Earlier this month I went cycling in the Phuket area with Amazing Bike Tours. The ride I went on was the company's one-day tour on Koh Yao Noi; it was a great island escape from the crowds of Phuket town.
On the morning of the ride I was picked up from my hotel at around 8 am in the tour van. We then drove to the pier and boarded a long-tail boat to Koh Yao Noi.
Once we were on board the boat with our bikes, it was time to kick back and take in the scenery. The trip took about an hour. The guide also took this opportunity to provide a briefing on the route and what could be expected more generally during the ride. After disembarking the boat at Koh Yao Noi pier we were well and truly ready to ride.
We set off and almost immediately we were weaving our way up, down and around through rubber plantations and rice fields which are important industries on this peaceful island. We followed a scenic route with minimal traffic on dirt trails and small paved roads. There were a few challenging climbs but nothing too onerous for someone with a moderate level of fitness.
Along the way we saw (and received waves and greeting from) the friendly locals going about their day.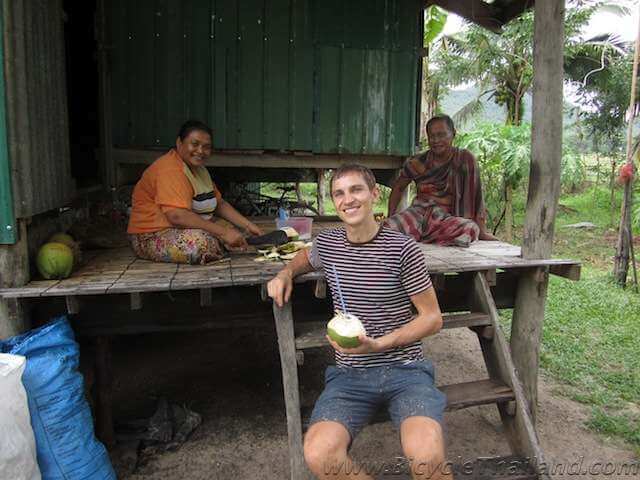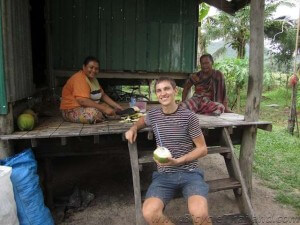 As explained by my guide, the local people enjoy a quiet and laid-back lifestyle. We also spotted water buffalo from time to time. This was certainly a different experience of Thailand than could be had from our point of origin on the nearby international resort island of Phuket.
While the riding was great, it was also enjoyable stopping to rehydrate and refuel Thai style. For example, in addition to plenty of water being available, one of our refreshment stops was at the household of an elderly village couple where they retrieved coconuts from the tree and prepared them for us to enjoy. On another occasion when we stopped at a long board-walk to admire a view of several islands in the Andaman Sea, we enjoyed our 'energy bars' – sticky rice with brown sugar or jackfruit, which was wrapped up in banana leaves. Yet another memorable moment (whilst I was awake) was a bit of rest and relaxation in the hammock near the restaurant where we ate lunch. My guide said that if I wanted to stay the night on this relaxed island I should do the two-day tour next time – good advice!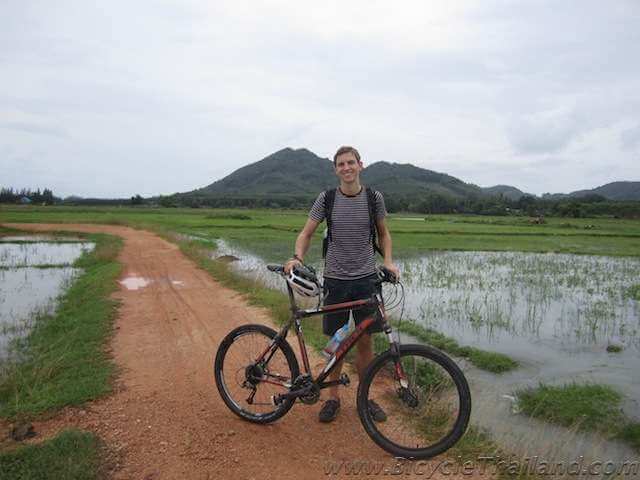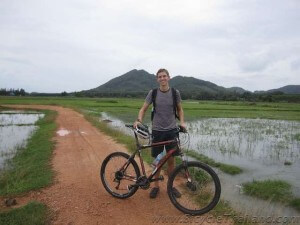 A bit more about my guide, Tan – he was knowledgeable and easy going. For example, he told me interesting facts about things such as the rubber plantations on the island. In doing so he also mentioned that family members of his were involved in the rubber industry in a nearby province but he decided he was too lazy to follow in their footsteps (although I think he's not all that lazy if he's on his bike with tour groups six days a week!).
It was also interesting to learn from Tan that the water buffalo on Koh Yao Noi were now more useful as a food source than in their more traditional role (now served by machinery) in cultivating the soil for rice plantations.
The bike provided, a good quality Trek 4300 mountain bike, served me well throughout the day in some muddy conditions – it was the wet season after all. My guide was quick to tighten a loose crank when it became apparent during the ride. The only other thing that needed some minor attention was that the gears were a little sluggish on some of the climbs (pretty understandable given the conditions the bike would endure on an ongoing basis).
We arrived back on the mainland of Phuket in the late afternoon where we were greeted by the tour van with refreshments to enjoy as we drove back to the hotel.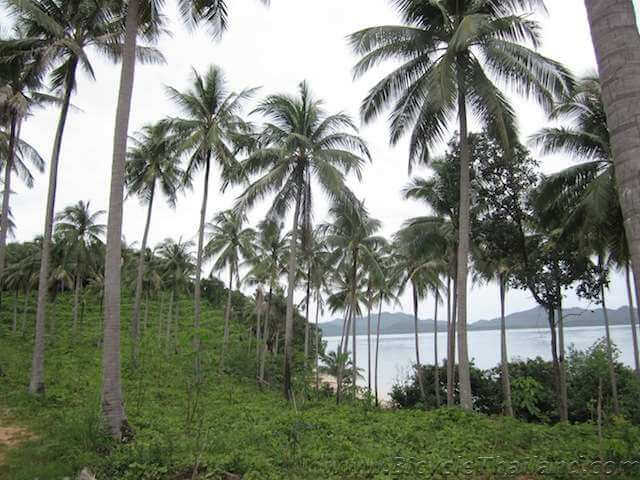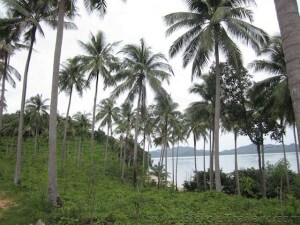 The following day I was also happy to see I had been emailed photos the guide had taken during the ride. I'm not sure if the tour company always does this so definitely take your own camera and if you get some more free photos from the company then treat it as a bonus.
Overall, I would recommend this ride to somebody with a moderate level of fitness who wants a great day out and about in the Phuket region.
Amazing Bike Tours
Phone: +66 87 263 2031 (hotline) +66 76 283 436 (office)
Web: http://www.amazingbiketoursthailand.asia/
Email: info@amazingbiketoursthailand.asia
Skype ID: amazingbiketoursthailand