Bangkok is, without a doubt, a very busy place. The city's disorganized roads are continually clogged with traffic. It would seem discouraging and less than ideal for a tourist destination, until you meet a group of people who are able to cut away at Bangkok's surface and provide an amazing and memorable experience.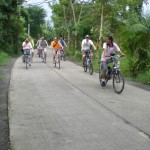 Enter the "Amazing Bangkok Cyclist" Tour group, under the management of Real Asia Ltd, which has been providing guided tours of Bangkok for over 20 years. They offer a unique outing for anybody who'd like to a see a different side of the busy and bustling Thai capital. The kind-faced owner, Michael Hoes, is always glad to greet new guests and have a chat before they embark on their tour of choice. He claims that his tours take customers on routes that would have most locals, foreign or Thai, lost and stunned within minutes.  To Mr. Hoes, the bicycle is an excellent way of seeing that elusive part of Bangkok which lies beneath all the commotion.
ABC boasts an impressive fleet of more than 200 bicycles and employs 14 very capable and friendly tour guides.  Early risers and late risers can be accommodated since there are morning tours (8AM-12pm) and afternoon tours (1PM-5PM). Customers can choose between a more sportive mountain bike or a laid-back city cruiser bike. The ride quality is certainly there, being either a Trek 3900 MTB or a Trek Navigator 2.0.  No one single tour is the same as another and clients have the freedom to ride at their own pace. Safety and enjoyment is assured by ABC's attentive guides.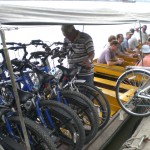 On the tours, you'll be taken through various routes that snake through the urban sprawl in shaded back alleys, creaky wooden bridges, and quaint local neighborhoods. All tours offered by ABC cover the combined area of Sukhumvit, Phrapadaeng, and Bang Krajao. One of their featured tours take riders across the river via ABC's own hired ferryboat to the Phrapadaeng area. You'll be immersed in a setting that is almost jungle-like and cruise along elevated concrete pathways over swampy terrain. The scenery is predominantly green with a beautiful overhead canopy to provide protection from the hot sun. The Phrapadaeng tour is a lovely bit of adventure that can be done in half a day.
You can book a tour online at ABC's website as well as get information on the different tours available. Visit www.realasia.net or call 081-812-9641.
Article and photos by Andrew Bhasavanich