The 3rd Hua Hin Alleycat is all about crazy bike riding at night with a great bunch of like-minded cycling friends. It's about cycling community and lifestyle. It's about sportsmanship and camaraderie. It's about reminding everyday people that bikes belong on the streets, regardless of the time of day or night.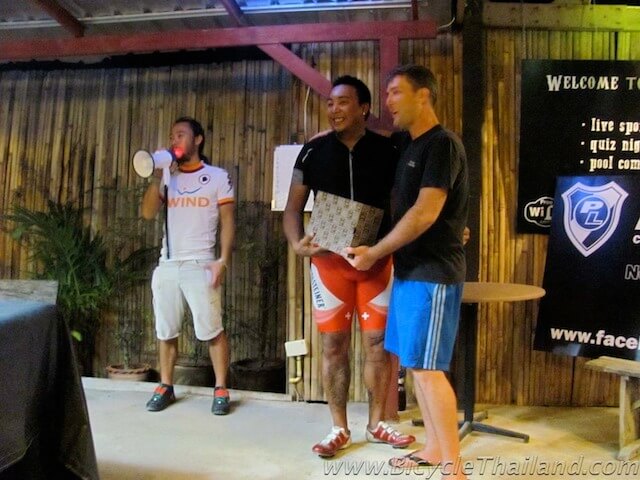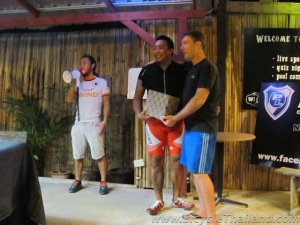 If you didn't make it out to this year's race then you missed out on good food, good people, and great biking all wrapped up in a unique cycling event.
3rd Hua Hin Alleycat began at the Pone Kingpetch public park at 9pm. Riders were challenged to navigate their way through Saturday night traffic to locate five checkpoints throughout the city. At these checkpoints racers received specially marked poker cards from volunteers in order to prove they had visited the spot and to build on their chances of winning 'best poker hand' prizes at the finish line after party. In an alleycat race riders are free to visit the different checkpoints in any order they wish, and it is a tricky combination of riding skills, local road knowledge, and quick performance at task checkpoints that ensures a top place finish. The 'best poker hand' element adds random winners to the mix so that nobody walks away empty-handed from the race. Khun Bas of Basbike in Hua Hin was the overall winner, but every rider at every alleycat is a winner.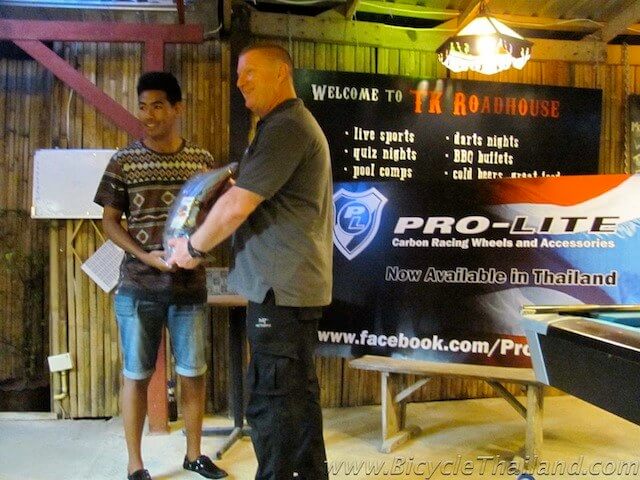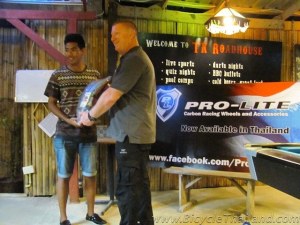 BicycleThailand.com would like to personally thank the following supporters for their prize sponsorship of the 3rd Hua Hin Alleycat:
1st place prize – FIVE TEN cycling shoes. FIVE TEN distributed in Thailand by MOJO Bikes and available for order online at BicycleThailand.com
2nd place prize – SOURCE hydration pack. SOURCE distributed in Thailand by K-Trade International and available in Hua Hin at Hua Hin Bike Tours.
3rd place prize – Pro-Lite clothing and tools. Pro-Lite high performance wheels, parts, and accessories distributed in Thailand by Pro-Lite Thailand and available for order online at BicycleThailand.com
The Hua Hin Alleycat lets participants know about checkpoints up front, and hints at what will be required at task checkpoints through notifications and updates on the Hua Hin Alleycat FaceBook group page. Prizes for 1st, 2nd, and 3rd place riders, as well as riders with winning poker hands were given out in an informal awards ceremony at TK Roadhouse in Khao Takiap, where food and drinks were provided.
Racers who participated in the 3rd Hua Hin Alleycat have their individually numbered spoke cards to commemorate their participation in this unique event. BicycleThailand.com is currently offering a small number of 3rd Hua Hin Alleycat spoke cards in exchange for a small donation of 500THB ($15USD) that will go towards the purchase of bicycles for underprivileged children in Thailand. If you'd like to make a donation in exchange for one or more of these spoke cards please contact BicycleThailand.com at Info@BicycleThailand.com with the subject line – 'Spoke Card'
Future editions of the Hua Hin Alleycat are planned. Keep up to date on great cycling events in Thailand by periodically checking the events calendar at BicycleThailand.com/events. Follow or join the Hua Hin Alleycat FaceBook group here.
Prize sponsorship & checkpoint location support:
BicycleThailand.com (1st place prize – FIVE TEN cycling shoes + Checkpoint #3)
Hua Hin Bike Tours (2nd place prize – SOURCE brand hydration pack + Checkpoint #2)
Pro-Lite Thailand (3rd place prize – Pro-Lite clothing and tools)
Velo Hua Hin (Checkpoint #4)
L.P.R. Hua Hin (Checkpoint #1)
TK Roadhouse (Finish line party location)
YourThaiGuide.com (Checkpoint #5)
Club Moto/X-Speed/Pibull Hotel (Club Moto clothing and bags)
Excerpt from Wikipedia – "The first race to be called an 'alleycat' was held in Toronto on 30 October 1989 and continued, in its original form, around Halloween and Valentine's Day for the following five years."