Spinning Bear Bike Shop – ร้านจักรยานหมีปั่น still exists but the Hostel is gone.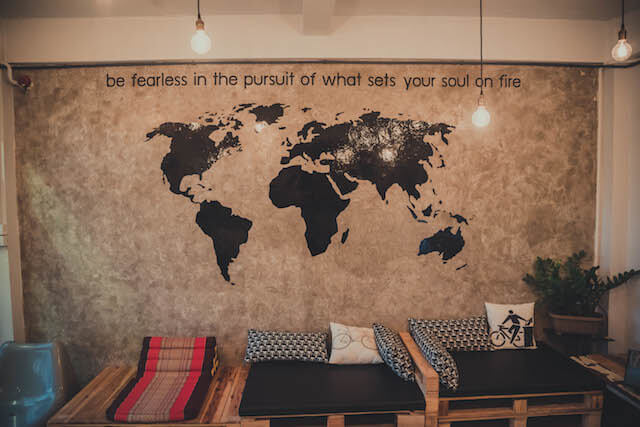 Many touring cyclists traveling to Thailand start their epic journey by arriving in the country's capital city, Bangkok. The BIG MANGO (as Bangkok is commonly referred to by travelers) is world-renowned for its ability to immediately overload the senses of newcomers upon first arrival. Touring cyclists are certainly not immune to the city's massive appeal, but many become overwhelmed when having to decipher the bewildering metropolis when it comes to finding a cycling oasis that is capable of meeting all of their unique needs. Where in Bangkok can I get a good night's rest, eat a decent meal, and put my bicycle together after arriving in Thailand? Have you ever asked yourself any of these questions? If so, then look no further than Spinning Bear Bike Shop & Hostel.
Spinning Bear Bike Shop & Hostel has many nearby Bangkok attractions worth visiting:
Get a bit out of town to see Bangkok rice paddies at Nong Chok within cycling range (44km roundtrip).
Go inside Bangkok city (with our special route that takes you along lanes with less cars) to see famous Thailand attractions like the Grand Palace, Chinatown, and Khao San Road.
Spinning Bear Hostel normally provides a free city night ride for all guests when requested. Cycling distance of the city night ride is approximately 44-50 km.
Spinning Bear Hostel is within 28 km cycling range (roundtrip) of Bueng Nong Bon, which is a famous public park with a good cycling lane.
Spinning Bear Hostel is within 22 km cycling range (roundtrip) of Rot Fai weekend market at Srinakarin where there are many foods and unique Thai products sold.
The famous Jatujak weekend market (open on Saturday & Sunday) and Jatujak weekday flower market (Tuesady and Thursday) are within 28 km cycling distance (roundtrip) of Spinning bear Hostel.
Besides all of the above attractions, Spinning Bear Hostel is also located near The Mall Bangkapi Department Store, IT Square, local temples, and even a photo shop (if you need to make a photo for a visa). Many of these places are within walking distance and the friendly staff at Spinning bear Hostel can assist you to use public transport if necessary.
Where can I park my bicycle at Spinning Bear Hostel?
All bicycles are parked inside the hostel in the area pictured below.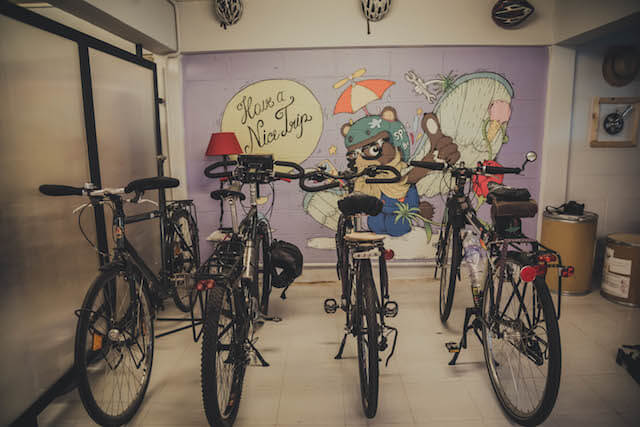 Food options for guests at Spinning Bear Hostel:
There are many delicious local Thai foods such as Som Tam, Thai desserts, and Pad Thai sold near the Spinning Baer Hostel. All of the nearby food locations are listed on the Spinning bear Hostel website. It is hard to have an empty stomach while staying at the Spinning Bear Hostel. In addition, a vegetarian market is only 3 km away from their location.
Room types available at Spinning Bear Hostel:
All rooms are mixed dormitory with air-conditioner (Air-con is turned on during the following hours: 5pm-10am or 17:00-10:00). The room rates include local Thai breakfast.
One Chilling Bear Room (mixed 10 persons) = 350 THB / person
Two Cozy Bear Room (mixed 6 persons) = 400 THB / person
There are also many common areas provided: lobby, dining area, bicycle storage, kitchen, bicycle self-service fixing area, luggage storage room, 2nd floor sitting area, and rooftop chilling space.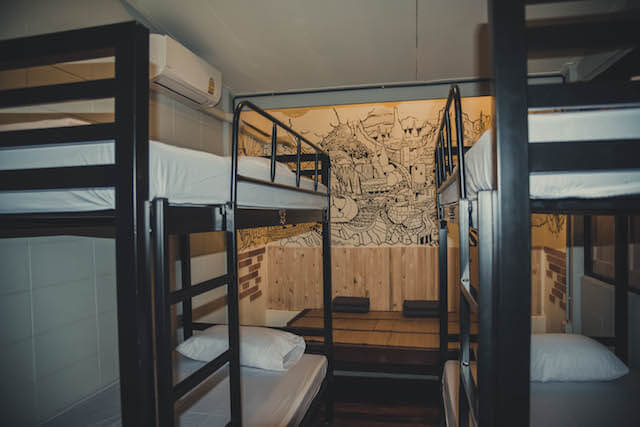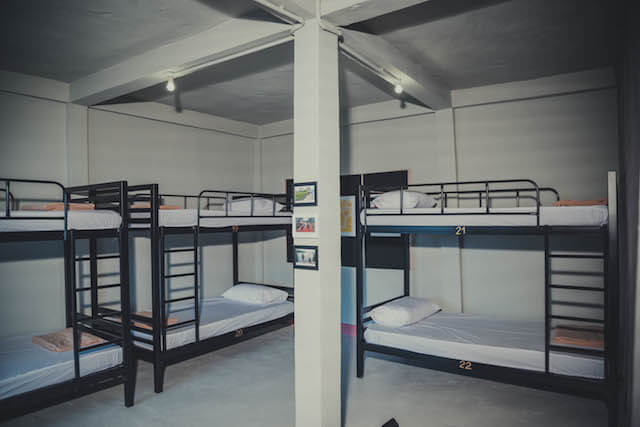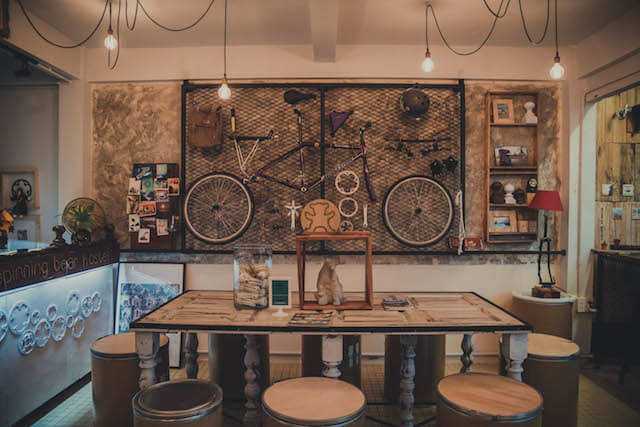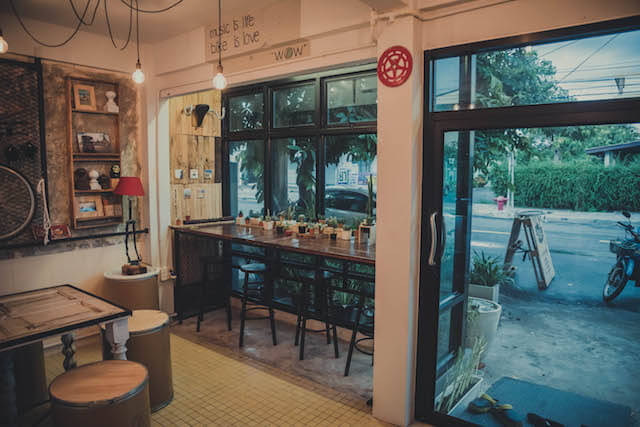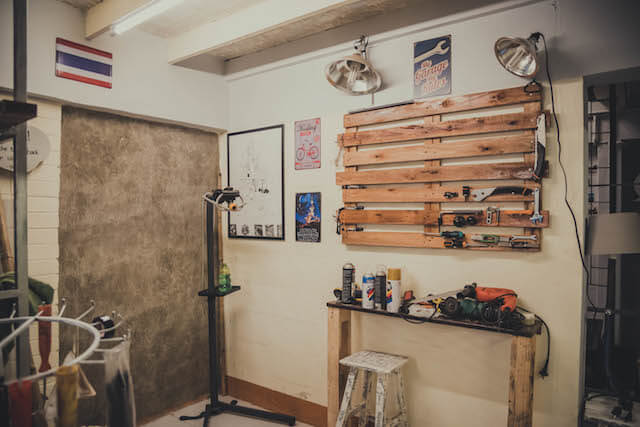 Owner/Proprietor: Khun Im (Pirawan Bua-ngam)
Spinning Bear Bike Shop & Hostel
986 Soi Nawamin 14 Yaek 7, Nawamin Road (Google Map)
Khwaeng Khlong Chan, Khet Bang Kapi
Bangkok 10240
ภาษาไทย [+]
ร้าน หมีปั่น
986 ซอยนวมินทร์ 14 แยก 7 ถนนนวมินทร์
แขวงคลองจั่น  เขตบางกะปิ
กรุงเทพฯ 10240 Tel. 080-605-7885, 080-044-0490
GPS – N 13.779631, E 100.646728 FaceBook: www.facebook.com/Spinningbear2013
Website: www.spinningbearhostel.com
---
Planning a cycling trip in Thailand? Want to remove some of the guesswork when it comes to routes and information? BicycleThailand.com offers GPS route data for touring cyclists that can be used on a GPS device, smartphone, or tablet. These routes can be viewed on your device regardless of internet access during your Thailand cycling adventure. Learn more about our Thailand GPS cycle touring routes.