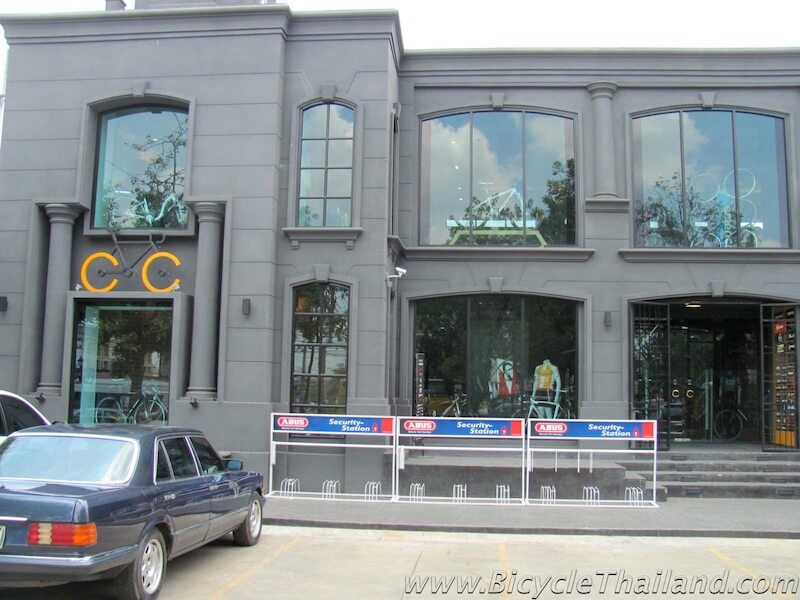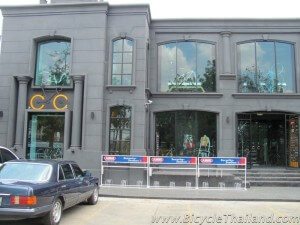 In May 2013, my colleague visited the first ever Culture Cycliste shop, located adjacent to Lumphini Park in the Pathum Wan district of Bangkok. Now, a year later, I had the chance to visit the newly opened second branch of Culture Cycliste, located in Phutthamonthon district, in Nakhon Pathom province. This second branch carries the same brands of bicycles, accessories, and apparel as the Bangkok shop with a few bonus features that are made possible by the more spacious floor plan of the new location. The first bonus feature that immediately caught my attention as I arrived to the shop was the row of bicycle racks directly in front of the store's entrance. FINALLY! A shop that actually provides bicycle parking to its customers. There is nothing more frustrating than riding your bike to a shop that: 1) Doesn't provide you with a safe/secure place to park your bike while you shop, 2) Doesn't allow you to bring your bike inside the shop unless you're having work done on it. I know not all shops have the storefront/sidewalk space to allow for bike parking, but it is something that gets a big thumbs up from me.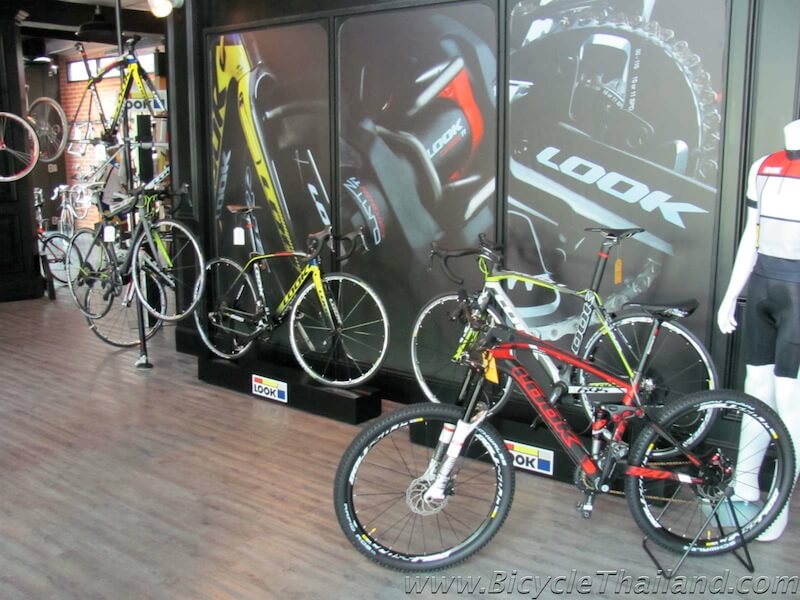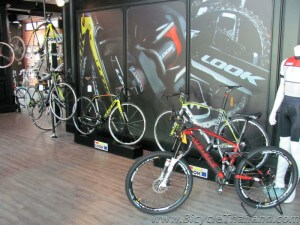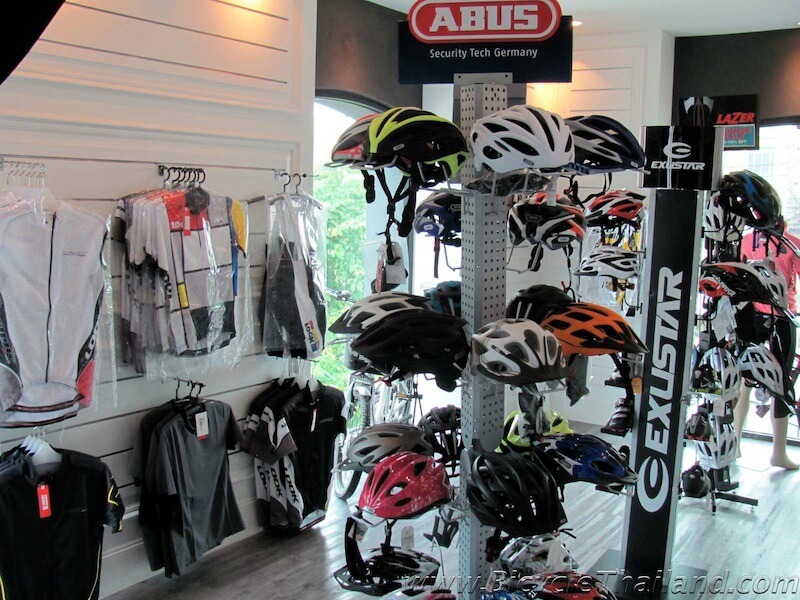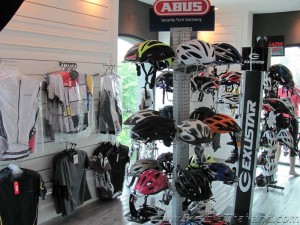 First impression when I walked in the shop was that it was well-stocked, well-appointed, and well-designed. And if that wasn't enough, there are directory signs throughout the shop informing customers where things can be found. I can't think of a time when I didn't want to wander aimlessly in a bike shop, looking at every single bike and scanning every aisle of bike goodies, but perhaps the helpful signs are necessary for folks who are on a tighter schedule than I am.
The entire shop consists of two floors. The first floor serves as the bicycle showroom, bike service area, and coffee and drinks bar. There are also locker rooms on the first floor in order to accommodate those customers who attend a bike fitting or training session. The second floor has a training area (for Spin or Tacx sessions), as well as an area for apparel and bike parts/accessories. A ramp connecting the 1st and 2nd floors allows for convenient transport of any size bicycle to the different areas and levels of the shop.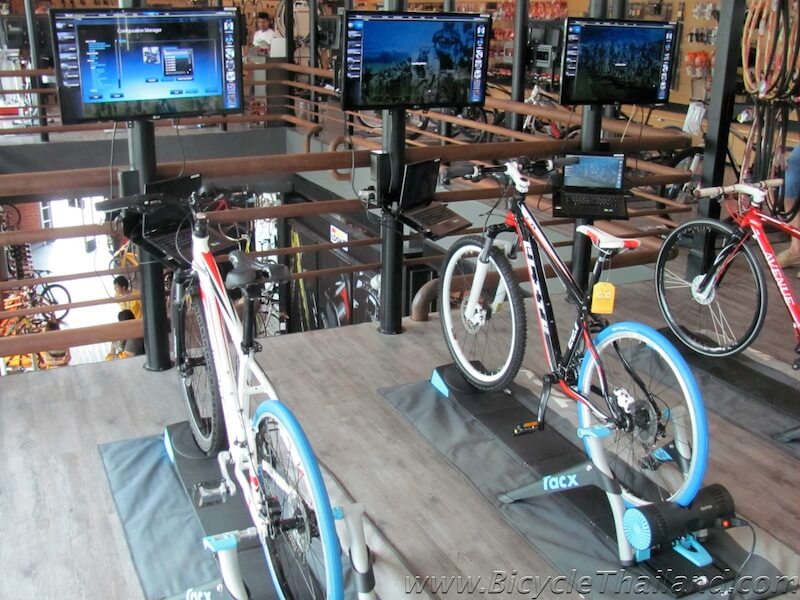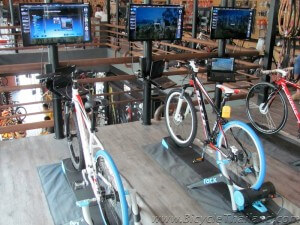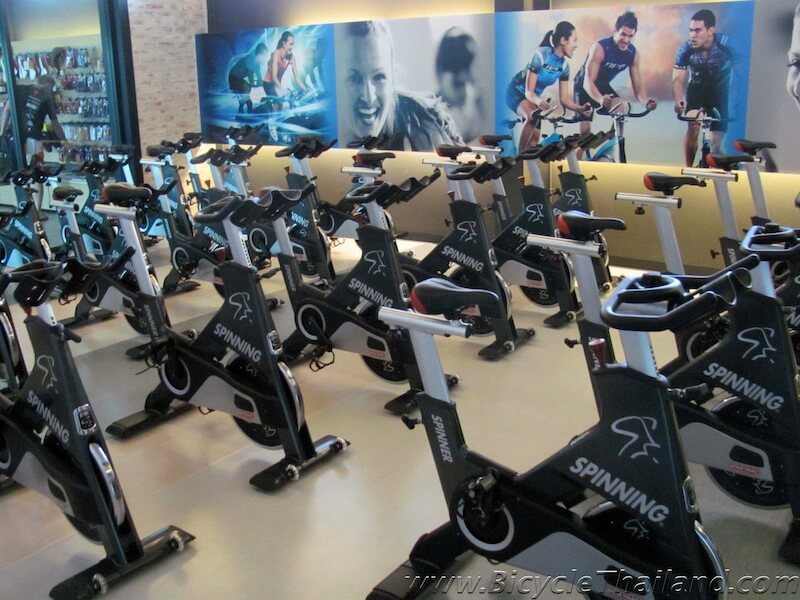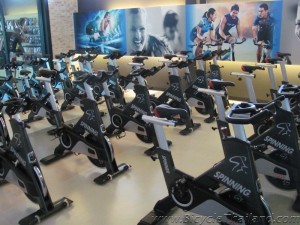 I got the feeling that Culture Cycliste is seeking to cater to the ride-in cyclist with their bicycle parking racks, coffee bar, and training session room and locker facilities. In addition to being a well-stocked bike shop, the location of Culture Cycliste, next to Healthy Fitness Gym (with swimming pool), an open-air Thai eatery, and Black Canyon Coffee, which are all inside Image Mall, seems to be a good decision on the owner's part. Imagine riding to your favorite bike shop to have your bike tweaked to perfection while you sip a cappuccino and read something from the nearby magazine and cycling information counter. Or you leave your bike securely parked at the shop while you hit the gym for an hour or two after work, or catch dinner, or do a bit of shopping. The shop and its location seem ready to accommodate a biker's needs, regardless of the scenario.
The bike brands available at Culture Cycliste are Wilier, Infinite, Look, Cube, Commencal, Avenue, and Scott. Electric bikes from the LA Bicycle line are on display and available for purchase as well.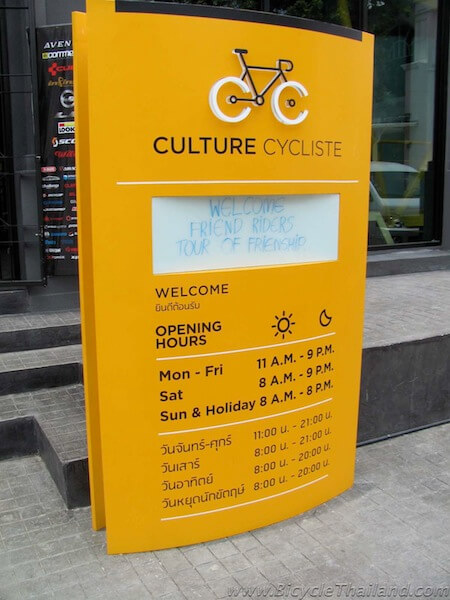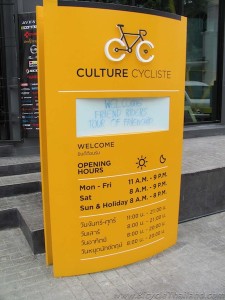 We anticipate more Culture Cycliste branches opening in years to come, and would assume that a branch in Northern Thailand, such as in Chiang Mai, might be in the company's plans. But, until then, stop in at either the Bangkok or Nakhon Pathom branch of Culture Cycliste to get a glimpse of this quickly emerging boutique chain.
Culture Cycliste, Phutthamonthon Branch
2/388 Image Mall, Phutthamonthon Sai 4 Road Moo8 (Map)
T. Krathum Lom A. Sam Phran
Nakhon Pathom 73220
ภาษาไทย [+]
คัลเจอร์ ไซคลิสท์ สาขาพุทธมณฑล
2/388 อิมเมจมอลล์ ถนนพุทธมณฑล สาย4 หมู่8
ตำบลกระทุ่มล้ม อำเภอสามพราน
จังหวัดนครปฐม 73220 Tel. 024-042-185, 024-042-186
[Thailand Distributor: LOOK, AVENUE, WILIER, COMMENCAL, CUBE, INFINITE]
GPS – N 13 45.650, E 100 19.747