Those who have been in Thailand, even if only for a short period, become keenly aware that the majority of Thais enjoy 'market style' shopping, regardless of the wares on offer. Market style shopping presents the opportunity to get out of the house for a change of scenery, socialize with family and friends, eat, shop, and leisurely linger while searching for the ever allusive super bargain. Cyclists in Thailand are no different in regards to their shopping style preference, and a recent upsurge in weekend bicycle markets and shopping mall expos are certainly a testament to that.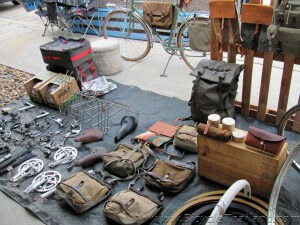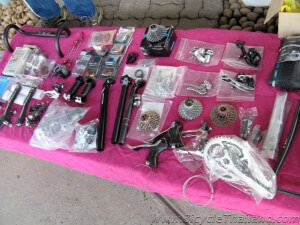 On Saturday, September 7, I had the opportunity to pay a visit to Bangkok's TOT Bicycle Market. This outdoor market is one of Bangkok's first market places for buying and selling secondhand bike frames and parts. The market has been taking place intermittently over the past couple of years on the grounds of the TOT headquarters building on Chaeng Wattana Road (GPS – N 13.88510, E 100.57468). TOT is the state-owned telecommunications company of Thailand, which was previously called the Telephone Organization of Thailand. The main visionary for the bicycle market is a TOT career employee who happens to be an avid cyclist.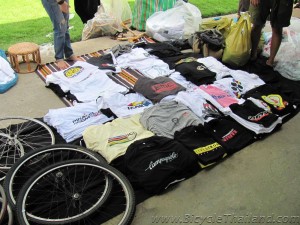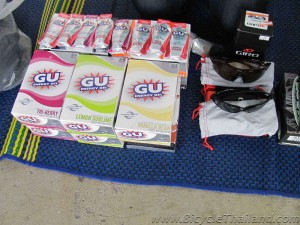 Many other TOT staff are also cyclists and once the idea to host the market was presented and approved, it quickly became a model for other weekend bicycle markets in the city. The original idea for the market was to allow Bangkok community cyclists the opportunity to be able to trade and sell used bicycles and parts face-to-face with their customers, rather than over the phone or online; practices which some feel more easily facilitates the resell of stolen property. By allowing buyers to actually see the merchandise and meet the sellers in person, the TOT Bicycle Market enables cyclists to shop without having to worry about hidden defects or the off-chance of being swindled.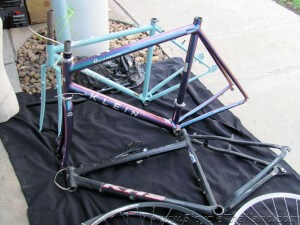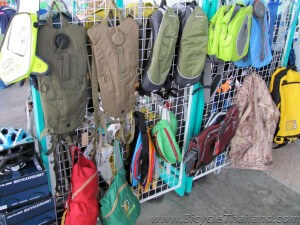 Since its humble beginnings, the TOT Bicycle Market has grown and now allows individuals and bicycle shops to sell new bicycle products as well as used. The range of products is quite good; finding anything from a used pair of MTB shoes (in Thai and Foreigner sizes) to a new set of carbon road wheels, with Shimano or Sram bits to go along, is a snap. Looking for a canvas pannier for your vintage tourer? Or maybe a new pair of Fox downhill mountain biking shorts (in Thai and Foreigner sizes too!)? Searching every little stall of each vendor is sure to reveal a multitude of cycling treats that you never knew you needed until you laid eyes on them.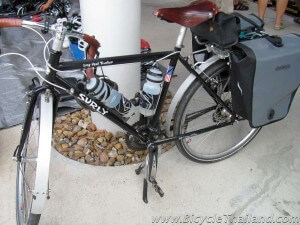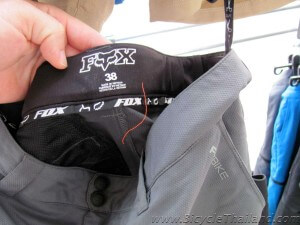 If you are anything like me you have probably amassed a little treasure trove of bicycle paraphernalia somewhere in your house, garage, or under your stairs.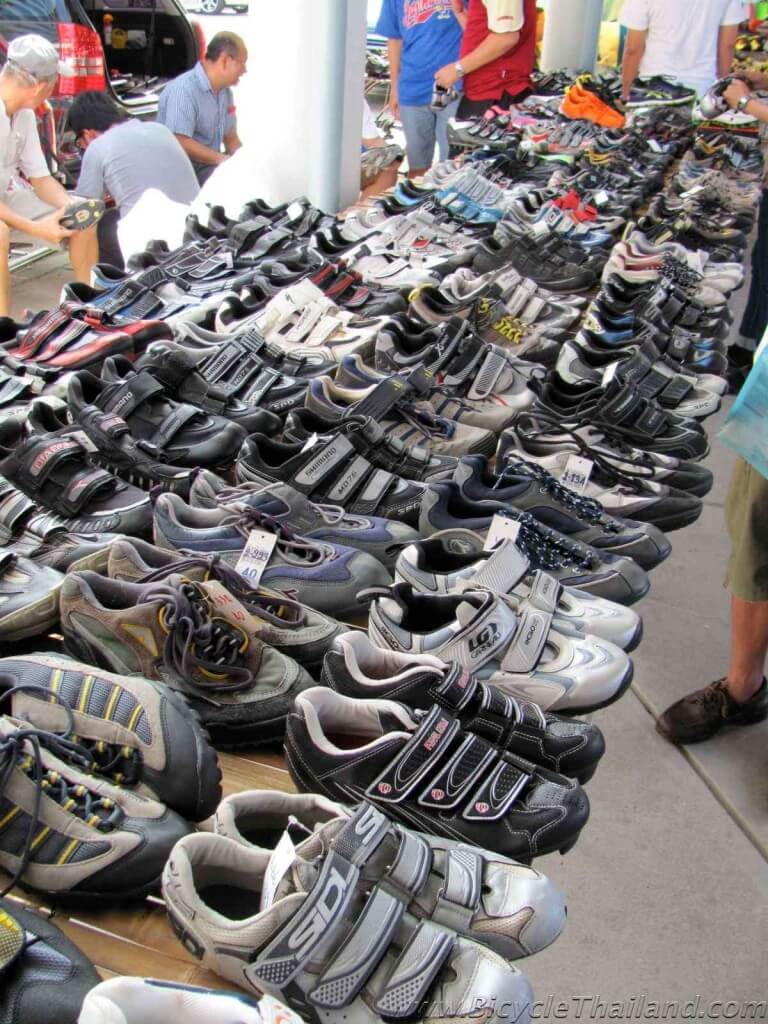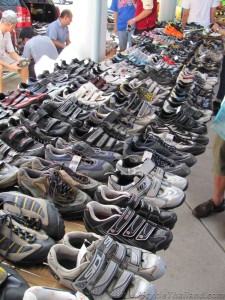 The TOT Bicycle Market is a great place to start if you are being encouraged by loved ones to off-load some of your extra biking wares. Negotiate a rental fee for a 4-square meter plot for upcoming TOT Bicycle Markets by contacting TOT during weekday working hours at 02-505-4739 or 02-574-9046. Plots do fill up quickly.
TOT Bicycle Market usually runs from 8am in the morning until 3 or 5pm in the afternoon. The crowds show up before 8am (early birds get the best deals on used items) and the only lull in the shopping seems to be during lunchtime and if afternoon rain showers show up to ruin the bargaining, even though the main areas of the market are under covered walkways.
ATMs of several different Thai banks are available at the site. A few food vendors show up at the market selling pre-made Thai meals and there is an Amazon coffee shop nearby, so getting extra cash, a light snack, or an iced coffee to fuel your day of bicycle shopping is relatively easy. Vehicle parking is available. Many shoppers arrive by bike.
Keep watching the BicycleThailand.com EVENTS calendar for details about future TOT Bicycle Markets, as well as many other similar events.