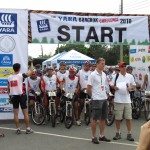 On Saturday November 13th adventure racers descended upon the small farm district of Nong Chok, located northeast of Bangkok between Minburi and Chachoengsao, to test their mettle on a scenic rolling course laden with challenges. Two racecourses were designed by the organizers to suit participants at an Adventure or Extreme level. The teams of competitors were required to navigate a lake using a kayak, ride mountain bikes along footpath trails and rough back roads, and even slog through rice paddy mud on foot. In adventure racing the emphasis is on teamwork, good sportsmanship, and fun!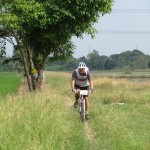 The annual race, organized by Active Management Asia (AMA) Events, drew over 90 teams of competitors in the Adventure and Extreme divisions. The Extreme division racecourse consisted of nearly 14km of running, 4km kayaking, and 45km of biking while the Adventure division racecourse was approximately 10km running, 2km kayaking, and 40km of biking.
The Korean School of Bangkok, which was the location of the start/finish line, provided showers and facilities for competitors while vendor tents provided sport wares, medical care, and post-race massage and food services.
An awards ceremony, complete with music, dancing troupes and trick bicycle rider performances wrapped up the event in the late afternoon. Cash prizes were given to the first eight places in the Extreme division. Adventure division teams of two were awarded medals and other prizes in six different categories: Men, Women, Mixed, Masters, Grand Masters, and Students.
To learn more about this event and how you may participate in future events organized by AMA-events go to – http://www.ama-events.com
To find similar events in Thailand go to the EVENTS page at BicycleThailand.com
Extreme Division
Top 3 teams in each category of the Extreme Division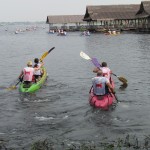 Men
Anant Duangsopha & Opas Bualoy (AMA Team) – 1st place overall
Okas Bualoy & Nathapong Phanna – 3rd place overall
Gas Laurent & Andries Alexander (Zazen Samui)
Women
Patricia Weismantel & Iphigenia Johnson (SpiceRoads P&J)
Sara McCosh & Annie Miniscloux (Turbo Turtles)
Anna Cooke & Hannah Way (Bananarama)
Mixed
Gordon Montgomery & Kathrin Puff
Boontham Khampha & Sutinee Rasp (Spice Roads)
Lynda Sharp & Neil Biggadike (Gruesome Twosome)
Masters (combined age 80+)
Jongsak Kaew-In & Thongchai Biadnok (Columbia) – 2nd place overall
Brett Infanti & Mohd Puzi Bin Dolah (Malay & Aussie Salomon Racers)
Coco Florent & Amnart Praodeng (Pattaya 3)
Grand Masters (combined age 100+)
Sylvain Roger Perret & Gregory Rasp (The Funky Hundreds)
Cholracha Patiphatwasin & Kiattisak Prem-Anant
Jiraskiat Pakpin & Sornrak Panyasiri (Khon Chan Muang 1)
Adventure Division
Top 3 teams in each category of the Adventure Division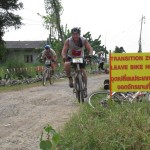 Men
Ekaphol Pupuak & Panupat Amornnimit (Prama 4 LaBicycle) – 1st place overall
Jago Gazendam & Will Kirkwood (Cheeky Monkey) – 2nd place overall
Suporn Rungruang & Nonthawat Jutai
Women
Suzanne Van De Venne & Jennilea Hortop (Scary Scars)
Heather Murray & Jasmine Neufeld (Team Canada)
Tania Drower & Jenni Bricknell (J&T)
Mixed
Colleen Chan & Tony Callaghan (The Callachans)
Nathalie Leger & Timothee Arnaud
Marielle Schoffelen & Jo Van Aubel (Dutch Courage)
Masters (combined age 80+)
Christopher Leger & Thierry Gaudet – 3rd place overall
Chuchart Samrej & Jaroen Anusri
Pascal Bricout & Laurent Figeac (Just Do It)
Grand Masters (combined age 100+)
Thongdee So-man & Suchart Owatthawannakul (Khon Chan Muang 3)
Sanan Muhammad & Sorayuth Leuanpraphai (Khon Chan Muang 8)
John Frontczak & Graham Ellist (Down Hill Geezers)
Students (ages 14-18)
Domas semeklis & Benas Baltraimejunas (The Regents School Bangkok)
Mitchell Gordon & Veerakorn Achakulwisut (Young Lions)