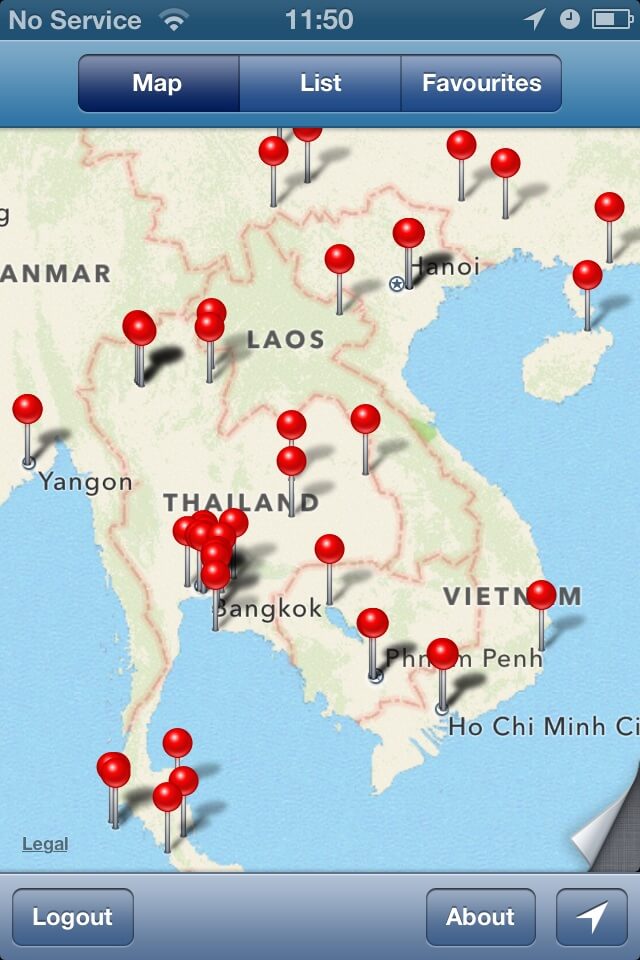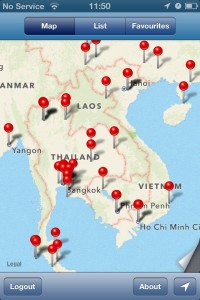 Warm Showers – The Bike Tourists' Best Friend
There's an exciting new tool serving almost 30,000 international bike tourists. It's Warm Showers, and it's just like Couchsurfing except way cooler because it only serves bike tourists. We've interviewed Jakob, an American who used Warm Showers on his most recent bike tour with his girlfriend. He gives us a comprehensive review the service, app and site, offering detailed advice and fun tips for making the most out of your next international bike tour.
Welcome Jakob, tell us about your last bike tour.
It was incredible. We flew from the US to Paris and rode south from there 800 kilometers to Marseilles, across Italy and north through the Austrian Alps. It was the trip of a lifetime and every moment was as challenging as it was precious.
Wow. Ok. I'm particularly interested in the migration of cyclo tourists from Couchsurfing to Warm Showers. How did that occur for you?
Warm Showers has been an indispensable tool on all of our bike journeys. It's helped us navigate Eastern Europe, America's West Coast, and now Western Europe. Before we found out about WS from a dear friend and fellow cyclo tourist, we were using Couchsurfing quite a bit. But it was cumbersome. There's so many people on Couchsurfing and while the idea is incredible and I give them a ton of credit for spreading a philosophy of travel that I really identify with, it has serious problems. Now, almost everyone I know has had wonderful experiences with CS, but there's so many people that you have to be careful. Once an organization gets that big, the chances that you'll run into hosts or guests who are sketchy increase. I have a female German friend who stayed with a CS host in California who was super creepy. Once we found Warm Showers, though, we've almost completely switched over from CS. Even when we have secured hosts from both services, we will always choose the WS hosts because of our past experiences.
Tell us about an experience that has sold you on Warm Showers.
We've had so many wonderful hosts and enjoyed hosting so many folks ourselves, but the most memorable experience that really sold us was just outside of Paris. We downloaded the app on my phone and contacted as many people in the Paris area as possible. There were lots of wonderful people who offered to host us, but we went with a couple living just outside of the city. We arrived during a terrible rainstorm – don't go to Paris in July by the way – and had no way to contact our hosts, so we set up a tarp in the grass outside their apartment complex and hoped for the best. Jetlagged to hell, we slept for hours until they came home from work. A nudge woke us up and Julien's smiling face greeted us and invited us inside. It was a hard situation for us. I had hurt my ankle just before leaving America and we weren't ready to begin our 1000+ km tour, but Julien and his wife, Celine, made everything easy. They gave us our own room, keys to the apartment, set us up with movies and books, cooked us delicious French food with local wine and told us incredible stories from their recent trip through Eurasia. They made us feel welcome and comfortable in every possible way. I healed up, and we had a great tour after that. But what really set it all up was the hospitality showed us by our incredible Warm Showers friends.
Why do you think Warm Showers hosts and guests regard each other so highly?
That's an interesting dimension to the whole paradigm of traveling/hosting services. It's kinda like making friends in a hostel. Everyone is traveling, and you share that in common. With Warm Showers everyone is already a passionate cyclo tourist. Frankly, I just trust people who are willing to strap their belongings to their bikes and live for weeks at a time in different countries with less amenities. It speaks well to one's general character.
How do you use Warm Showers on the road?
When we got to Europe I tried something a little different than usual. While my ankle was healing in Paris I ordered an Altura Arran Post Pack from Bikesnbits,a UK bike and accessory retailer. I've had trouble in the past with different configurations of bags on my bikes and I thought a post bag might be the trick. It was. I kept all kinds of great stuff in there to have easy access to without the steering trouble of a handlebar bag. The best was having my iPhone in there to be able to check in with our hosts or consult the map. I always take screenshots of important stuff from the app like email addresses, phone numbers, addresses and the like. Sure it's an additional dependence on technology, but adding another layer of crazy to an otherwise crazy adventure was more than we could handle.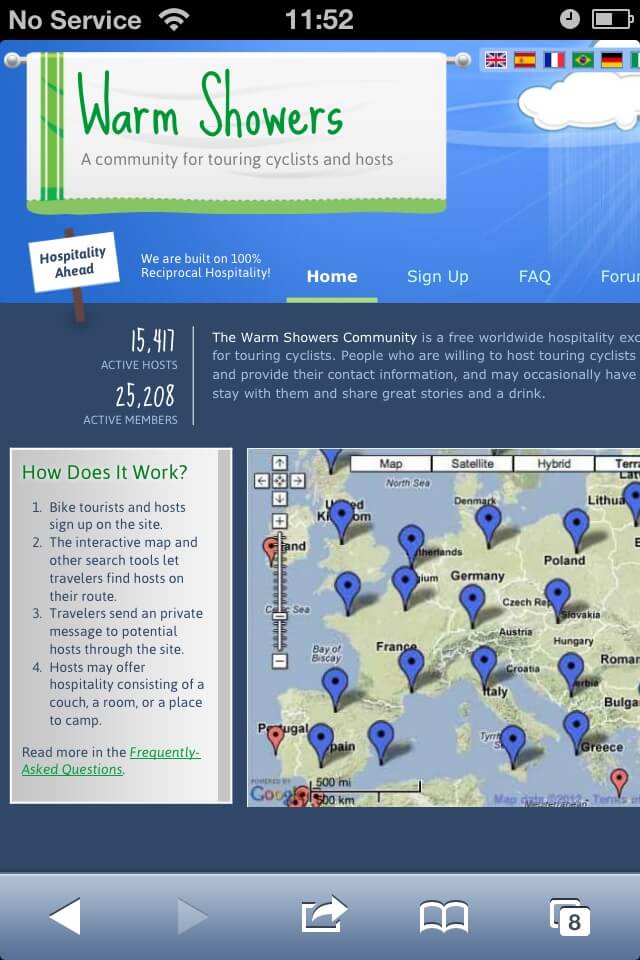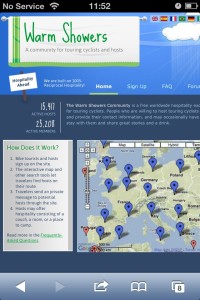 Tell us about the user experience of the site and the app.
Yeah. It's worthwhile to check out the features ahead of your adventure. The Warm Showers apps have been developed and maintained by volunteer open-source developers. Apps are available in the App store for iPhone and iPad. The Google Play store offers the Android app with this link, or can be downloaded here. I have the iPhone app and it's great. It allows you to search for hosts all over the world, contact them with a few clicks, track who you have contacted already, and manage your profile. You can search the world for hosts using the map function which allows you to see who are where hosts are located. But sometimes it's just easier in denser areas, like Paris, to peruse a list, which you can do as well. The site and app are super easy, free, and I've never had any problem with them in any way. I loved being able to chat with my hosts prior to arrival in order to make sure there were no loose ends. When you don't have a phone in a foreign country, you want to make certain that you have a spot to crash that night. WS makes it easy.

You must be planning a new adventure. Where are you headed?  
Definitely. You know Asia is our next destination. We're particularly interested in Thailand and Vietnam. We've been checking it out and there's a number of folks hosting in Thailand and a handful in Vietnam. It would be super cool to do a tour just riding around and visiting each host and seeing that whole section of the world. I'm telling you, Warm Showers opens doors to adventurers all over the world!