"The Tour of Friendship is a great event. I look forward to competing in it every year. It's always a pleasure to come to Thailand and join the race." – Tony Aspell (#603-Spice Roads)
The Tour of Friendship R1 2015 continued on Monday, May 4 with a 114-kilometer route for all categories. The action started quickly in the Open and Juniors category as riders from Champion Systems and Direct Asia went off the front, resulting in two members of the Champion Systems team out front accompanied by the Open category GC rider within the first 10 kilometers of the stage. An unfortunate mechanical issue for rider #123 at the seven kilometer mark saw him have to give chase to catch back on to the main group after six kilometers distance while the breakaway group of three riders remained 300 meters off the front by the 16 kilometer point of the race.
There are 7 CATEGORIES of riders competing in Tour of Friendship R1 2015: Men Open, Men age 30-39, Men age 40-49, Men age 50-59, Men Master, Ladies, and Juniors.
A flat tire for rider #143 (Team Giant) at the 18 kilometer mark produced an herculean effort when he rejoined the main group after a solo chase of more than 12 kilometers. A few significant, but well-marked, sections of broken pavement in the far left lane of the highway kept the main group awake as they took on water from the marshal motorbikes. After the main group settled in to deal with the heat of the day the race radio crackled alive with the report that two riders (#136 and #157) were three minutes ahead of the main group (Group A-Men Open and Juniors categories).


Download GPS of Tour of Friendship R1 2015 Stage 3. By the 40 kilometer point of the day's race the lead group consisted of two riders, followed 300 meters by a group of ten riders with the main peloton 100 meters behind them. This grouping would remain the same as the race veered left, off of the highway, towards Nakhon Nayok province and until the 66 kilometer point where a bit of traffic woes were encountered while entering the city center.
After all riders cleared the city and were back out on the open road they safely navigated road construction sections while all lanes of traffic were closed by emergency service vehicles and personnel. By the 87 kilometer point signs for the day's anticipated finish line location of Dan Prakhan Chon Dam were coming more frequently and the anticipation in the main group was noticeable. Jostling at the front of the main group started at the 99 kilometer mark and put five riders just ahead of the main group (but still well behind the day's breakaway group) by the time the climb to the dam began.
The climb up to the dam was less than four kilometers (with an elevation gain of nearly 80 meters). An unfortunate crash involving riders #128 and #129 of Team Direct Asia (both of whom were up and back on their bikes quickly) decorated the main group as they started their ascent.
All riders were treated to lunch at the finish line location before being transported back to their hotel. Every evening during the Tour of Friendship R1 race riders are invited to enjoy all amenities afforded by the hotel, a buffet dinner, awards ceremony, and a candid video recounting the day's events.
Top 3 places in each category for Stage 3: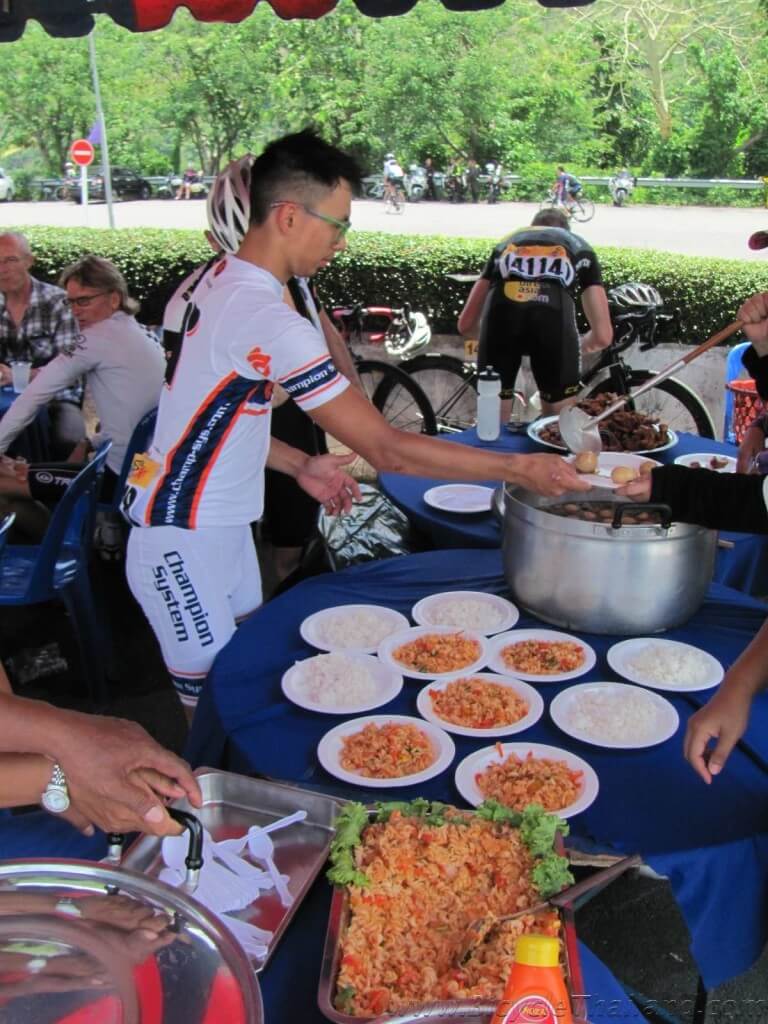 Men Open
1. Kyosuke Takei – 2:50:11
2. Bastian Dohling – 2:50:14
3. Pierre Alan Scherwey – 2:50:22
Men 30-39 years
1. Taro Komura – 3:06:37
2. Mike Fiechtner – 3:06:57
3. Nick Swallow – 3:07:05
Men 40-49 years
1. Clinton Leong – 3:14:20
2. David Wilkins – 3:14:25
3. Erwann Mahe – 3:14:25
Men 50-59 years
1. Ubirajara Iahud – 3:06:38
2. Ralph Sigg – 3:06:38
3. Martin Brot – 3:06:48
Men Master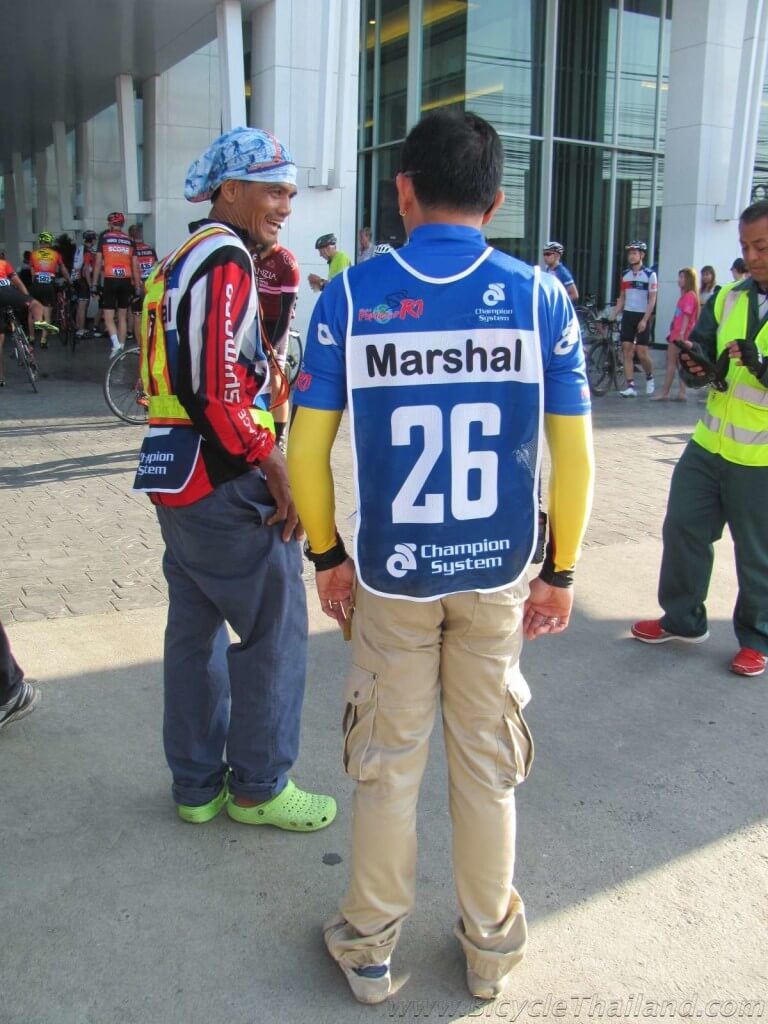 1. Tinsley Janes – 3:09:10
2. Satrah Karim – 3:10:02
3. Tony Aspell – 3:10:06
Ladies
1. Eri Yonamine – 2:43:09
2. Anna Ruokonen – 3:18:05
3. Tina Gilbert – 3:21:47
Juniors
1. Nur Aiman Bin Mohd – 2:50:51
2. Khalid Bin Nassiruddin – 3:00:51
3. Zuladri Aiman Bin Zulkurnain – 3:01:01
General Classification after Stage 3:
Men Open – Pierre Alan Scherwey 5:43:06.9
Men 30-39 years – Mike Fiechtner 5:57:33.6
Men 40-49 years – Stephen Ames 5:57:14.9
Men 50-59 years – Ubirajara Iahud 5:57:31.6
Men Master – Tony Aspell 6:02:04.7
Ladies – Eri Yonamine 5:50:11.6
Juniors – Nur Aiman Bin Mohd 5:43:38.6
View the complete list of Tour of Friendship R1 2015 Stage 3 results for all categories, General Classification after Stage 3
View additional Tour of Friendship R1 2015 Stage 3 photos on the BicycleThailand.com Flikr photostream
View STAGE 3 photos from Craig Sheppard
The Tour of Friendship R1 2015 will continue with Tuesday's Stage 4, a 132-kilometer road stage for Men Open, Men 30-39 years, and Men 40-49 years categories and a 100-kilometer road stage for all other categories. All categories will also include the competition for King Of the Mountain (KOM) during stage 4. The KOM will occur at the 94 kilometer point of stage four's race. Read STAGE 4 report here.
Hotels used by the Tour of Friendship R1 2015 – Nonthaburi Palace Hotel, Nonthaburi – Classic Kameo, Ayutthaya – Kantary Hotel, Kabinburi.