1. Doi Inthanon ดอยอินทนนท์
Distance: 47.78 kms
Doi Inthanon is located in Chiang Mai province and is Thailand's highest peak at 2,565 meters. Starting from Wat Phra That Si Chom Thong (Near intersection of Highway 108 and Tha Sala Road in Chom Thong, Chiang Mai province) the distance of the climb is approximately 47 kilometers. The average gradient on Doi Inthanon is 5.8%, but don't let the 'average' fool you because there are some areas that reach and even exceed 23%. In comparison, Doi Inthanon is  more than three times as long as the famous French classic L'Alpe d'Huez.
Wat Phra That Si Chom Thong GPS – N 18.4209942, E 98.6791783 Doi Inthanon GPS – N 18.5903619, E 98.4837654
Compact gearing is mandatory. 34/27 or 34/32. Doi Inthanon is actually a national park and as such there is an entrance fee, to be paid at the main gate near the base of the climb.
Watch a very detailed video that covers many aspects of the Doi Inthanon climb from the ever manic Carbs4Life guy
2. Doi Suthep ดอยสุเทพ/ Doi Pui ดอยปุย
Distance: 11 kms to Doi Suthep (15 kms to Bhubing Palace/Doi Pui)
Doi Suthep climb is located in Chiang Mai province, on the west side of Chiang Mai city. The distance of the climb, measured from the Chiang Mai Zoo as start point is approximately 11 kilometers. Over this distance you will climb approximately 1,220 meters to reach Wat Doi Suthep. The peak of Doi Suthep is at 1,676 meters, but the temple rests just below the peak at about 1,601 meters. The average gradient is 6.7%. An additional 4 kilometers distance can be added to the Doi Suthep climb in order to reach Bhubing Palace, near the peak of Doi Pui at 1,685 meters.
Chiang Mai Zoo GPS – N 18.8096755, E 98.9479166 Wat Doi Suthep GPS – N 18.8042358, E 98.9214707 Bhubing Palace/Doi Pui GPS – N 18.805936, E 98.898784
The climb can be accomplished by a moderately fit rider in just over an hour. Compact gears are recommended. 34/27 or 34/28. A few of the hairpin turns can be quite steep with very small wiggle room on the shoulder. Traffic can be heavy on the climb because Wat Doi Suthep is a popular destination for Thais and tourists alike. Most local cyclists tackle the climb in the early morning, before 8 am. Plenty of food and drinks available at Wat Doi Suthep.
Watch an informative video created by Jason of Grasshopper Adventures about the Doi Suthep climb.
3. Doi Ang Khang ดอยอ่างขาง
Distance: 18.4 kms to viewpoint (22.6 kms to Thai/Burma border viewpoint)
Doi Ang Khang is in a mountainous hill tribe area in the Fang district of Chiang Mai Province, on the Thailand/Burma border. Doi Ang Khang is farther away from Chiang Mai city (about 160 kilometers) than the other two climbs mentioned above and it may take up to three hours to drive to this area, but it is well worth the trip. The peak of Doi Ang Khang is at 1,928 meters. It is a great area to trek and cycle in and most Thais visit the area for its natural beauty and to taste locally grown winter fruits and vegetables from the Doi Ang Khang Royal Agricultural Station. Little to no traffic going up and down the mountain on weekdays. Compact gears are recommended. 34/27 or 34/28. Some sections can be very steep and the road tends to be narrow, but all on good surface. The average gradient is 7.0%
To reach the viewpoint near the Doi Ang Khang Royal Agricultural Station you will cycle along route 1249 up from the valley start point at or before Chao Mae Luang Upatham 1 School.
Chao Mae Luang Upatham 1 School GPS – N 19.8159122, E 99.1073674 Viewpoint on route 1249 GPS – N 19.9058807, E 99.0512664
To reach the Thai/Burma border viewpoint you will continue along route 1249 for an additional 4.2 kilometers.
Thai/Burma border viewpoint GPS – N 19.9353748, E 99.0494639
No one to date has produced a cycling specific video of the route 1249 climb up to Doi Ang Khang, but this short video published in January of 2014 certainly does justice to the road condition and scenery you will encounter on this ride.
If the term gradient has you a bit confused, and the percentages don't really tell you the whole cycling story then refer to this rough guide below that attempts to explain how various gradients might feel: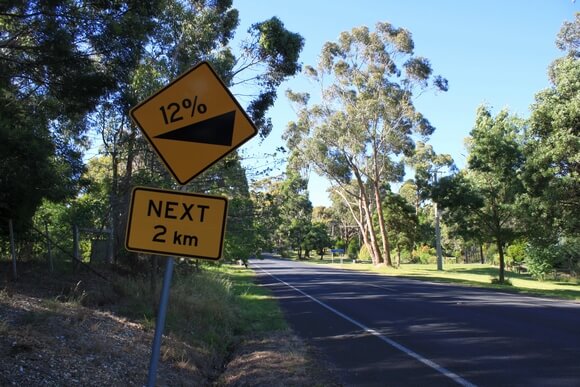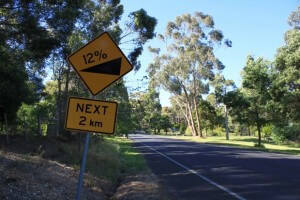 0%: A flat road
1-3%: Slightly uphill but not particularly challenging. A bit like riding into the wind.
4-6%: A manageable gradient that can cause fatigue over long periods.
7-9%: Uncomfortable for seasoned riders, and very challenging for new climbers.
10%-15%: A painful gradient, especially if maintained for any length of time.
16%+: Very challenging for riders of all abilities. This incline for any length of time is very painful.
Have you ridden any of these climbs in Chiang Mai province? Comment below and tell us about your favorite cycling climbs and best cycling moments in Thailand.
Riding your bike uphill not really your thing? Why not travel to Tak province and visit Thailand's gravity-defying 'Magic Hill' where cars, minivans, and even 18-wheelers with their engines turned off apparently defy gravity and roll uphill at a speed that gradually increases to as much as 10km/hr before reaching the peak. Just think what a bicycle could do on 'Magic Hill'