What is your idea of a perfect honeymoon? Would it include secluded white sand beaches in a tropical paradise? Or maybe hidden hilltop resorts under a canopy of jungle foliage? How about tasty and exotic culinary delights? Well honeymooners Paul and Natt Hamon chose all of the above and decided to see, hear, taste, and feel Thailand for themselves from atop their bicycle, a ride of more than 9,000 kilometers that will take the couple to every part of this enchanting and welcoming country.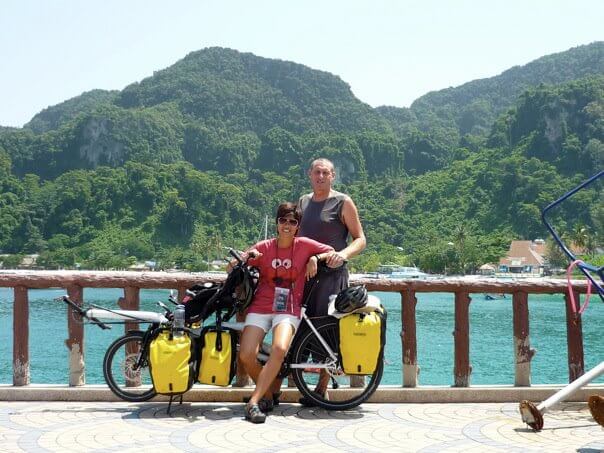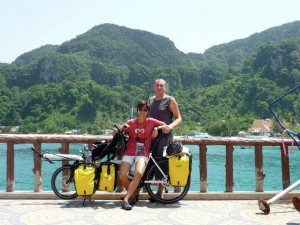 Their trip through Thailand is the couple's attempt to cycle through every one of the seventy-seven provinces in the country, visiting provincial capitals, Tourism Authority of Thailand (TAT) offices, and Thai bicycling groups along the way.
The couple's trip officially began on May 29, 2012. Starting in the Southern province of Surat Thani the couple cycled through the provinces of Nakhon Si Thammarat-Phattalung-Songkhla-Pattani-Yala-Narathiwat-Satun-Trang-Krabi-Phuket-Phang Nga-Ranong-Chumphon-Prachuap Khiri Khan in a clockwise direction. As of this writing the couple has completed the Southern portion of their trip and are making preparations to continue on to the Eastern provinces of Thailand before the end of the month.
The idea for the Every Province Challenge stemmed from the couple's passion for travel, cycling, and discovery. Paul, a web designer and marketing manager who has been an avid cyclist for many years, starting as a bicycle courier in Australia and later developing a love for long-distance touring, sees the trip as a chance to prove, to themselves as well as other traveling cyclists, that such a trip is not as difficult as it may seem and can be accomplished by anyone willing to try. Natt, who operates her own tour guide service at Your Thai Guide and has taken to cycling in the last four years, views the trip as an opportunity to hone her professional tour guide skills while seeing the natural beauty of her country and meeting and learning from the diverse people that embody what Thailand is today.
The couple shares many of the same views about why Thailand is such a great place to visit and cycle; citing the abundance of inexpensive food and accommodation as well as the true hospitality spirit of the Thai people as the reasons that make the country a great destination for novice and 'first-time' touring cyclists.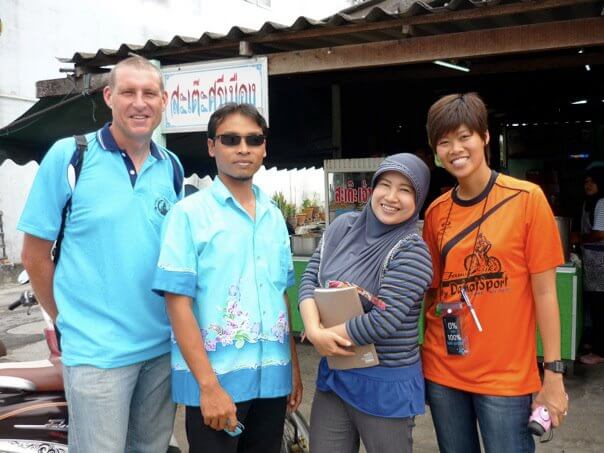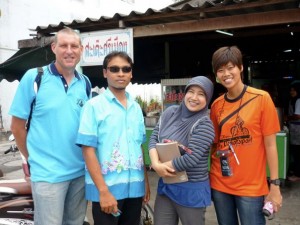 What can you expect to spend in a day cycling through Thailand? Paul and Natt have budgeted one-thousand Thai Baht (approximately thirty Australian or US Dollars) for their trip's daily expenses. This amount, which the couple admits to not using all of every day, includes accommodation, food, laundry, and snacks. How friendly are Thai people? The couple has been graciously hosted by locals, guesthouses, cycling clubs, and supporters along their route. When should you cycle in Thailand? While Paul and Natt are cycling during the 'rainy' season in Thailand the couple has avoided heavy afternoon showers by setting off early in the morning and completing their daily kilometers by lunchtime or shortly thereafter. Cycling in Thailand can be accomplished year-round even though the peak season is considered to be late October until early March.
The couple has taken a unique approach to their choice of bicycles for this honeymoon trip, opting to ride a semi-recumbent tandem (Hase Bikes Pino Tour) instead of two separate bicycles. The couple agrees that choosing the tandem, which they've affectionately named 'the white giraffe,' has addressed any potential problems born of their different riding styles and abilities. The bicycle brings the couple closer together (literally and figuratively) and places an emphasis on comfort, ease of communication, and teamwork through combined effort; a good formula for a successful ride and perhaps a lasting relationship.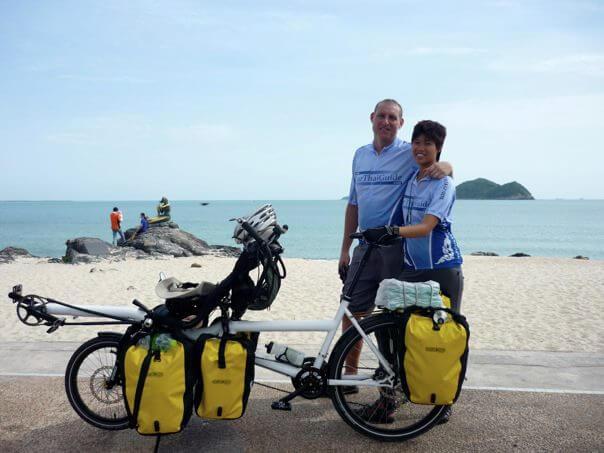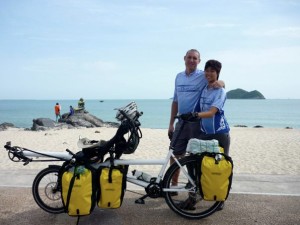 The trip is expected to take approximately five months, ending sometime in early November, and the couple has planned the capital city Bangkok as their last stop. They are inviting Bangkok cyclists to join them on their final day's ride that will be on either a Saturday or Sunday for convenience.
The website Every Province Challenge , where both Paul and Natt post updates (in Thai and English language) about their trip, has been created in order to track the couple's progress. Well-wishers and those cyclists who would like to join them for a short leg of their trip are encouraged to visit the main website and the Every Province Challenge FaceBook page periodically to view their current location and photos.