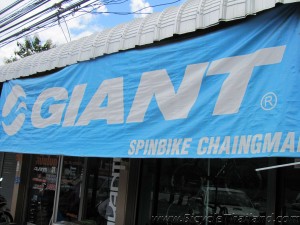 Spin Bike is this month's featured bike shop in Thailand. Spin Bike is owned and operated by Khun Wisut Kasiyaphat (Toom), a former assistant directeur sportif with top cycling teams in Europe and Asia. Khun Toom brings his extensive knowledge of road cycling and his own passion for riding to his business. The shop is an unofficial headquarters of sorts to Chiang Mai's road cycling community and its burgeoning race scene. Khun Toom has been the organizing force behind the area's recent rides and races like the Doi Suthep Ascent Time Trial in September 2011, The Masters Tour of Chiang Mai Rajhabat University (CMRU) in October 2011, and most recently the Biking for Health in Honor of His Majesty the King event held at Huai Tueng Thao Lake on December 4th. In addition to organizing cycling events Khun Toom finds enough time to put together large group rides that leave from his shop 2-3 times a week. These friendly but fast road rides leave from the shop's location on weekday evenings and head south of Chiang Mai along Highway 121, known locally as the canal road. Inquire at the shop during normal operating hours about the evening rides to get the exact details and distances.
Spin Bike
241/6 Canal road (Hwy 121)
T. Mae Hia A. Mueang Chiang Mai
50100
ภาษาไทย [+]
Spin Bike
241/6 ถนนทางยกระดับหมายเลข 121
ตำบลแม่เหียะ อำเภอเมืองเชียงใหม่
จังหวัดเชียงใหม่ 50100 Tel. 081-655-8451
GPS – N 18 44.393, E 98 56.088
Spin Bike is a dealer for the Giant brand of bicycles. While there is a small selection of mountain bikes and accessories on display the shop has a 'road bike shop' feel to it. Clothing to make you look fast and parts that might actually make you fast are on display in one half of the shop while the other half serves as a large bicycle service center. Khun Toom speaks perfect English and is quite happy to answer questions. All brands and types of bicycles are serviced at Spin Bike. A visit to Spin Bike is well in order if you're looking to tap into the road bike scene in Chiang Mai. Happy Riding!