When was the last time you visited a bike shop and were treated to peach yoghurt and a friendly smile? The very thing happened to me when I paid a visit to SeaLee Bike Shop on Chok Chai 4 road in Lat Phrao, Bangkok. Already being familiar with the SeaLee Urban bike shop on New Phetchaburi road in Bangkok I was delighted to learn that the active team of Khun Lee and Khun Sea (hence the name SeaLee) had recently opened a new flagship shop on Chok Chai 4 just a couple of blocks from the location of the first shop the couple had opened together in 2009. The first shop, which was later closed when SeaLee Urban opened, was one of the first bike shops in Bangkok to advocate and supply the urban and fixed gear cycling community throughout Thailand. The tradition of having fresh yoghurt, and sometimes coffee and cake, available also originated in that first shop. The success of the imported brands along with the couple's tireless efforts to distribute them to the rest of Thailand proved to be a winning combination that culminated in the opening of their second store, SeaLee Urban in 2011.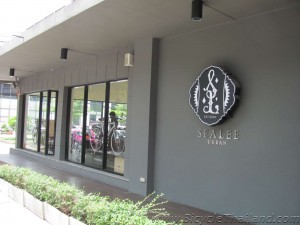 The SeaLee Urban shop is primarily focused on serving Bangkok's urban riders and classical bike enthusiast crowd. Leather saddles, wooden-slat racks, and cork handlebar tape are just a few examples of what's to be found at this boutique style shop. Are you looking for fenders? They've got them. It does rain in Bangkok, doesn't it? Bicycle brands on display at SeaLee Urban: Fuji, Charge, Create, VanMoof, Pashley, and others. Parts on display (SeaLee are the Thailand distributor for many of these products): Phil Wood, Chub, Spank, H+Son, Brooks, Bern Unlimited, as well as others.
SeaLee Urban / Distribution Co., Ltd
2044/1 New Phetchaburi Road
Khwaeng Bang Kapi, Khet Huai Khwang
Bangkok 10310
ภาษาไทย [+]
SeaLee Urban
2044/1 ถนนเพชรบุรีตัดใหม่
แขวงบางกะปิ เขตห้วยขวาง
กรุงเทพฯ 10310 Tel. 086-334-0660, 083-491-1164
[Thailand Distributor: BERN, SPANK, E*THIRTEEN/CHUB, PHIL WOOD, PAUL COMPONENTS, H+SON, NUTCASE, BREAKBRAKE, VOLUME]
GPS – N 13 44.799, E 100 34.555
---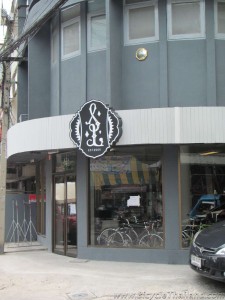 Realizing the need to cater to cyclists outside of the fixed gear and urban rider community SeaLee sought to open a shop that would stock popular road and mountain bike bicycle brands along with parts and accessories for the burgeoning group of downhill and BMX riders in Bangkok. The result was the flagship store SeaLee Bike Shop on Chok Chai 4 road. This shop, which is already open for business, plans to have its official grand opening near the end of June. While I was there the shelves were being stocked and many of the bikes that will grace its high-ceiling showroom floor were still in boxes. Bicycle brands at this shop include those from SeaLee Urban as well as Airwalk, Columbus, BreakBrake17, Spank, and Tange. Lee mentioned that other brands were sure to be added over time. Parts being placed on the shelves: E*Thirteen, Spike, Paul Components, Volume, Nutcase, and products from SeaLee Urban. The new shop has a complete service station that can accomplish repairs to all types of bicycles.
SeaLee Bike Shop Choke Chai 4
33 Chok Chai 4, Soi 56 (This location has closed as of December 2014-Please visit SeaLee Urban)
Khwaeng Lat Phrao, Khet Lat Phrao
Bangkok 10230
ภาษาไทย [+]
SeaLee Bike Shop
33 โชคชัย 4 ซอย 56
แขวงลาดพร้าว เขตลาดพร้าว
กรุงเทพฯ 10230 Tel. 083-808-9061
GPS – N 13 48.985, E 100 35.783
Speaking with Lee, who speaks perfect English, was a pleasure as he explained the differences and similarities between his two shops. Lifestyle was the one word that came up often when Lee spoke glowingly of his shop concept. Riding a bike is a lifestyle, one that more and more Bangkok residents and Thais in general are taking to with their usual love of simplifying daily life and participating in things that are fun (Sanook). SeaLee Bike Shop (on Chok Chai 4) and SeaLee Urban (on New Phetchaburi Road) are definitely committed to promoting the lifestyle of cycling in Thailand. Stop in and say hello to Lee and Sea, and while you're at the Chok Chai 4 shop don't pass up the yoghurt. Future plans have a coffee and dessert bar in the shop. Yum!