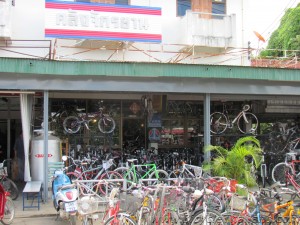 This month's featured bicycle shop is Klang Jakrayan. This shop is located in the Thailand province of Lamphun just 40km from Chaing Mai. Having been a resident of Chiang Mai for nearly two years, and having taken the occasional spin down to Lamphun, I was surprisingly shocked to find this full service, well-stocked bicycle shop in what I had considered a relatively little known part of Thailand's North country. Evidently the area has a good number of mountain bikers and everyday cyclists that frequent the shop and the shop attracts the few Chiang Mai cycling residents who are willing to venture out past the confines of their own home province. The building that houses Klang Jakrayan is fairly basic and if it had not been for the large amount of bicycles on display outside of the shop I may have ridden right past. The shop has an impressive lineup of several brands of bicycles and the small but organized interior is overflowing with many of the latest and greatest bits and pieces for every type of bicycle.
Brands on display: GIANT, FUJI, TREK, Rocky Mountain, Wheeler, Merida, Bianchi, Schwinn, Kona, GT, Specialized, Free Agent, PACO, CKT, and Java. The shop does maintain a website that offers a good look at their brands and accessories. Visit it at www.nongbicyclepart.com
Klang Jakrayan
599/3-5 Moo 1 Lamphun-Pasang Road (Hwy 106)
T. Pak Bong A. Pa Sang
51120
ภาษาไทย [+]
ร้านกลางจักรยาน
599/3-5 หมู่ 1 ถนนลำพูน-ป่าซาง (ทางยกระดับหมายเลข 106)
ตำบลปากบ่อง อำเภอป่าซาง
จังหวัดลำพูน 51120 Tel. 053-520-285, 081-992-6959
GPS – N 18 31.972, E 098 56.413
The shop does have a service center and while I was there I had them install a new set of pads on my Avid BB7 brakeset and was very satisfied with the result. The shop seems to be a family owned business with several staff on hand who are eager to help customers with purchases. Limited English was spoken by one staff member who helped me with my purchase.
The variety of brands on display at Klang Jakrayan make it a must visit shop for any cyclist in the market for a new bike. If you're in Chaing Mai and you've already visited all of the shops there please do try to make the extra effort to get out to Lamphun and see what is on offer at Klang Jakrayan. Happy Riding!