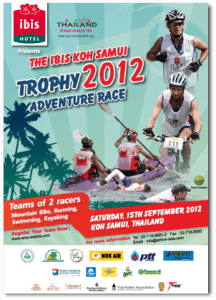 The holiday destination of Koh Samui, with its beautiful island scenery and challenging terrain, provided the ideal backdrop to this year's Ibis Koh Samui Trophy Adventure Race. Event organizer AMA-Events produced another safe, fun, and adventurous race with support from local and international sponsors like Ibis Hotels, PTT, Nok Air, Beer Chang, Feel Free, the tourism authority of Thailand, and the health and sports activities associations of Koh Samui and Surat Thani.
The 4th annual race, held this year on Saturday September 15th, drew over 60 teams of competitors from Hong Kong, Malaysia, Singapore, and Thailand. Two unique racecourses with some overlapping sections allowed participants to compete at either the Extreme or Adventure level.
Competitors were thrown a few surprises by racecourse organizers who included checkpoint stations along the Extreme and Adventure division routes that challenged the running, climbing, swimming, mountain biking, and even coconut bowling skills of the racers. In adventure racing the emphasis is on teamwork, good sportsmanship, and fun!
The race saw teams of two competing, and being awarded prizes, in 5 different categories: Men, Women, Mixed, Masters, and Grand Masters. Download FULL RACE RESULTS here in .pdf document form from the following links: EXTREME OVERALL — EXTREME BY CATEGORY / ADVENTURE OVERALL — ADVENTURE BY CATEGORY
View photos of the Ibis Koh Samui Trophy 2012 adventure race at the AMA Events Facebook page
To learn more about this event and how you may participate in future adventure races organized by AMA-events go to – http://www.ama-events.com
To find similar events in Thailand go to BicycleThailand.com/events