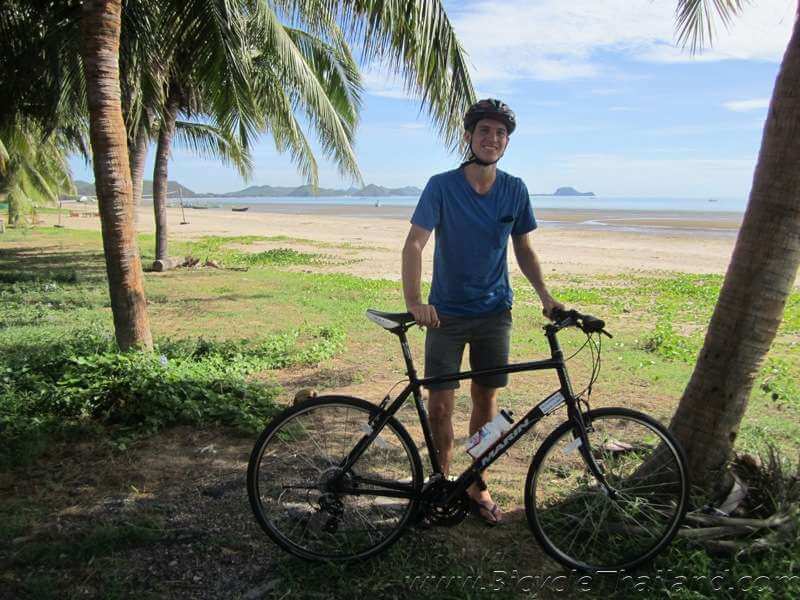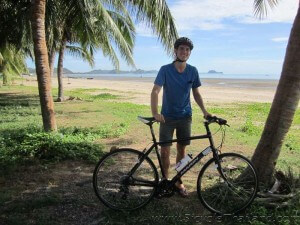 During my recent stay in Hua Hin, I went cycling with Hua Hin Bike Tours on its Dolphin Bay and Khao Kalok Tour.  On this ride I found the serene beaches, fishing villages and picturesque scenery that I'd been hoping to experience during my time away.
On the morning of my tour I was picked-up from my guest house at 8.00 am by my tour guide. We were then driven south from Hua Hin for about 45 minutes to our starting point, which was on the beachfront near Pranburi.
Once I was comfortably set up with an appropriately sized bike (Hua Hin Bike Tours had asked my height as part of the booking process), helmet and a drink bottle, we set off.
Straight away I had a smile on my face: the scenery was fantastic; I was riding on a quality Marin hybrid bicycle (perfect for the type of ride we were doing) which might have even been brand new; my tour guide was enthusiastic; and I wasn't weighed down by my backpack as I could leave it in our support vehicle.
Put simply, the ride was really relaxing and fun with brilliant sea views (that you just don't get without venturing south from Hua Hin as you do on this tour). It was fantastic to be able to cycle over 20 kms (there was the option to do more too), almost entirely on quiet beachfront roads.
The tour guide, Yo, was a fluent English speaker who was informative and rode at the appropriate pace. It was clear that he was passionate about cycling and he had interesting stories about his experiences of cycling in Thailand and also during several years he'd spent in Australia. Our driver was also friendly and helpful.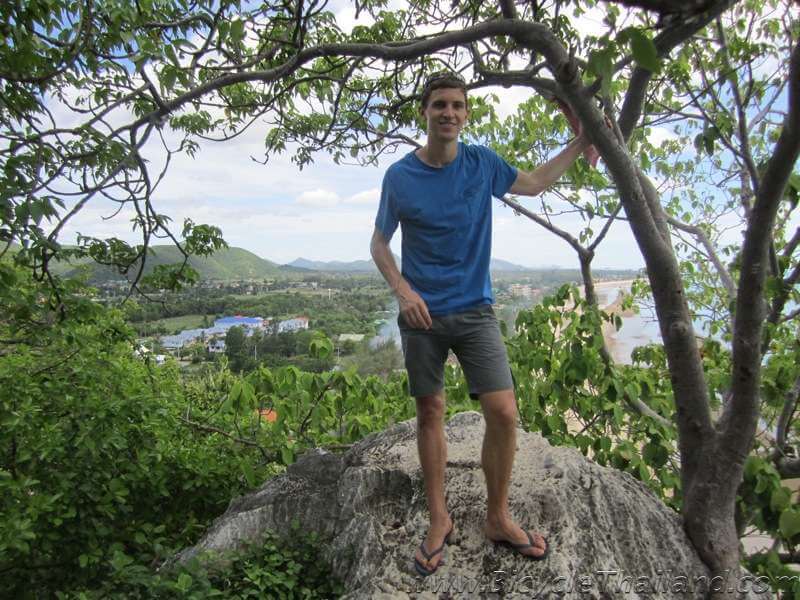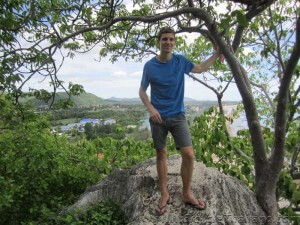 During the ride we stopped as we liked to take photos, and for refreshment stops where our driver brought out cold water and fresh fruit. At one point there was also the option to climb a small mountain to get more of a birds-eye view of our surrounds, which was well worth doing. After the mountain stop we continued pedalling beside beachfronts dotted with small fishing boats until it was time for lunch at a restaurant looking out peacefully at the same view. The food was plentiful and delicious.
The ride ended at Pranburi Forest Park, where there was a 1km wooden boardwalk that weaves through dense mangroves. As we were tracking well for time, there was also the option to ride further with the tour guide (but no pressure either way), including attempting several kms of riding on the beach. However, with dark clouds looming I decided I'd keep dry and jump in the support vehicle back to Hua Hin to continue enjoying what had been a great day with a cold beer.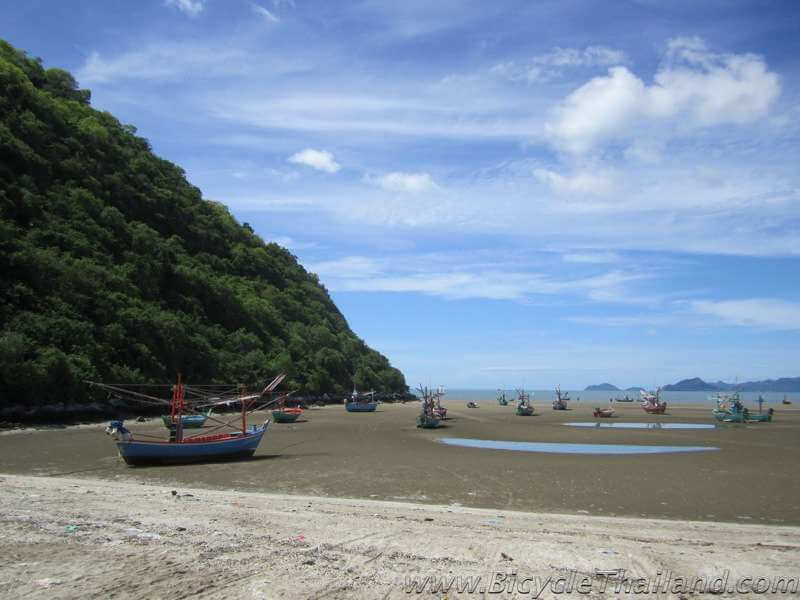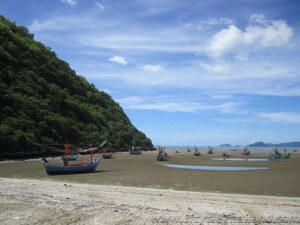 In summary, I'd highly recommend this tour to anyone who can ride a bike and wants to really experience the Royal Coast's serene vistas (what you see is a very different view than that of the main beach in Hua Hin). The terrain is completely flat and there's always the support car available on the off chance you did need to jump in. If you were after a more serious workout, you could increase your pace and/or do the extra kms after the standard finishing point.  The company's website also explains the variety of other cycling tours and services they provide (on reflection I probably should've attempted the company's 'Hell Ride' the next day to make up for my overindulgence after I'd completed the Dolphin Bay and Khao Kalok Tour – there's always next time!).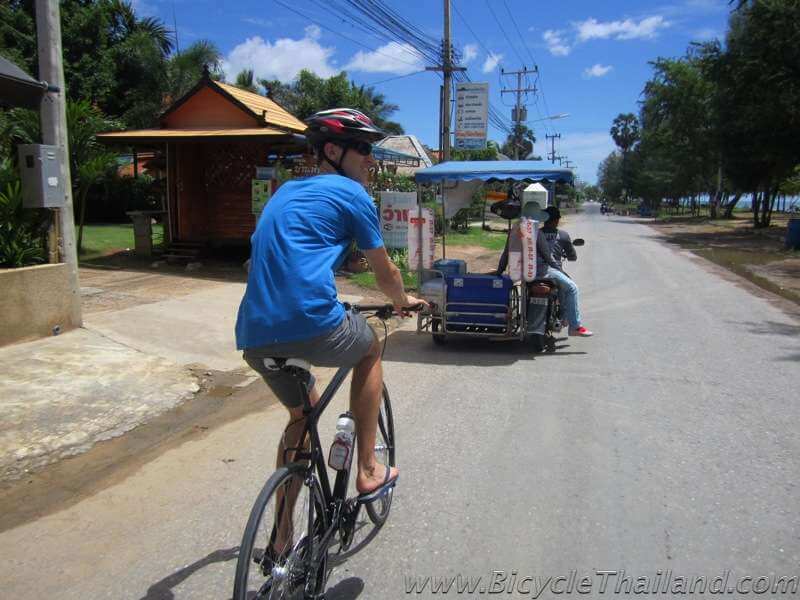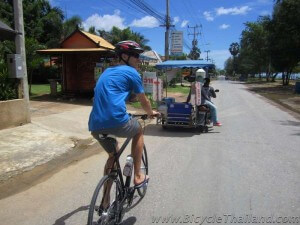 Tour Name: Dolphin Bay and Khao Kalok Tour
Tour Guide: Yo
Tour Distance: approximately 22km
Tour Duration: approximately 4 – 4.5 hours
Tour Date: June 7, 2013
Hua Hin Bike Tours
Address: 
15/120 Phetkasem Road
(Between Soi 27 & 29 in "B-Quik" parking lot)
Hua Hin, Hua Hin
Prachuap Khiri Khan 77110
Phone: +66 (0)8 1173 4469 (Eng.), +66(0)8 9815 3169 (Thai)
Web: http://huahinbiketours.com
Email: info@tourdeasia.org